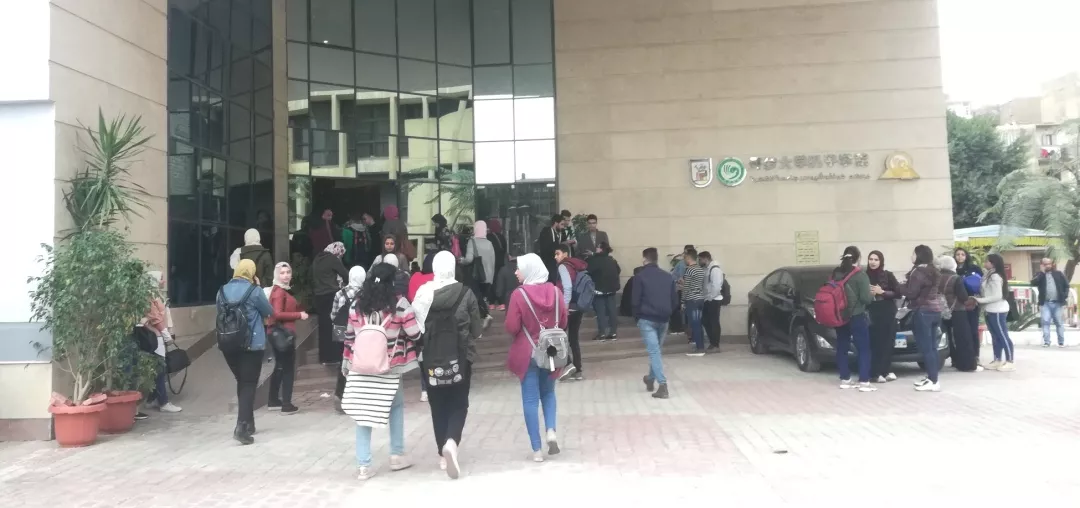 The teaching building of the Confucius Institute at Cairo University. (Photo: Confucius Institute at Cairo University website)
ALEXANDRIA, Egypt, Aug. 26 (Xinhua) -- A joyful ceremony, which gathered 38 Egyptian and Chinese students in the Chinese Consulate General in Egypt's coastal city of Alexandria, marked the conclusion of a two-week summer camp on Sunday night.
"The camp was a good opportunity to live the Chinese culture and life," said Mohamed Aly, one of the 21 Egyptians students who joined the camp from Cairo University and Alexandria University.
Locating in Alexandria University's Physical Education College, some 178 km far from the capital of Cairo, the camp arranged at least two visits every day to important tourist sites in the city, Aly told Xinhua.
Each one or two Egyptians along with one Chinese lived in one room. "We were like brothers or family living in the same house, eating, sleeping and chatting together," the student said.
They also shared their experiences in a wall magazine that will be displayed on Monday, the last day of the camp, he added, noting he acquired many new Chinese vocabularies from his roommate.
He thought the camp is "a real model for his future life after graduation," mentioning his plans to work as a tour guide.
Aya Magdy, a 20-year-old student from Cairo University, said she was very shy before joining the camp as she thought her Chinese is not so good for communication.
"After living two weeks with my Chinese roommate, I gained unexpected self-confidence, and I made many friends," Magdy said, pointing out they have common features related to customs and traditions despite different nationalities.
"We shared stories about feasts, national holidays, working environment, and even makeup and clothes in unforgettable wonderful days," she added, hoping for another similar camp.
Zhu Jianxing, leader of the Chinese students of the summer camp, said the organizers held a series of events such as touring the historical relics, attending cultural lectures, and displaying traditional Chinese and Egyptian customs to strengthen the exchanges between the two sides.
"The students of the two countries lived and studied together and had established a profound friendship," Zhu said
The camp has been organized in cooperation between Faculty of Arts of Alexandria University and Shanghai Academy of Shanghai University under the title "Belt and Road Youth Exchange."
"The Belt and Road Initiative proposed by China in 2013, follows and carries forward ancient Silk Road spirit, upholds principles of extensive consultation, joint contribution, and shared benefits," said Zhao Liying, consul general of China in Alexandria.
"The friendship between China and Egypt is rooted in the people and the future of the two countries lies in the youth," she said.
The summer campers have spent together some rich and unforgettable moments, said the Chinese envoy, who was looking forward to hearing the students' summer camp stories.
"I hope that all of you from the summer camp have learned to think, to understand and to gain. I also hope you can continue to be the envoy of promoting friendship between China and Egypt, and jointly write a new chapter of youth exchange under the framework of Belt and Road Initiative," she added.