Asia emerging as new market for China's electric carmakers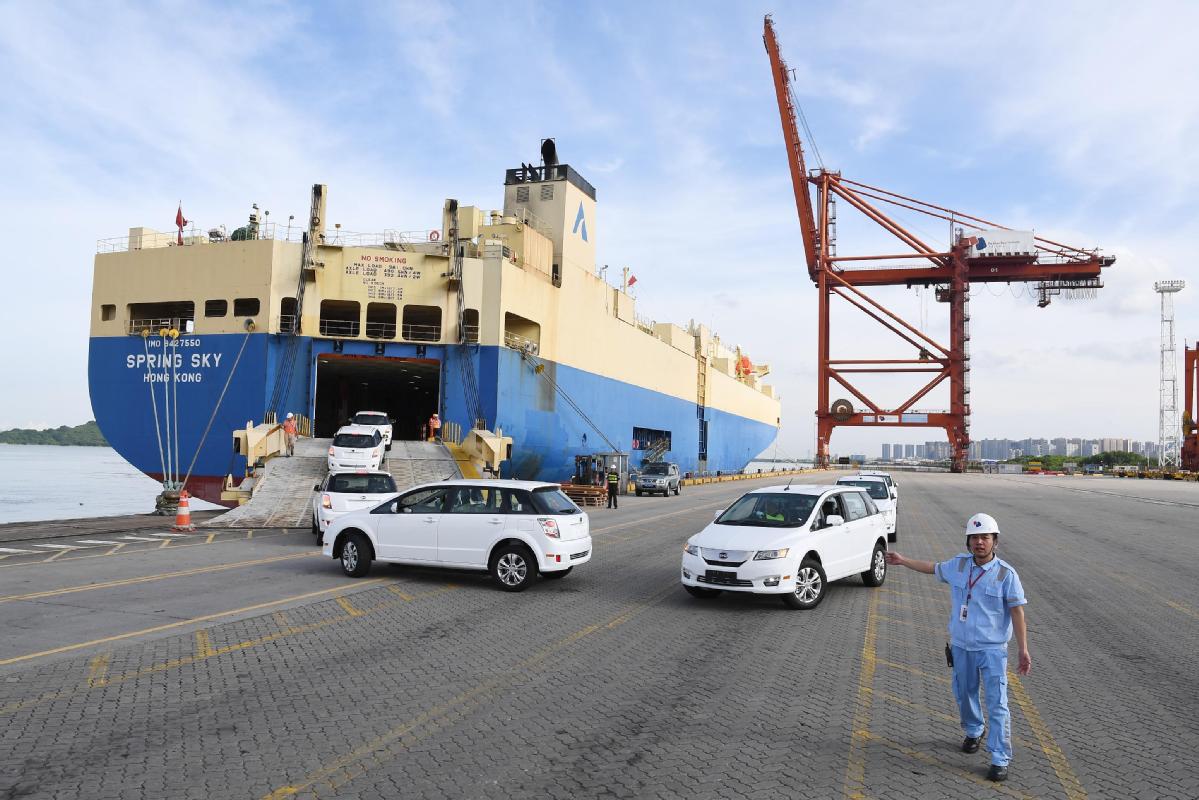 Nation's motor manufacturers exploring opportunities presented by Nepal and Thailand

Asia is emerging as a new destination for China's electric carmakers, as they rev up efforts to explore and expand into global automotive markets.
Last week, Chinese startup Neta handed over a Neta V model to its first-ever customer in Nepal, starting its foray into the South Asian country.
Neta inked its deal with Nepalese company CG Motors in April. Besides the Neta V, the two plan to introduce models like the Neta S and the Neta U into the market.
Nirvana Chaudhary, an executive at CG Motors, told local media that Nepal is reducing the dependence of the transport sector on fossil fuels.
"Electric mobility presents an attractive option to reduce the national trade deficit and foster long-term domestic sustainable energy solutions. So we are intending to embrace sustainable mobility in both the private and commercial sectors of the Nepalese market," he said.
Neta's delivery of its first vehicle in Nepal came days after its first wholly-owned showroom opened in downtown Bangkok, the capital of Thailand.
All dealerships combined, Neta now has 25 outlets in the Southeast Asian nation, and the figure is expected to reach at least 30 by the end of this year.
China's largest new energy vehicle maker BYD, is more ambitious.
It announced earlier this month that it plans to produce vehicles in Thailand from 2024. They will be sold in the country and exported to neighboring markets in Southeast Asia.
It now has a deal with WHA Group, Thailand's leading developer of industrial estates, on land purchases and construction of a factory.
The wholly-owned plant, designed with an annual capacity of 150,000 vehicles, will be the company's first passenger vehicle manufacturing facility.
Liu Xueliang, general manager of BYD Asia-Pacific Auto Sales Division, said: "Thailand has a solid base in the automotive industry with first-class manufacturing capabilities so we chose to build a factory here after careful deliberation."
WHA Chairman Jareeporn Jarukornsakul said: "We sincerely welcome BYD to set up a plant in our industrial park and expand its business. WHA, together with BYD, will help achieve the goal of making Thailand an electric vehicle hub in Southeast Asia."
The carmaker said it is poised to work with its partners and dealers to provide outstanding products and quality services for consumers and promote the development of the NEV industry in Thailand.
Before their inroads into Asia, Chinese carmakers have been exporting their EVs to Europe, where governments are pushing to slash emissions but traditional car giants have not offered consumers a wide choice.
Great Wall Motors, China's largest pickup and SUV brand, will start to deliver vehicles in Germany in the fourth quarter this year.
One is a plug-in hybrid under its premium brand Wey and the other is an electric sedan under the Ora marque.
New York-listed Chinese EV startup Nio is entering Germany later this year as well. It entered the European market in 2021, with Norway as its first stop.
The startup is building a power product plant in Hungary, which is expected to be operational in September, to help facilitate its expansion in Europe.
The plant, covering an area of about 10,000 square meters, will serve as a production, service and R&D center for Nio's power products, including battery-swapping stations in Europe.
Battery-swapping stations enable EVs to get their empty battery packs replaced with full ones in minutes, which is much faster than getting them charged.
Nio has built more than 1,000 such stations in China.
"The operation of the plant will add further momentum to the construction of battery swap stations in these countries, providing a solid foundation for local battery swapping and charging services," the company said.
Last week, ships loaded with 10,000 MG4 EVs left Shanghai's Haitong port for Europe, marking China's largest single shipment of EVs bound for overseas markets.
In the fourth quarter, the hatchback is expected to be sold in around 20 major nations on the continent. By 2023, it will be available in some 80 countries around the world, SAIC President Wang Xiaoqiu said on Tuesday at the model's launch ceremony in Shanghai.
The MG4 EV is the first model that SAIC built using its dedicated electric platform. It was the result of the work of SAIC's Chinese and British teams and was developed based on new car quality standards in different countries.
With the arrival of the MG4 EV, SAIC said Europe will become the first overseas market where its annual sales will reach 100,000 units this year.
In an earlier plan, SAIC had aimed to sell at least 240,000 NEVs annually in Europe by 2025 as part of its goal to deliver 1.5 million vehicles to overseas markets that year.
Statistics from the China Association of Automobile Manufacturers show that carmakers in China exported a record 1.82 million vehicles from January to August, up 52.8 percent year-on-year, with over 340,000 being NEVs.