UN official says China could help Africa in continental free trade area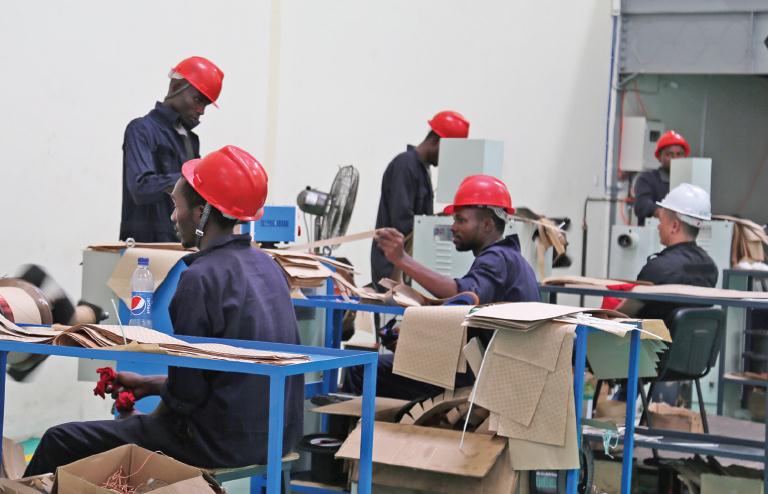 Employees of a transformer manufacturing and repairing company, Yocean Group, based in Nairobi, Kenya. (Photo by Edith Muethya/China Daily)
NAIROBI - A UN official said on Wednesday that China could play a role in helping Africa achieve benefits of the Continental Free Trade Area.
Stephen Karingi, director of Capacity Development Division at the UN Economic Commission for Africa (UNECA), told Xinhua in Nairobi that for Africa to achieve optimum benefit from the free trade regime it will require new investments in the area of infrastructure, human capacity and manufacturing.
"China has all these resources which if deployed in Africa could help the Continent Free Trade area to be fully realized," Karingi said on the sidelines of the Presidential Infrastructure Champion Initiative (PICI) Technical Task Team Workshop.
In March, 44 African leaders signed an agreement for the establishment of the Continental Free Trade Area and so far two countries have deposited instruments for the ratification of the agreement.
The campaigners of the free trade pact hope that it will help Africa achieve prosperity as well as sustainable economies that are able to create jobs for its people.
Karingi said there are a lot of opportunities where China can cooperate with Africa to enable the continent to realize benefits of more relaxed borders.
He said China has done a lot for Africa already and is capable of doing even more for the continent.
Karingi noted that the trade pact has potential huge benefits because it will reduce or eliminate import tariffs of goods made and traded within Africa.
"Any investor who comes to any African country will have access not only to the domestic market but a market of approximately 1.2 billion people," he said.
He noted that relocation of industries to Africa lured by the free trade area will also result in technology transfer to the continent.
The UN official said Africa needs to attract capital inflows not just in one sector but in a wide array of sectors from the extractive, intermediate, value addition sectors, insurance and financial services sectors.
The Kenyan government data indicates that intra-Africa trade stands at approximately 15 percent compared to more than 50 percent for other continents due to trade barriers.
Karingi said Africa's proposal to have a single aviation market could also benefit from Chinese technologies.
"We are aware that China has new technology in the aviation sector which Africa can use to fully realize the benefit of open skies," he said.
He noted that Chinese technology in the aviation sector could open up the space for Africa to move beyond the reliance on western firms that have dominated the industry.
According to the UNECA, Africa's trade imbalance with China and the rest of the world is due to the fact that the continent primarily exports raw materials and imports finished goods.
Karingi said that for Africa to solve its trade deficit it will need to invest in manufacturing, research and development in order to move its trade up the global value chain.
"Africa has no option but to engage in value addition because it has everything that is required," he said.
He said the Chinese market would welcome value added commodities from Africa so long as they contribute to the welfare of its consumers.
The director also noted that intermediate imports from Africa will also find a place in Chinese industries if they are globally competitive.