Experts say economy close to rebound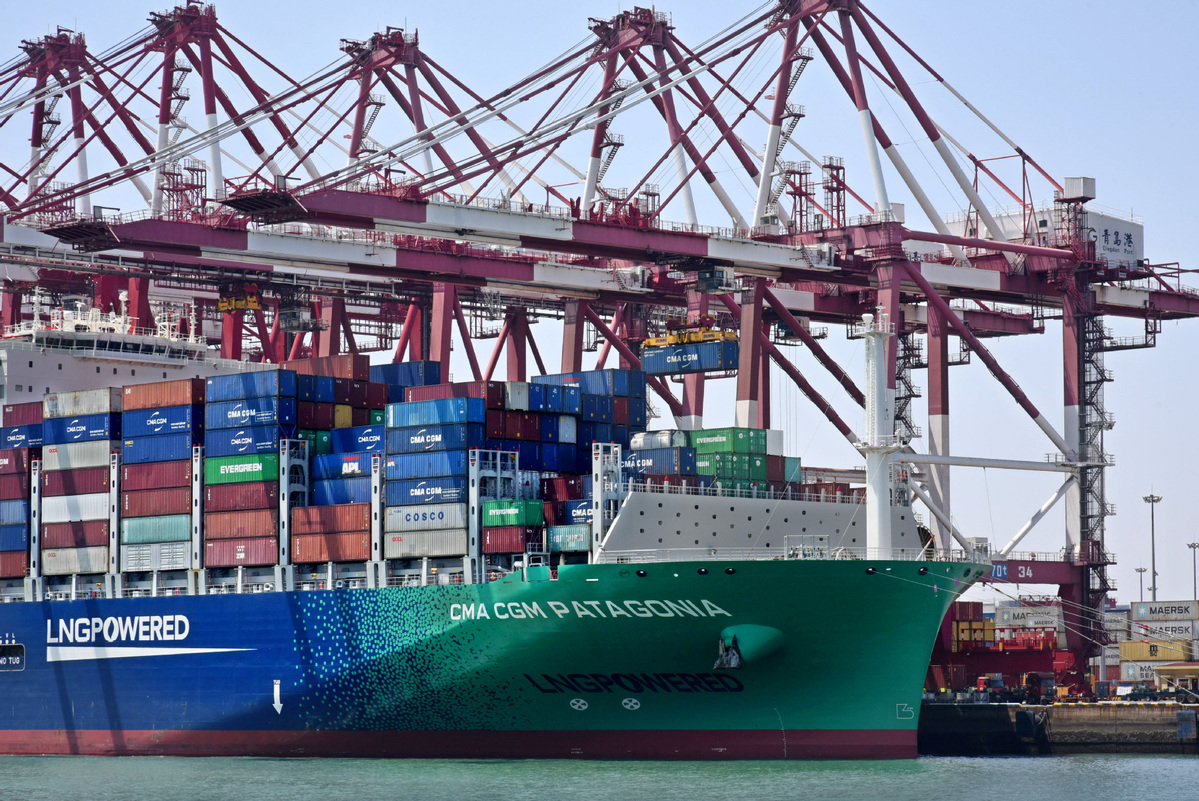 Nation is capable of meeting targets set for 2022, says leading NBS official

China is likely to see a rebound in some key economic indicators in the following months as a result of the government's effective measures to contain COVID-19 outbreaks and step up macro policy support, said officials and experts.
Their remarks came amid concerns that China's economic activity could weaken in the second quarter, as it feels the impact of resurgent COVID-19 cases and a more complicated external environment.
Sheng Laiyun, deputy head of the National Bureau of Statistics, said while some regions such as Shanghai and Jilin province have been severely affected by the pandemic, the impact of the outbreaks is temporary.
He said in an interview with Xinhua News Agency that the Chinese economy is likely to rebound as a result of better control of COVID-19 and the government's strong policy support.
"The COVID-19 outbreaks in regions like Jilin and Shanghai have been effectively controlled in May, and work and production have resumed in an orderly manner," Sheng added. "Some leading economic indicators, such as electricity generation and power consumption, have shown positive signs."
Sheng said the fundamentals sustaining China's steady and long-term economic growth remain unchanged, and China's economy continues to be characterized by ample potential, strong resilience and large room for maneuver.
Given China's favorable conditions, such as the resilience of its industrial and supply chains, the large domestic market and a range of policy tools, he said the nation has the confidence, capabilities and conditions to meet the major targets set for economic and social development in 2022.
China has recently strengthened efforts to step up macro policy support. A meeting of the Political Bureau of the Communist Party of China Central Committee on April 29 called for stronger macroeconomic policy adjustment to stabilize the economy and keep it running within an appropriate range.
Policymakers have since pledged more measures, with officials from the Central Committee for Financial and Economic Affairs and the People's Bank of China saying on Thursday that the nation is considering new policy tools to support the economy.
The increment in aggregate social financing-the total amount of financing to the real economy-was 910.2 billion yuan ($134 billion) in April, down 946.8 billion yuan year-on-year, the People's Bank of China said on Friday.
China's new yuan-denominated loans totaled 645.4 billion yuan last month, down by 823.1 billion yuan year-on-year, the central bank said.
"Companies, especially medium, small and micro-sized ones, have faced more difficulties in their operations, with a marked decline in effective demand for financing," the central bank said in a statement.
The central bank will put stabilizing economic growth in a more prominent position, the statement said, with a focus on stabilizing aggregate credit expansion, reducing financing costs and strengthening assistance to key areas and weak links.
The country's macro leverage level, or the debt-to-GDP ratio, could increase with the supportive measures, but will remain within a reasonable range, the central bank said.
Zhou Maohua, an analyst at China Everbright Bank, said the nation's credit expansion cooled in April as a rise in COVID-19 cases dampened financing demand, increasing the likelihood of loan prime rate cuts in May to support the real economy and stabilize growth.
Looking ahead, Zhou said there is a relatively large room for fiscal, monetary and other policies, and the country has various policy tools in hand.
With better containment of the pandemic and stronger policy support for hard-hit sectors and enterprises, China may see a rebound in consumption demand, and economic activities could pick up as early as May, Zhou added.
Considering the multiple downward pressures, Chen Chuanglian, deputy director of the Southern China Institute of Finance at Jinan University in Guangzhou, Guangdong province, said it will still take some time to see a robust rebound in China's economy, and the turning point may occur at the end of the third quarter and the beginning of the fourth quarter of the year.
Given China's relatively large policy room, Chen expects the government to continuously implement tax and fee reductions, especially for small and medium-sized enterprises, and increase fiscal support for related departments and local governments to combat the pandemic and ensure the normal operation of business activities in the domestic market.
Chen's views were echoed by Luo Zhiheng, chief economist at Yuekai Securities, who highlighted the importance of stronger policy support for hard-hit sectors, SMEs and self-employed households.
Citing the government's solid steps to implement the existing policies and design and use new incremental policies, he said the government could consider the issuance of special treasury bonds to accelerate infrastructure investment, subsidize low-income groups and support local governments' fight against the pandemic.