Luckin Coffee to tap smart coffee, snack vending machine market
chinadaily.com.cn
1578466728000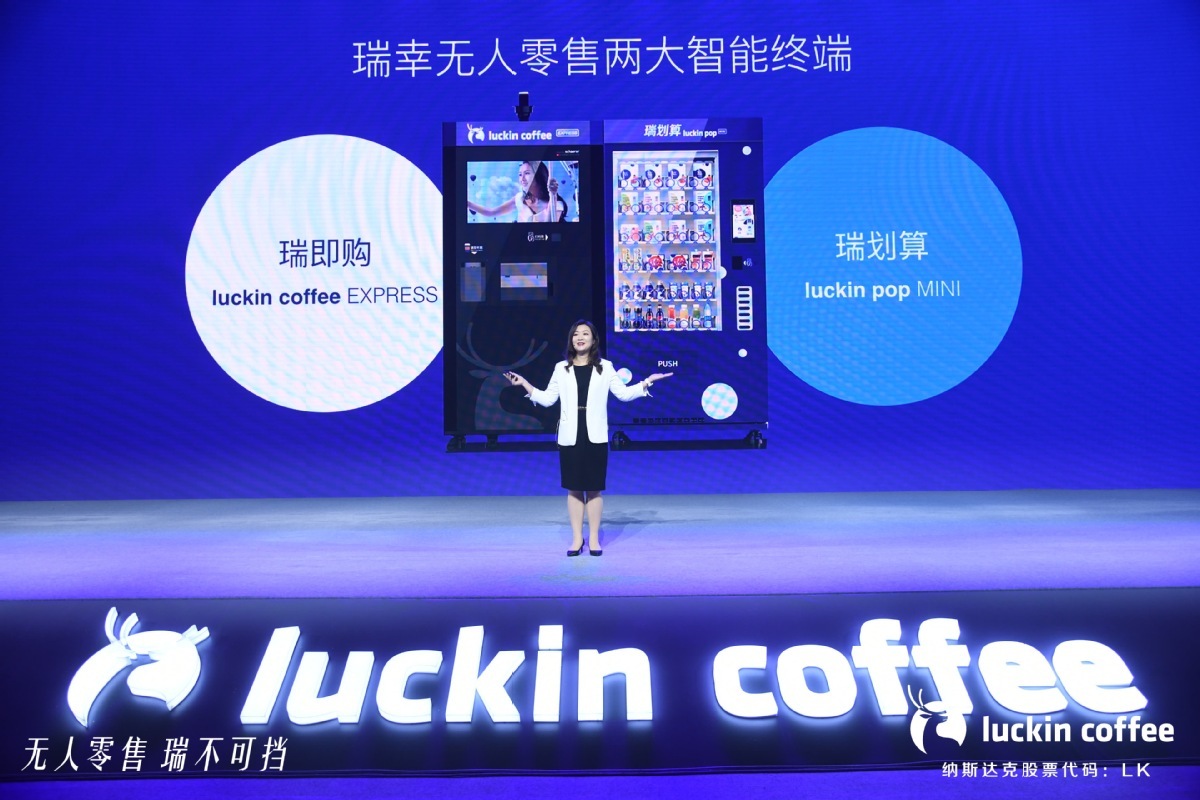 The Luckin Coffee vending machine is displayed. (Photo: chinadaily.com.cn)
Luckin Coffee Inc, which surpassed Starbucks as the country's largest coffee chain operator in term of store numbers by the end of last year, unveiled its plan to enter the smart coffee and snack vending machine market to further extend its network but not necessarily generate a quick boost to its profits.
The Xiamen-based coffee chain operator offers two kinds of services, namely "luckin coffee EXPRESS", a coffee-making vending machine, and "luckin pop", a vending machine that sells snacks and beverages, to reach more consumers, particularly in the office buildings.
Luckin Coffee also disclosed that its number of self-operated stores reached 4,507 by the end of 2019, which Luckin believes makes it the largest coffee chain by number of stores in China as of Dec 31, 2019.
The number of customers reached over 40 million as of Dec 31, 2019. Starbucks has more than 4,100 stores in China, with larger single store areas than Luckin's.
Luckin claims that its snack and beverage vending machine – Luckin pop – offers lower prices than its competitors by working closely with global suppliers and receiving discounts through large volume procurement.
Its two kinds of vending machines are expected to cover major locations including office buildings, campuses, airports, bus terminals, gas stations, highway service stations and communities, complementing current Luckin's retail store network.
Zhu Danpeng, a food and beverage analyst, said by creating a new consumption scenario, Luckin can further penetrate its retail channels and make its products everywhere. But investment in vending machines is also slowing down its pace in generating profits quickly, he said.
Qian Zhiya, chief executive officer of Luckin Coffee, said: "Luckin Coffee's new vending machine network, stores and e-commerce channels, have empowered Luckin Coffee to build a closed-loop smart retail platform."
She said the new vending machines, which took about a year in research and development, has strengths in light investment and zero store decoration fees and fewer restrictions in locations.
She said the company will continue to grow both its traffic and products. Its vending machines are expected to reach more customers in campus, airports, gas stations and other leisure locations.
The company announced its objective is to become a retailer being part of everyone's life, by starting from coffee.