US shoppers browse stores, buy online as Black Friday deals beckon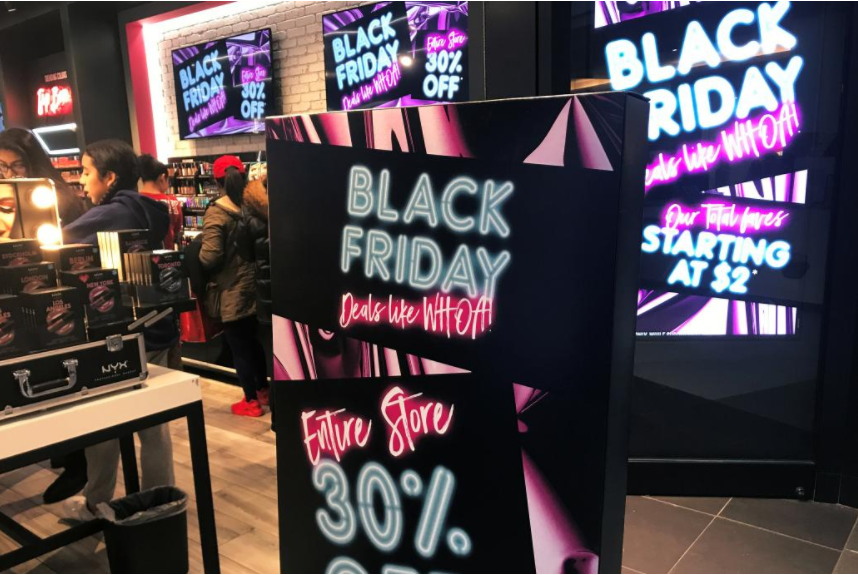 A Black Friday sale sign is displayed outside a makeup store at Roosevelt Field shopping mall in Garden City, New York, U.S., November 24, 2017. REUTERS/Shannon Stapleton
U.S. stores offered deep discounts, entertainment and free gifts to draw bargain hunters on Black Friday, the traditional start of the holiday shopping season, but some shoppers said they were just eyeing goods, reserving their cash for online purchases.
A sharp rise in online sales made the overall picture more positive for traditional retailers expanding beyond brick-and-mortar, sending their shares higher. Stores had also carefully managed inventory, hoping to ward off any post-holiday liquidation that would weigh on profits.
There was little of the over-the-top frenzy that had been a hallmark of Black Friday in years past, and some stores appeared to be getting creative with gimmicks beyond heavy discounts.
But signs pointing to muted in-store sales - fewer cars in mall parking lots, shoppers leaving with no purchases - do not portend a weak holiday season as U.S. consumers are expected to spend more overall, analysts and industry executives said.
Black Friday sales were off to a strong start online, at $640 million of 10 a.m. ET (1500 GMT), according to Adobe Analytics, up 18.4 percent from a year ago. On Thanksgiving Day, U.S. shoppers spent more than $2.87 billion online.
Some stores and websites struggle to keep up. Some sites experienced brief outages, including Lowe's, H&M and the Gap, according to website performance monitors.
And Macy's Inc customers in states including Texas, Arizona and Illinois took to social media to complain about the retailer's credit card processing system. The company said payment processing was taking longer than usual in its stores and it was working to fix the problem.
The hiccups dragged Macy's shares 0.6 lower in extended trading. They had ended the regular session up 2.1 percent, boosted by comments from Chief Executive Jeff Gennette, who told CNBC Macy's was better off this year than last, had robust online demand and was in a good place for holiday promotions.
Adobe forecast online Black Friday sales of $5 billion, which would be a record high. Online retailers will rake in an additional $6.6 billion on Cyber Monday, Adobe said. Adobe measures 80 percent of online transactions at the largest 100 U.S. web retailers.
Macy's and J.C. Penney Co Inc had ordered and managed inventory better this time, according to Burt Flickinger, managing director of Strategic Resources Group, a consultancy with seven researchers out in the field.
"The turnout this morning has been relatively slow but it is still the best we have seen in three years. We expect it to pick up as the day progresses," Flickinger said, citing improving consumer confidence, a strong job market and healthy housing prices.
Some shoppers were lured by the promise of spectacle, while others felt the pull of nostalgia.
"It's like a hangout, it's an experience," said Jonathan Lin, 17. "All my friends are back from college and we got together."
"There's something nostalgic about being at the stores this early," Jennifer Stasiak said at Chicago's popular Oakbrook Center.
Miguel Flores, 43, an overnight security guard, visited a Target in Manhattan after his shift ended.
"I mostly shop online but decided to drop in because I haven't been to a store in a long time," Flores said.
J.C. Penney climbed 0.6 percent and Wal-Mart Stores Inc edged higher. Amazon.com Inc closed up 2.6 percent at a record high.
Target Corp did not fare as well, with analysts noting that it closed its stores for several hours overnight while many rivals kept their doors open. Its shares fell 2.8 percent.
NOT WHAT IT USED TO BE
The period between the U.S. Thanksgiving holiday and Christmas can make or a break a retailer, accounting for as much as 40 percent of annual revenue.
More people picked up deals online and the traditional Black Friday rush was split by stores opening the night before.
Godiva gave out free chocolates, while Sephora offered face masks and perfumes. Dancers entertained Bergdorf Goodman shoppers, according to the New York Post.
The deepest Black Friday discounts included more than $200 off some Best Buy TVs, all bras across Victoria's Secret Pink stores for $25, half-price video games at Target, and $50 off PlayStation 4 Pro gaming consoles at Wal-Mart.
In Pearland, Texas, a suburb of Houston, Derrell Felix, 56, had her eye on a Sharp 50-inch LED flat screen TV for $179, down from its original price of $499.
"I know they only have 20 of them in there so I'm hoping they have some left by the time I get in," she said.
There were some signs of the chaos for which Black Friday is traditionally known.
A false report of gunfire caused shoppers to evacuate the Westland Mall in Hialeah, Florida. Stores reopened less than an hour later, Silvio Pera, a mall security supervisor told Reuters by phone.
The Riverchase Galleria outside Birmingham, Alabama, said police broke up a fight on Thursday night between two women who might have been trying to get the same sale item in a store. The mall shut about 15 minutes early.
A continued switch to online shopping, led by Amazon, has forced chains such as Toys R Us, apparel retailers True Religion, the Limited, Rue 21 and off-price retailer Payless Shoe Source to file for bankruptcy this year.
Despite the explosive online growth, traditional retailers still earn the bulk of their revenue from in-store buys. Shoppers in brick-and-mortar stores can also be easier to tempt with impulse or add-on purchases than online browsers.