South China's Guangzhou aims to become global aviation hub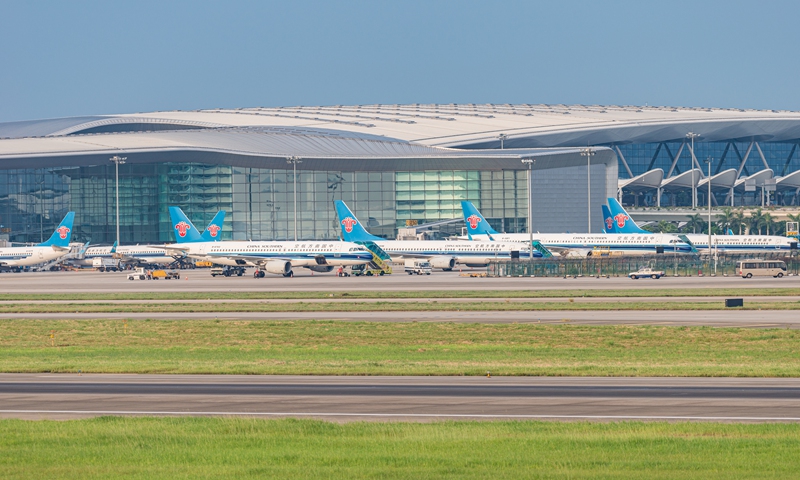 The Guangzhou Baiyun International Airport in Guangzhou, South China's Guangdong Province Photo: VCG

Guangzhou, the capital city of South China's Guangdong Province, is planning to complete a national-level Airport Economic Demonstration Zone by 2025, including building its airport into an international aviation hub and integrating in the transport construction of Guangdong-Hong Kong-Macao Greater Bay Area (GBA).

The added value of airport economy is planned to exceed 100 billion yuan ($15.5 billion) by 2025, with the commodity value of airport in relation to cross-border e-commerce exceeding 300 billion yuan. The Guangzhou Baiyun International Airport plans to accommodate an annual passenger throughput of 100 million and cargo throughput of 3.5 million tons, according to a plan released on Tuesday.

While some analysts said that the target represents a high bar, some others said that Guangzhou' strong base for trade and passenger flows offers significant potential for future development.

It is not easy for Guangzhou to build its airport into a world class aviation hub, Qi Qi, a market watcher, told the Global Times on Wednesday.

"In the region, Hong Kong airport already represents an important international aviation hub. Meanwhile, relative to Guangzhou, Shenzhen is closer to Hong Kong, which means the latter has more geographical advantages to absorb Hong Kong's passenger overflow," said Qi.

According to plan released by China's civil aviation regulator in 2020, the country will build a world-class airport cluster in the Guangdong-Hong Kong-Macao GBA by 2025. While consolidating the international aviation hub position of Hong Kong, Guangzhou and Shenzhen will also be built into international hubs. Service capacity will be upgraded at airports in Macao and Zhuhai.

Baiyun Airport will be open to over 110 international and regional destinations by 2025, Chen Xu, an official from the Guangzhou Municipal Development and Reform Commission said on Tuesday during a press briefing.

The airport will also be connected with high-speed rail and expressways, so as to achieve a seamless connection between air and rail passengers, making the airport accessible to all cities in the Pearl River Delta within 60 minutes.

"China's plans on the construction of aviation in the Guangdong-Hong Kong-Macao GBA are very clear, and complementary. But how several cities complement each other requires ongoing negotiation," Qi noted.

It is difficult to quantify what makes a global hub, but looking at data for truly global facilities including Seoul Incheon Airport and Singapore Changi Airport, Guangzhou needs to significant grow its international level to meet this goal, Qi added.

In 2019, a total 71.17 million passengers used Incheon International Airport in South Korea, of while 70.58 million were international passengers, accounting for 99.1 percent of all passengers. Meanwhile, Guangzhou airport's passenger throughput was 73.386 million, ranking 11th in the world, but its international passenger throughput was only18.713 million, accounting for 25.5 percent of all passengers.

But an analyst surnamed Wu based in Shenzhen who closely follows the development of the GBA, told the Global Times that Guangzhou still has a huge potential to build itself into a world-class hub.

"Guangzhou has advantages in international trade and hosts a range of industry clusters. It is the riverhead for a number of critical global supply chains. Logistics starting Guangzhou will greatly reduce transport costs," said Wu.

According to data released by Guangzhou customs, the city's aviation economy recorded strong momentum in 2020, with the total value of import and export goods exceeding 260 billion yuan, up 12 percent year-on-year amid the pandemic, when many other major economic centers have experienced significant disruptions.

In 2020, the annual passenger throughput of Baiyun Airport was 43.768 million, successfully topping the global airport throughput, according to statistics from the airport.

Guangzhou will also focus on the development of other core aviation industries, including modern aviation logistics and aviation maintenance, the briefing released.