China's retail giants push green behavior through initiative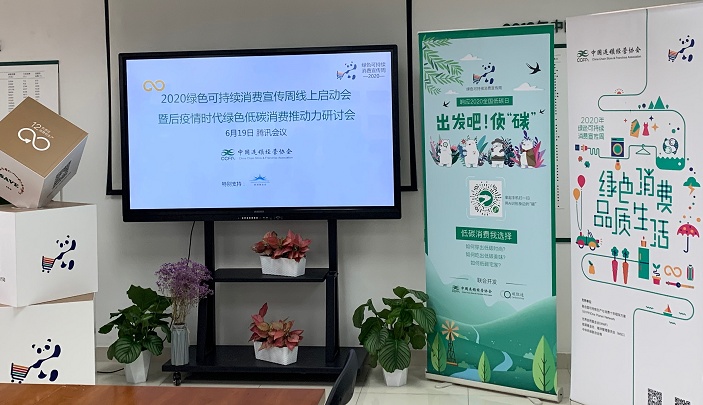 China Chain Store and Franchise Association has launched Green Sustainable Consumption Week nationwide to raise awareness of low carbon consumption among retailers and consumers through innovative digital tools. [Photo/CCFA]
China Chain Store and Franchise Association has launched Green Sustainable Consumption Week nationwide to raise awareness of low carbon consumption among retailers and consumers through innovative digital tools.
The initiative has partnered more than 600 stores at a dozen retail firms in 45 cities, including catering chain Xibei Restaurants, leading hotpot chain Xiabuxiabu and convenience store chain Bilibee Chain Commerce Co, to share information on green lifestyles, low-carbon products and sustainable consumption between June and October.
The eighth consecutive year of the Green Sustainable Consumption Week, the association has developed a batch of solutions for participating chain stores to promote sustainable consumption including providing information on how to use and categorize plastics, reduction of food waste and recycling.
A mini program on WeChat jointly developed by CCFA and Carbonstop, a carbon management software and consulting services provider, is designed to improve consumer knowledge on products' carbon dioxide footprint and low-consumption behaviors. For example, consumers can take a photo of a product such as a bottle of liquor and search for its carbon footprint.
Pei Liang, president of the China Chain Store and Franchise Association, said "We hope to guild consumers to make green consumption decisions based on their knowledge and awareness through this mini program, cultivating green and low carbon dioxide consumption, boosting economic growths."
For example, convenience store chain Bilibee has developed an automatic ordering system based on sales estimations in an effort to reduce food waste.
More than 200 stores have pledged to be part of this low carbon dioxide program to implement and advocate for low-carbon consumption.
Wei Wei, sustainable director of Decathlon China, said the company has actively participated and promoted low carbon consumption. "Innovative and digital tools will enable the connection between sustainable development and consumers, building consumers in making sustainable choices. By doing so, it will further motivate brands to act on sustainability."