Nuns, funds and guns: the firearms debate on Wall Street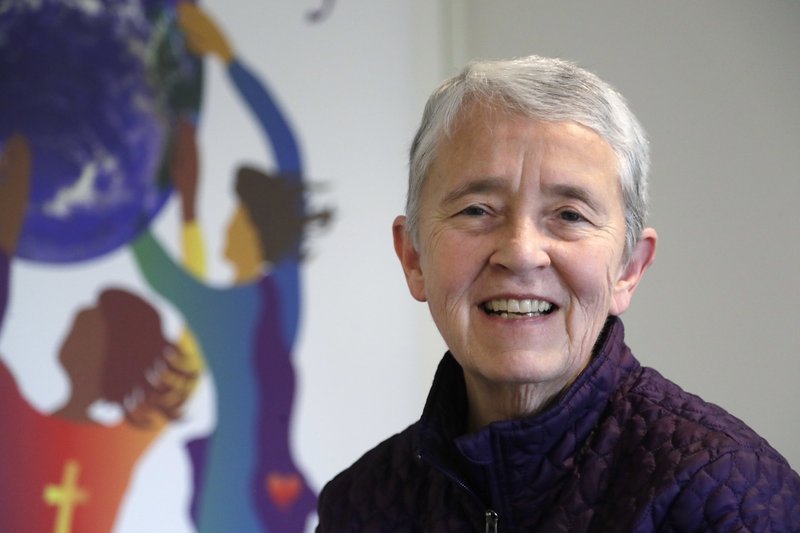 (Photo: AP)
Some of Wall Street's heaviest hitters are stepping into the national debate on guns as investment firms ask firearms makers what they are doing about gun violence.
The firms speak softly, but because they own trillions of dollars' worth of stock, their voices travel far. And they're now joining forces with some unusual allies, including smaller and untraditional investors. In this context, the investment fund BlackRock, which owns big stakes in three different gun makers, might end up working alongside a group of nuns.
Sister Judith Byron, the director and coordinator of the Northwest Coalition for Responsible Investment, says her group and BlackRock appear to have similar ideas when it comes to gun manufacturers and retailers. Following the killing of 17 students and teachers at Marjory Stoneman Douglas High School in Parkland, Florida, funds like BlackRock started asking gun manufacturers what they are doing to reduce the risks of gun violence, and asking retailers how much they make from selling guns.
Byron says her group, a coalition of religious communities and health care systems, invested in firearms makers a decade ago and has been working on gun safety issues for years. In the last few months the coalition introduced resolutions pushing American Outdoor Brands, Sturm Ruger and retailer Dick's Sporting Goods to give reports to investors about the steps they are taking to reduce gun violence.
"We're hoping we can engage these big investors and encourage them to vote for our resolutions," she says.
Some larger investors have similar views. The biggest public pension funds in the US, CalPERS, recently refused to sell its investments in companies that sell assault rifles. It says that by remaining an investor, it's been able to get those companies to make positive changes.
The nuns aren't protesters, and they don't carry props or signs to disrupt board meetings, although they sometimes work alongside groups that use those tactics. Byron says some of the shareholder meetings she's attended have been downright pleasant, with investors and board members thanking her for asking questions.
Support from investment firms was crucial to the coalition's big success last year when, after decades of work, it backed a successful resolution that required oil giant Exxon Mobil to disclose the effects climate change is having on its business.
Erik Gordon, a professor at the University of Michigan's Ross School of Business, said companies are often reluctant to risk any sales in order to do the responsible thing. But it does sometimes happen, as when CVS stores stopped selling cigarettes in 2014. He said activists deserve most of the credit for getting the funds to speak out.
"BlackRock didn't wake up one morning and say, 'We are going to take a different approach to investing, it's the right thing to do,'" he said. "It's a reaction to the activists."
The top priority of firms like BlackRock, State Street and mutual fund company Vanguard is to make as much money as possible for their clients. But because they own so much stock, they can wield a lot of influence: They can support new directors who want to change the direction of the company and back proposals that change the way it operates.
BlackRock is a major shareholder in gun makers Sturm Ruger, American Outdoor Brands, and Vista Outdoor Brands. About a week after the shooting in Parkland, BlackRock said it wanted to speak with the three firearms makers about their responses to the tragedy. The fund said it is looking into creating new investment funds for investors that exclude firearms makers and retailers, and if many funds and investors followed suit, that would affect the price of those stocks.
In a letter to BlackRock, American Outdoor Brands said it supports steps that will promote gun safety while protecting the rights of firearm owners. The company said it backs measures including improved background checks and improved support for people with mental illnesses, but said it's opposed to "politically motivated action" that won't improve public safety. Sturm Ruger did not immediately respond to a request for comment.
In other words, there are limits to the funds' power. They aren't choosy investors and won't dump the gun makers no matter what they say. That's because their main investment strategy to invest in huge numbers of companies, including every stock listed on the Standard & Poor's 500 index.
According to Todd Rosenbluth, CFRA's director of research into funds and exchange-traded funds, that means BlackRock and Vanguard don't have that much leverage compared to activist investors or hedge funds. Those investors can have more dramatic effects on individual companies because they can buy up the stock, run for seats on the board themselves, or threaten to sell the shares if they don't like the company's choices.
"They can use their wallet and sell the shares or they can pressure the companies and threaten to sell the shares if actions aren't taken," said Rosenbluth. So far, he said those investors aren't really getting involved in the debate.
Still, there have been changes: Dick's, Walmart, Kroger and L. L. Bean have all said they will no longer sell guns to shoppers under the age of 21. Rosenbluth said that has more to do with the ongoing national debate about gun safety and regulations than anything the investment firms have said, and he believes laws will ultimately have a larger effect.
But Byron, who also wants new gun laws, says she is encouraged by the response from corporate America.
"We see companies taking leadership roles in environmental and social issues, which is encouraging," said Byron, adding that as shareholders, "they're our companies. We own them."