Ministries give intl freight sector a boost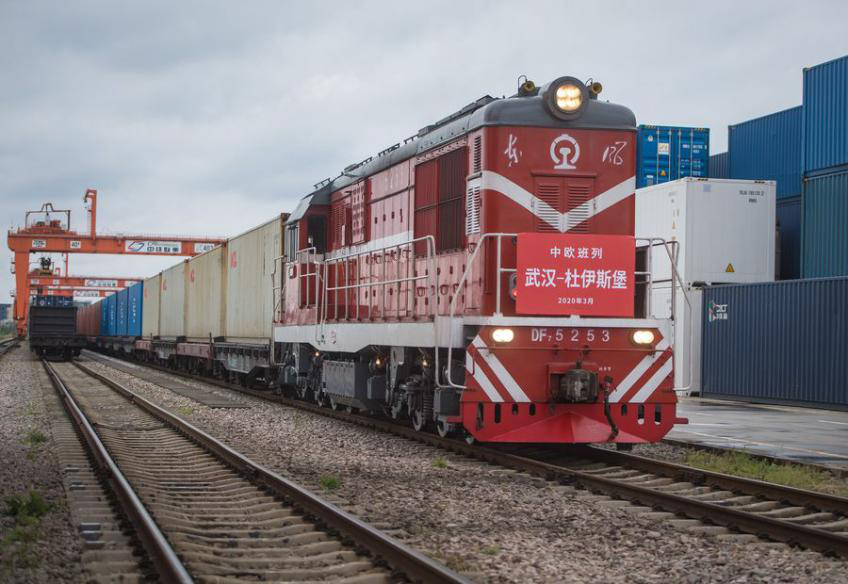 A China-Europe freight train bound for Duisburg, Germany pulls out of the Wuhan terminal of China Railway Inter-modal in Wuhan, Hubei province on March 28, 2020. (Photo: Xinhua)
China is boosting its international freight capacity and stabilizing cross-border logistics amid the novel coronavirus pneumonia pandemic with a slew of measures, a Ministry of Transport official said.
The spread of the disease around the world has left China's international freight sector facing a backlog of international mail deliveries and difficulties transporting daily necessities, production materials, medical supplies and consumer goods to other countries, Li Tianbi, the ministry's safety director, told a news briefing on Saturday.
The ministry and other departments, including the ministries of foreign affairs, commerce, and industry and information technology, have established a mechanism to make sure international logistics runs smoothly, Li said.
"We have been coordinating the cooperation between China Post Group and China Shipping Company to provide international mail shipping service," he said.
China Cosco Shipping has delivered mail containers to countries such as Japan, New Zealand and Israel, he said, adding that the ministry would expand the number of routes to increase freight capacity.
Hou Yanbo, deputy director of the State Post Bureau's market monitoring division, said China has also ramped up support for civil aviation and logistics providers' air cargo operations and has added more chartered flights to enhance its international airfreight capacity.
With travel restrictions imposed around the world as a result of the pandemic leading to a plunge in international passenger flights, the volume of cargo carried in passenger planes' bellies has plummeted. China, which has a limited freighter fleet, has been grappling with an unprecedented challenge in transporting international mail and packages, Hou said.
To ease the freight bottlenecks, Shandong Airlines recently transformed three of its narrow body aircraft-Boeing 737-800s-to freighter planes by taking out their seats. The airline said the cargoonly flights can carry 20 metric tons of freight, three times more than before.
The bureau has lowered logistics costs and created a priority "green channel" for air delivery businesses by making overseas transfers easier, speeding up customs clearance and opening air routes, Hou said.
Those efforts are sustaining the delivery of medical emergency supplies, daily necessities and express mail and represent crucial support in the international prevention and control of novel coronavirus pneumonia, he added.
In the first quarter, China shipped 320 million parcels to and from overseas countries and Hong Kong, Macao and Taiwan, up by 9.5 percent year-on-year, according to the bureau.
China-Europe freight trains have also remained a reliable international transportation channel amid the pandemic, according to China State Railway Group.
However, the train journeys are taking longer due to the escalating epidemic situation in Europe, said Zhao Jun, head of the company's freight department, and return trips from Europe to China have seen reduced cargo demand.
Zhao said the company will strengthen international railway cooperation, adding that 1,440 tons of epidemic prevention materials have been transported to countries such as Italy, Germany, Spain, Czech Republic, Poland, Hungary, and Netherlands via the China-Europe rail service.