SPIC to help decarbonize heating sector gradually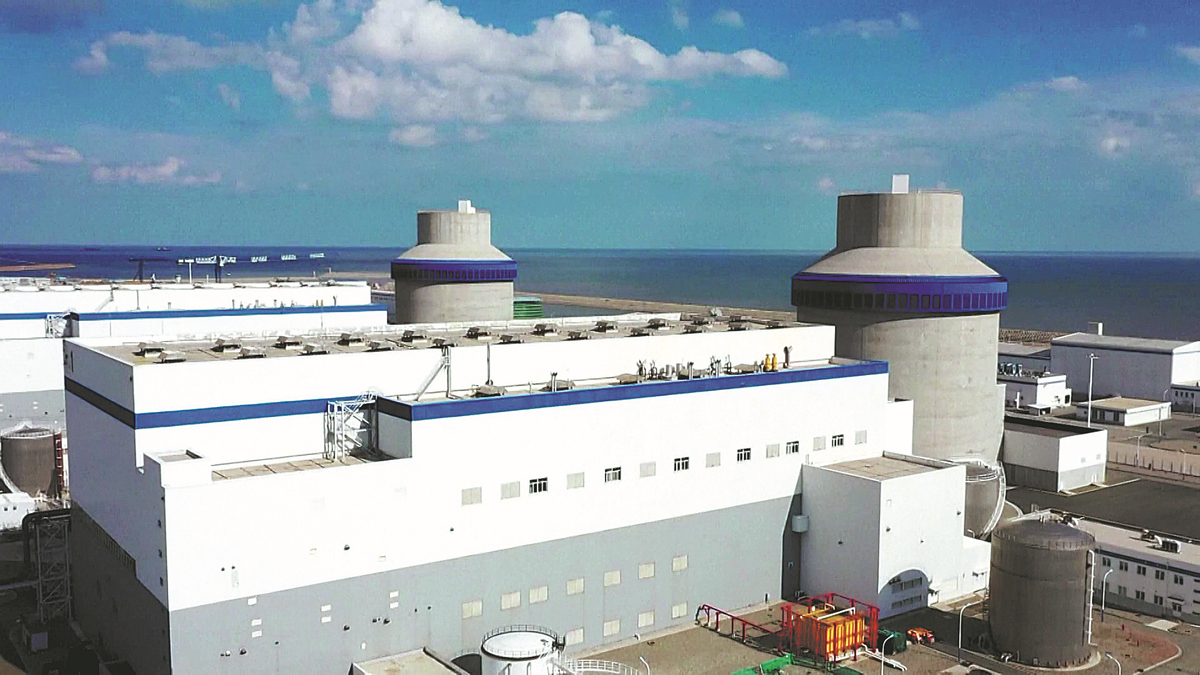 Successful nuclear power-based project to spawn expansion to more local areas
State Power Investment Corp is gearing up to expand its nuclear power-based heating projects to more areas in China, following the successful completion of the country's first such commercial project.
After launching operations last November, SPIC's demonstration heating system-the Warm-U-Clear-1 project-successfully completed its mission of providing clean heating to Haiyang, a county-level city in Shandong province, for the whole heating season this year.
SPIC said the local project has benefited 200,000 residents, with the carbon-free heating for 143 days serving an area of more than 5 million square meters, it said.
The company plans to expand the heating area to the whole Jiaodong peninsula, as nuclear-based heating alternatives are likely to be more widely embraced, thanks to the steadily accelerating development of nuclear power plants.
The third phase of the 900-megawatt nuclear power-based district heating project, the country's largest single-unit steam extraction heating project, is currently under construction and is expected to start providing clean heating by next year's heating season, the company said.
The project will also involve new energy and energy storage solutions to better manage the consumption of clean energy and cross-region clean energy heating, it said.
The company started its first phase of nuclear heating in 2019, which has provided 700,000 sq m with carbon-free heating, followed by the second phase that covered 5 million sq m in 2021.
The third phase of the nuclear heating will cover 30 million sq m and is expected to meet heating demand for 1 million residents and carbon reduction is expected to increase several times over, SPIC said.
The application of nuclear power-based district heating has reduced heating costs for consumers, and eased the burden of local thermal power companies, SPIC added.
The green benefits are also massive, as the use of nuclear energy heating in the area has so far reduced emissions of carbon dioxide by 180,000 metric tons in equivalent, nitrogen oxide by 2,021 tons, sulfur dioxide by 2,138 tons and soot by 1,243 tons, it said.
This has not only improved the surrounding marine ecology and local environment but also provided a new demonstration for marine ecological conservation at nuclear power bases.
The Haiyang nuclear plant has a heating system connected to two traditional nuclear units, making it the first commercial attempt in China to supply heat from traditional nuclear power.
The system extracts non-radioactive steam from the secondary circuit of the two Haiyang AP1000 units, which is then fed through a multi-stage heat exchanger in an on-site heat exchange station.
The heat is then fed to an off-site heat exchange station belonging to a local thermal power company, where heated water flows through municipal heating pipes to consumers.
Unit 1 and Unit 2 of the Haiyang nuclear power plant in Shandong have produced electricity of more than 68.5 terawatt-hours so far. Unit 1 is the world's largest cogeneration unit and has replaced 12 local coal-fired boilers, reducing a coal equivalent of 180,000 tons each heating season.
Analysts said the project has helped improve the efficiency of nuclear power plants and stimulated new industries as well, which has provided precious experience to further promote nuclear heating nationwide.
Wei Hanyang, a power market analyst at BloombergNEF, said the Haiyang project is only the beginning as China has also approved a nuclear power-based heating plant in Heilongjiang province, which will be the first inland reactor not connected to a power generator.
Both efforts in Shandong and Heilongjiang illustrate China's ambition to decarbonize its energy-intensive heating sector, he said.
China has vowed to steadily develop its nuclear sector during the 14th Five-Year Plan period (2021-25) to reach its twin goals of peaking carbon emissions by 2030 and achieving carbon neutrality by 2060.
The government released the country's modern energy system plan under the 14th Five-Year Plan earlier. It emphasizes that China's share of nonfossil energy consumption will increase to around 20 percent by 2025 and the proportion of nonfossil power generation will be around 39 percent by then.
It also vowed to gradually develop solar and wind power sectors on a large scale with high quality, together with steady construction of coastal nuclear power projects with an emphasis on safety.