Apple's new iOS 12 features shared AR experiences, less interruption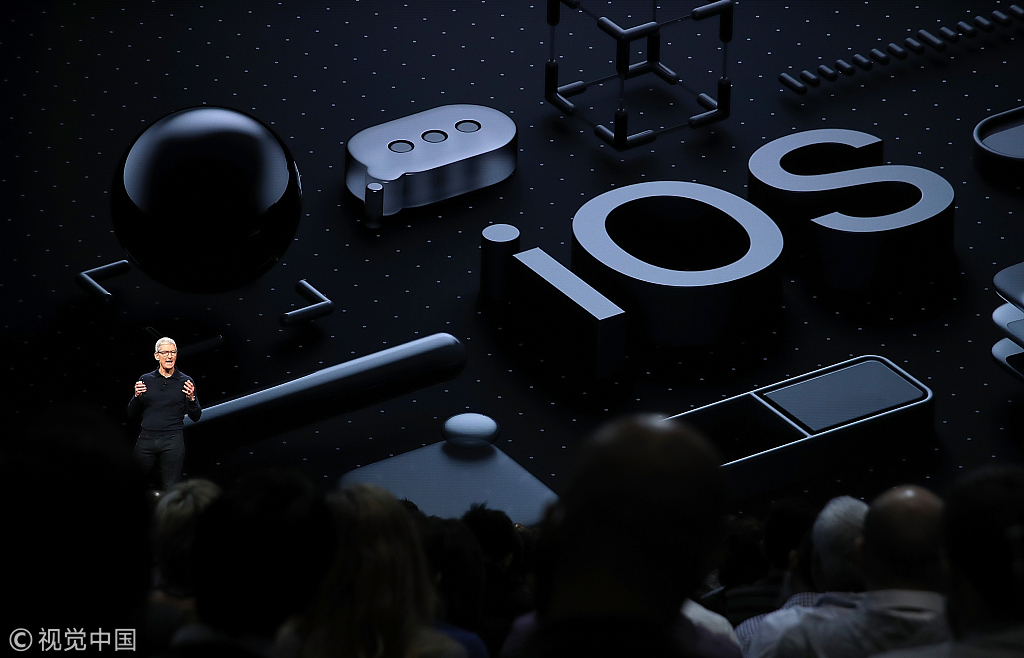 On June 4 local time, the Apple Worldwide Developpers Conference was held in San Jose, California, USA. (Photo: VCG)
Apple Inc. said Monday that its new iOS 12 will give users better Augmented Reality (AR) experiences and improved control of the time they spend interacting with their iOS devices.
IOS 12 changes the way iOS users see the world using AR and makes communication fun and expressive with Memoji and Group FaceTime, said Apple.
Released at Apple's Worldwide Developers Conference (WWDC) 2018, which opened in Silicon Valley Monday morning, iOS 12 introduces Siri Shortcuts, enabling Siri to work with any app and delivering a much faster way to get things done.
Apple uses advanced algorithms to make AR even more engaging and on-device intelligence to deliver faster ways to get things done using Siri, said Craig Federighi, Apple's senior vice president of Software Engineering.
The new system is designed to make everyday tasks faster and more responsive, and makes older devices such as the iPhone 6 run faster, according to Apple.
Apple said iOS 12 makes camera launch up to 70 percent faster, the keyboard appearing up to 50 percent faster and typing more responsive.
The new OS brings more performance improvements to more devices than any previous version and supports iPhone 5s, which was introduced in 2013, to the most advanced iPhone X.
In addition, the new tools integrate shared experiences, persistent AR experiences tied to a specific location, object detection and image tracking, making AR apps even more dynamic.
Apple also said the new features will be made available later this month as part of the iOS 12 public beta, including Activity Reports, App Limits and new Do Not Disturb and Notifications controls designed to help customers reduce interruptions and manage screen time for themselves and their families.