More partners on board CCI Southern Transport Corridor
en.people.cn
1527309652000
More partners have agreed to jointly develop the China-Singapore Connectivity Initiative (CCI) Southern Transport Corridor, which is expected to offer a shorter and more direct trading route between western China and Southeast Asia, China News reported.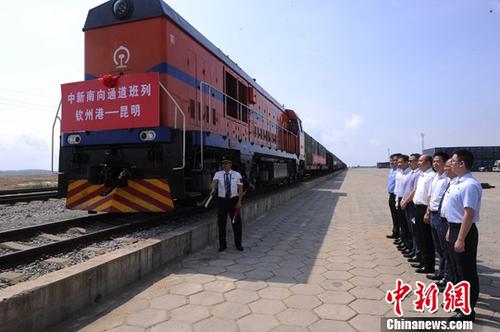 Chinese provinces such as Sichuan, Henan and Hunan, alongside countries such as Poland and the United Arab Emirates (UAE), all expressed their wishes to help build the corridor at the 10th Pan-Beibu Gulf Economic Cooperation Forum & the 2nd China-Indochina Peninsula Economic Corridor Development Forum, held in south China's Guangxi Zhuang Autonomous Region on May 24.
An ambassador of the UAE to China noted that the UAE, with its superior geological position, hopes to connect Asian, African and Mediterranean countries with European countries as a logistics hub.
Building the corridor will bring major opportunities to both western China and ASEAN countries, said Ma Biao, vice chairman of the National Committee of the Chinese People's Political Consultative Conference (CPPCC).
Wei Ran, an official of Guangxi, introduced that cargo is now transported through the trade route to 58 ports of 35 countries. The corridor has saved freights a distance of 1,000 kilometers and reduced the average travel time of cargo by 12 days.
Wei disclosed that 660 sea-railway trains, 100 freight trains and 500 cross-border highway transport vehicles will operate through the route this year, which is believed to bring huge market potential.
The corridor was designed to link western China to Southeast Asia through Chongqing, a municipality in western China and Singapore, and to connect the overland Silk Road Economic Belt with the 21st Century Maritime Silk Road. Its construction has made substantial progress since the initiative was launched in 2017.