Honor 20: Huawei launches premium phones with four rear cameras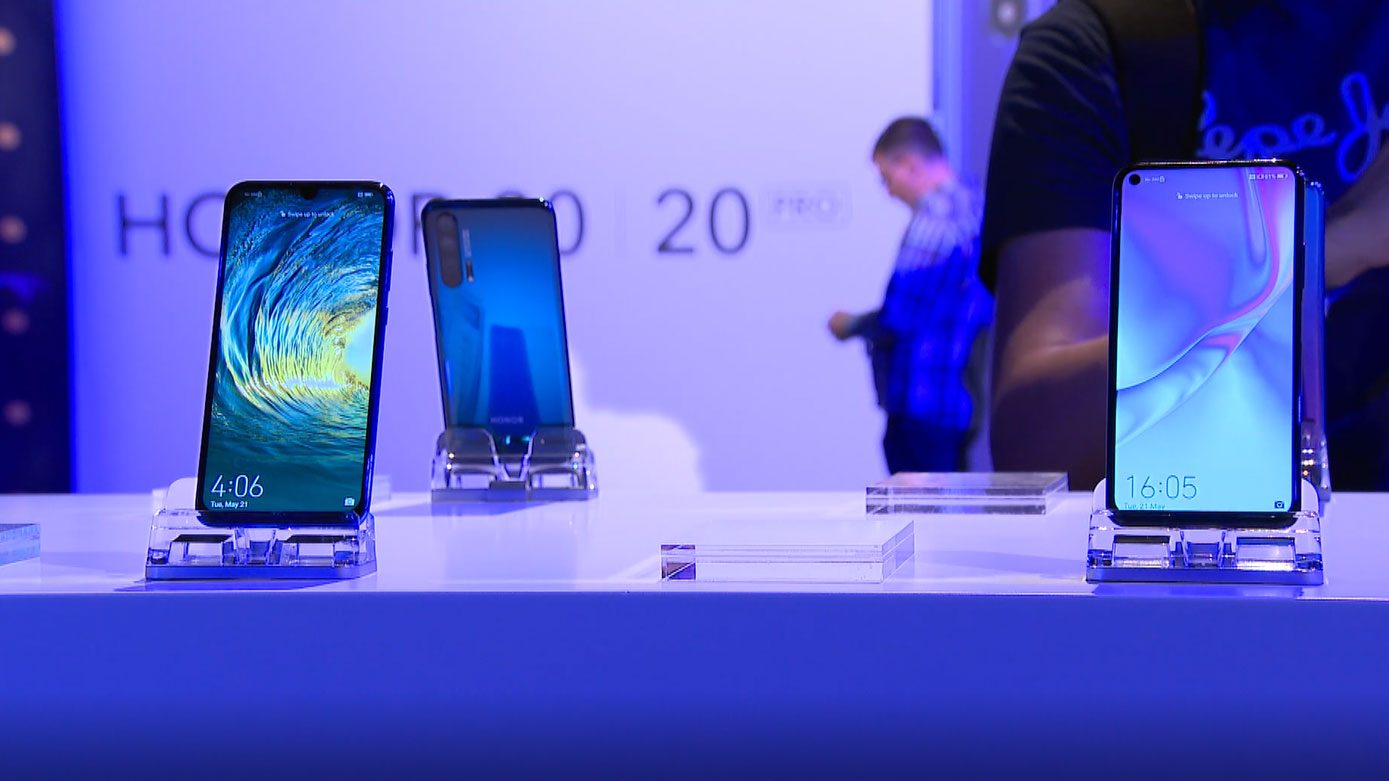 Held in London's Battersea, Honor, the sub-brand of Huawei is launching two smartphones: the Honor 20 and the Honor 20 Pro. The new series will succeed the Honor 10 launched last year.
"We design our products for young people," says George Zhao, president of Honor, speaking at the event. "We encourage young people to follow their dreams. They are the engine and power that support Honor's growth."
The sub-brand is aimed towards younger consumers with a focus on photography, gaming and social media.
Honor's new phone series are high-end but with a mid-range price tag. The Honor 20 is priced at 556 U.S. dollars and the Honor 20 Pro is 668 U.S. dollars. The Honor 20 has 6GB of RAM and 128GB of storage, while the Honor 20 Pro has 8GB of RAM and 256GB of storage.
Reasonable prices aside, the Honor 20 series' big selling point is photography, with both phones boasting impressive cameras.
Photos: CGTN
DxOMark, an image quality rating website, gave the Honor 20 Pro camera quality a score of 111, making it one of the best on the market. The Huawei P30 Pro and Samsung Galaxy S10 5G are the only two with a higher score.
Both phones are packed with four rear cameras, though the Pro has slightly better quality. The Honor 20 Pro version features a 48-megapixel main camera, an 8-megapixel camera and a 16-megapixel super wide-angle lens. Its fourth camera, a 2-megapixel macro lens, is for highly detailed zoomed shots. The main difference between the two is that while the Honor 20 has a 2MP Depth Assist sensor, the Honor 20 Pro has an 8MP Telephoto sensor with 3x optical zoom.
A right side-mounted fingerprint sensor has been added, which allows you to seamlessly unlock your phone in 0.3 seconds. The sensor also allows you to talk to a virtual assistant if you hold onto it for one second. The Honor 20 and Honor 20 Pro are nearly identical in design with the same glass front and back.
Amid all the buzz are questions over Google's next move. The U.S. tech giant said it will stop providing its services to Huawei, including access to its version of Android updates, after the Trump administration blacklisted the Chinese company.
For millions of users in the West, being cut off from products such as Gmail or YouTube may be problematic.
However, Asma Elbadawi, a basketball player, poet and social media influencer, tells CGTN she will continue to buy Huawei's products despite this. "I'm also a photographer and I love Huawei for its camera, and the sound is really good when I make my own videos, so I don't think it affects me too much."
Google and Huawei have assured customers that existing smartphones will continue to receive the updates, as well as the new Honor 20, in western markets.