China to reinforce agricultural seed breeding sector to shore up national grain security
Global Times
1613988081000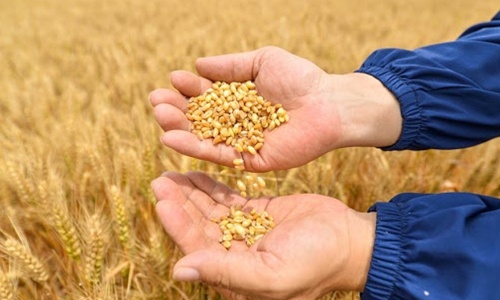 China vowed to reinforce its agricultural seed breeding sector to maintain national grain security, deemed a bottleneck affecting farming growth, in a new stage of rural development, as the central government unveiled the annual "No. 1 Document" to renew its emphasis on rural development.

At Monday's press conference, officials at China's agricultural ministry said China can guarantee farming seed safety and any risks will be controlled.
"China is capable of producing a large variety of grain seeds. China's self-selected crop breeding acreage accounts for more than 95 percent of farming, and increasingly the seeds are all home-made," Zhang Taolin, vice minister of the Ministry of Agriculture and Rural Affairs, said Monday.
The self-sufficiency rate of staple seeds for livestock and poultry has already reached 75 percent and 85 percent for aquatic products, according to Zhang.
However, officials acknowledged that China's seed industry has a lot of ground to make up when compared to advanced countries.
The yield level of China's soybean and corn is less than 60 percent of the US' and the imports of storable tomatoes and bell peppers account for more than 50 percent, Zhang noted.
Efficiency of hog reproduction, feed conversion rate and annual milk yield only hit around 80 percent of the international advanced level.
In addition to the breed type, the protection of seed resources and core technologies in seed breeding lag behind most advanced countries, the official pointed out.
In terms of the seed quality and performance, it does have a huge gap in many breeds and the solution is to "turn the table of the seed industry," said a senior official from Ministry of Agriculture and Rural Affairs Monday.
The "No. 1 document" lays out top-level design and systematic deployment aimed to strengthen the breeding industry, involving every step in the whole industrial chain, from genetic resource conservation, breakthroughs in breeding R&D to the market regulation of breeding industry.
"Now, the global breeding industry is in the process of a scientific and technological revolution, marked by modern biological breeding, gene editing, synthetic biology and AI technologies. We need to grasp opportunities, and speed up innovations to turn the table of the breeding industry and achieve leap-frog development," Zhang said.