Douyin updates regulations for Hainan offshore duty-free business
China.org.cn
1648539590000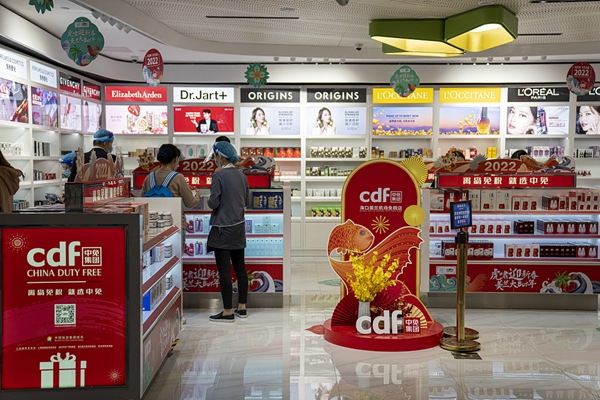 Customers shop for cosmetics at a duty-free store in Haikou Meilan International Airport, Feb. 3, 2022. [Photo/VCG]
On March 24, Douyin E-Commerce, the online shopping arm of the Chinese mainland version of TikTok, issued updated regulations on cross-border e-commerce business, prohibiting merchants that do not have a franchise in Hainan from selling offshore duty-free products.
Douyin's new rules clarifying illegal operation in cross-border and Hainan duty-free business were released to better regulate Hainan offshore duty-free business.
In recent years, China has been cracking down on unofficial sales channels for duty-free goods from Hainan, including"daigou"— cross-border personal shoppers who buy duty-free merchandises and then resell them.
In July 2020, regulations issued by the regulatory authorities stated that any person who purchases duty-free goods for others or resells them in the mainland market with the purpose of making profits shall be prohibited from purchasing duty-free merchandise for three years and be included in the relevant credit records under the law.
Hainan offshore duty-free products have been widely welcomed by consumers. According to statistics, in the first two months of this year, the total sales of Hainan's 10 duty-free malls reached almost 13 billion yuan, a year-on-year increase of 33%.
To date, a total of 10 companies in China have been granted a government license for duty-free trade, including China Duty Free Group (CDFG), Sunrise Duty Free, and Hainan Duty-free Co. Ltd.
CDFG, as China's largest operator of duty-free business and the world's number one travel retailer by sales, is playing a leading role in combating daigou activities in Hainan. It is working with regulatory authorities to strictly prevent daigou and guiding consumers to abide by the regulations.