Trump administration sides with Boeing in Bombardier dispute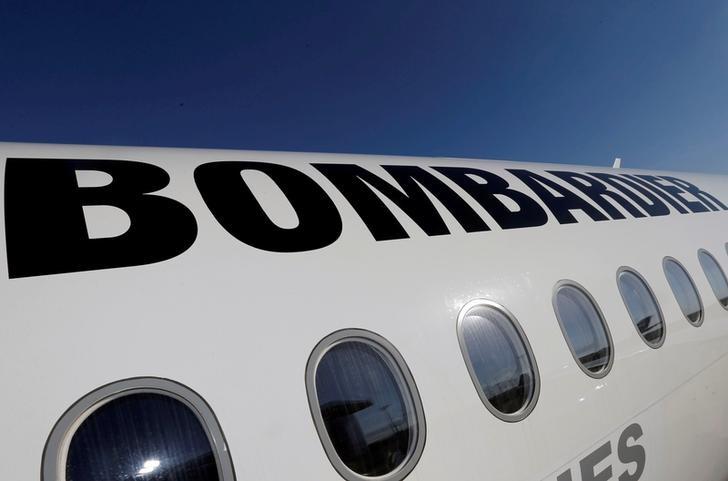 A Bombardier CSeries aircraft is pictured during a news conference to announce a partnership between Airbus and Bombardier on the C Series aircraft programme, in Colomiers near Toulouse, France, October 17, 2017. Photo: REUTERS/Regis Duvignau
The Trump administration on Wednesday recommended steep anti-subsidy duties on Bombardier Inc's CSeries jets, setting up the next round of a fierce international trade dispute between the United States and Canada.
The U.S. Commerce Department announcement to impose duties of nearly 300 percent stems from a complaint by Boeing Co that Bombardier had been unfairly and illegally subsidized by the Canadian government, allowing the planemaker to dump its newest jetliner in the U.S. market below cost.
"Today's decision validates Boeing's complaints regarding Bombardier's pricing in the United States, pricing that has harmed our workforce and U.S. industry," Boeing said in a statement on the decision, which was generally expected within the aerospace industry.
Delta Air Lines, the second largest U.S. carrier by passenger traffic, has an order for 75 of the 100-to-150 seat CSeries jets.
The aircraft starts at $79.5 million, according to list prices, or some $5.9 billion for the total order, but carriers typically receive steep discounts.
If imposed, the duties would more than triple the cost of a CSeries aircraft sold in the United States, based on Boeing's assertion that Delta received the planes for $20 million each, well below an estimated cost of $33 million and what Bombardier charges in Canada.
Bombardier criticized the U.S. decision as out of touch, citing the Canadian planemaker's plan to team up with European Airbus to launch assembly of the CSeries from a production line in Mobile, Alabama, making it a domestic product for U.S. buyers.
"Unfortunately, the Commerce Department decision is divorced from this reality and ignores long- standing business practices in the aerospace industry, including launch pricing and the financing of multibillion dollar aircraft programs," Bombardier said in a statement.
The U.S. penalty against Bombardier will only take effect if the lesser-known U.S. International Trade Commission (ITC) rules in Boeing's favor, as it so far has, in its final decision expected in early 2018.
Canadian Foreign Affairs Minister Chrystia Freeland said the government will consider its next steps and options for appeal.
"We are steadfast in our determination to defend Canadian companies and workers against protectionism," Freeland said in a statement.
Freeland said Boeing has failed to demonstrate that it is being threatened with injury by the CSeries "in a market segment it exited over a decade ago."
Boeing had called for countervailing duties of 79.41 percent to offset what it described as harmful Canadian subsidies to Bombardier. It also identified a "dumping margin" of 80.5 percent, based on the unpublished prices at which it claims Bombardier sold the CSeries planes to Delta, for a combined border charge of just under 160 percent on the Bombardier jets.
Wednesday's decision is in line with U.S. Commerce Secretary Wilbur Ross' pledge to aggressively police unfairly traded imports to help shrink U.S. trade deficits.
It also coincides with negotiations between the United States, Canada and Mexico to modernize the North American Free Trade Agreement (NAFTA).
The dispute between the two planemakers could, however, move to a larger stage as Canada weighs a complaint to the World Trade Organization or through NAFTA.
At a contentious hearing of the ITC on Monday, Canada said that a positive finding of material harm to Boeing by the group could represent a possible violation of international trade agreements and prompt a formal objection.
Canada earlier this month scrapped plans to buy 18 Boeing Super Hornet fighter jets, underlining Ottawa's anger over the trade challenge. Boeing has said it considered all potential risks before deciding to open its trade case.
U.S.-Canadian trade relations have also chilled over disputes about Canadian softwood lumber and U.S. milk protein products.