Apple's earnings in China drop nearly 30% in Q4 driven by weak demand
Global Times
1604033971000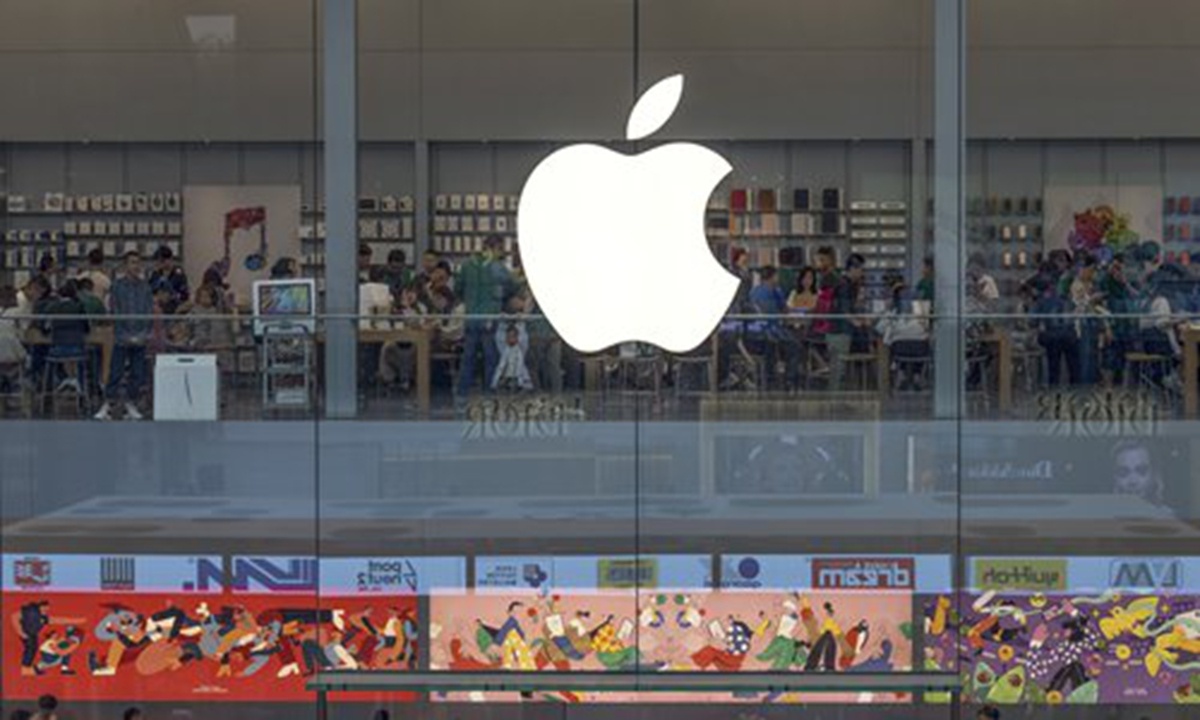 Apple on Friday revealed its fourth-quarter earnings and the sales in China, an important region of growth for the tech giant, witnessing a sharp drop in sales of nearly one-third. Analysts said the decline is due, in part, to Apple's lack of high-end products.
During its fourth-quarter 2020 financial earnings call, Apple said it achieved $7.9 billion in sales in China, down considerably from last year's $11.1 billion, a drop of 28.9 percent from the same period last year.
But Tim Cook said it is better than Apple's expectation.
"China is the region that was most heavily impacted by the absence of the new iPhones during the September quarter," Tim Cook told analysts during the call, according to appleinsider.com. "Still, we beat our internal expectations in the region, growing non-iPhone revenue strong double digits and iPhone customer demand grew through mid-September."
"Of course, not shipping new iPhones for the last two weeks of September, makes that [China earnings] number in the aggregate a negative," Cook said. "But net [situation is that] the underlying business in China last quarter was very strong, and perhaps very different than you might think from just a quick look at the stated number, in terms of this quarter."
Fu Liang, an independent TMT analyst told the Global Times Friday that the decline in sales is "normal" to see, for Apple has been short of high-end products for a long time, and its 5G phones just hit the market a few weeks ago, lagging years behind Chinese rivals such as Huawei.
Huawei, a major rival of the iPhone, will launch the Mate 40 series in the domestic market on Friday and a special feature will be announced at the event.
Global Times last week reported that Huawei's newly launched Mate 40 phones sold out all pre-orders on Chinese e-commerce platform JD.com in 28 seconds after the sales started on October 24, beating the 30 seconds it took for Apple's iPhone 12.
Analysts attributed the hot sales to the product's tech edge, as Huawei's Mate 40 phones are more powerful than Apple's iPhone 12 series, with Huawei having rolled out its third-generation 5G phones as Apple just releases its first.
However, Cook still shows his confidence in the Chinese market
Cook said that looking at the earnings up to when Apple might ordinarily have launched new iPhones, Chinese sales were "growing from a customer demand point of view," according to appleinsider.com.
"Although we don't [give a guide] to revenue," continued Cook, "I would tell you that we're confident we'll grow this [next] quarter in China. And so, we're very bullish on what's going on."
IDC Thursday data showed that in the third quarter, the global number of smartphones shipped was 3.536 billion, a decrease of 1.3% from the same period last year. Apple's iPhone shipment for the quarter was 41.6 million units, an extension of 10.6 percent, ranking fourth after Samsung, Huawei and Xiaomi.
Fu also said Apple's smartphone sales in China in the coming quarter could be better, for the demand is still solid, and "the 5G battle is just beginning."