China's US Treasury holdings hit two-year low
Global Times
1558031730000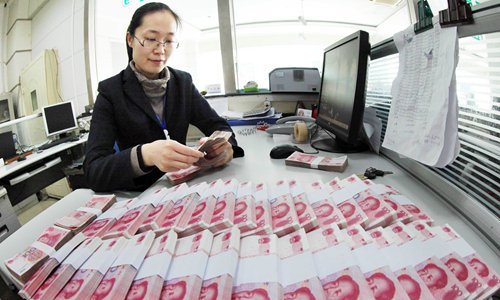 A clerk counts money at a bank in Lianyungang, East China's Jiangsu Province. (Photo: IC)

China reduced its holdings of US Treasury bonds in March to the lowest level in nearly two years, a trend that is likely to continue as Beijing seeks to avoid rising risks while supporting the yuan amid increasing uncertainty regarding bilateral trade relations, experts said.

According to data released by the US Treasury Department on Wednesday, China's holdings declined for the first time in four months in March, falling $10.4 billion month-on-month to $1.12 trillion. That was the lowest level since May 2017, when holdings stood at $1.10 trillion.

It was also the first time that China had reduced its holdings of US debt since November 2018. From June to November last year, China reduced its holdings of US debt each month. In November 2018, it cut its holdings by $17.5 billion, the largest reduction in 14 months.

The move came amid speculation that China might sell off some of its US Treasury holdings as a tactic in the trade fight with the US - an idea characterized by some foreign media as a "nuclear option" that could substantially damage the US economy.

China on Monday retaliated against US tariff hikes on $200 billion worth of Chinese goods, announcing duties of between 5 percent and 25 percent on more than 5,100 products from the US worth tens of billions of dollars.

Experts said, however, that the reduction in US Treasury holdings was not aimed at hitting back against the US, and China has no need to do so at the present time. If trade relations continue to deteriorate, all options would be on the table.

"If China dumps US debt, it's possible some other countries might follow, triggering a hike in its interest rates that will greatly affect the US economy," Dong Dengxin, director of the Finance and Securities Institute at the Wuhan University of Science and Technology, told the Global Times on Thursday.

Despite the cut in March, China remained the largest holder of US Treasury bonds, followed by Japan with holdings of $1.08 trillion.

Avoiding risk

Experts said that the main reasons for China's move were to avoid financial risks, respond to uncertainties in the US economy and have the cash ammunitions ready to fight depreciation of the yuan.

The US' "America First" foreign policy and its capriciousness have affected its relationships with other countries, including its allies, increasing uncertainties in its economy. Thus, China has to diversify its foreign reserves, which mostly are in US dollar-denominated assets, to avoid potential risks, Dong said.

The biggest seller of US Treasuries in March was Canada, which dumped $12.5 billion worth of US debt, the biggest cut since July 2011. China was the second-largest seller. Germany, France and Australia also decreased their holdings in March.

"The ongoing trade war with the US has made diversification more urgent for China, but sales are expected to be done at a very moderate pace and to a limited extent to avoid global market turbulence," Dong said.

The diversification is are also in line with China's overall financial policy over the past year, Dong noted. "China will stick with to its financial opening-up policy, attract foreign investment, and increase trade relations with more countries in Europe and Asia to reduce its reliance on the US and the dollar."

Zhou Yu, director of the Research Center of International Finance at the Shanghai Academy of Social Sciences, told the Global Times on Thursday that China might purchase more gold, and government debts denominated in other currencies such as the euro and yen to diversify and optimize its foreign reserves.

"The move also aims to stabilize the yuan's exchange rate, which has been under pressure due to the trade war that has lasted for more than a year," Zhou said.

On Monday, the yuan's rate dropped to its lowest level against the US dollar since December 24, 2018. The yuan weakened to 6.92 on Monday, and rebounded a bit to 6.91 as of press time on Thursday.