Huawei unveils 2019 strategy at South Africa Eco-Connect
People's Daily app
1554417735000
Johannesburg (People's Daily) - Huawei Eco Connect South Africa kicked off in Johannesburg on April 4, where over 1,000 business leaders, global industry visionaries, opinion leaders, partners, and potential partners convened to get the latest in-depth updates on Huawei innovation within the South African marketplace.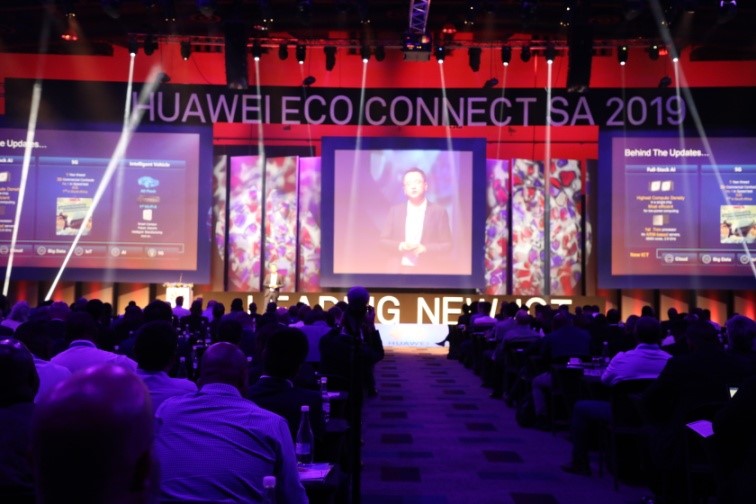 Huawei Eco Connect 2019 in Johannesburg, South Africa on April 4, 2019. (Photo: Li Yingyan)
The event features exhibition booths from partners including Altron, Mustek, Pinnacle, EOH, BCX, Gijima, TorqueIT, Commvault, Trillcom, Xon, Datacentrix, Tech Mahindra, and Reflex.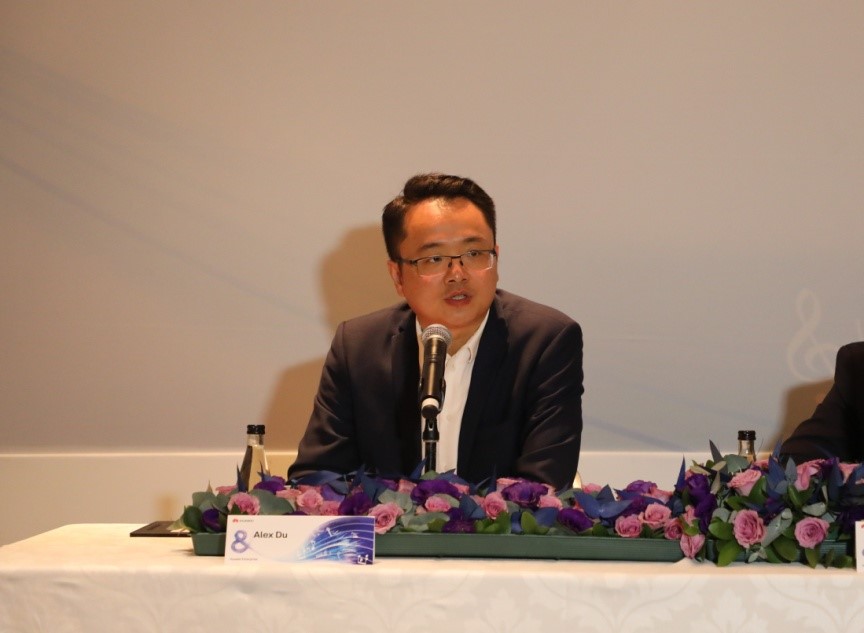 Huawei Managing Director Alex Du Min at a media briefing on April 4, 2019. (Photo: Li Yingyan)
Huawei Managing Director Alex Du Min said, "Huawei South Africa's strategy for 2019 will center around collaboration with partners and customers to develop innovative and leading industry-specific solutions that will enable flexible, open, and secure platforms to drive enterprise digital transformation."
Huawei is focused on facilitating a digital transformation ecosystem within South Africa in order to implement joint innovations and expand this ecosystem in terms of industry alliances, business alliances, developer platforms, and open-source communities.
"The idea is that Huawei will provide the Data Centre facility, hardware and software infrastructure and technical team whilst the partner contributes with ideas, products, and human resources," said Min.
As Huawei's commitment to this strategy it plans to accelerate digitalization and escalate physical and digital world convergence. The latest in ICT represents not only new technologies and platforms but also a new ecosystem, making it a cornerstone of industrial digitalization.
Min explained that digital transformation dominates many C-suite and boardroom agendas, at the beginning phase of this 4th industrial revolution in South Africa, businesses are faced with radical viewpoints and demands of which CIOs, CTOs, and CDOs struggle to define cohesive digital strategies. "It is therefore crucial that Huawei Enterprise commits to building a sustainable platform within which all its partners can thrive," Min said.
In line with Huawei's Platform + Ecosystem strategy, this year the company will focus on its 4-star product and solution plan.
The company announced its OceanStor Dorado, an all-flash storage that offers greater reliability and high-performance capabilities.
Other products include the Wi-Fi 6 AP, the industry's first application of 8x8 MU-MIMO, OFDMA, and 1024 QAM. As the industry's first wireless AP, it offers 10 GB data transfer speed capabilities.
Huawei distribution partner, Pinnacle CEO Tim Humphreys Davies said, "It is great to see a 1 gig uplink for any wireless device and high density of single users per point, which is great for streaming. This will drive better content and a richer experience."
Huawei's software-defined cameras can be used for face checkpoints, situation awareness, vehicle checkpoints, and Intelligent Transportation Surveillance (ITS).
The software-defined camera supports the continuous evolution and development of algorithms and applications. The open-ended platform allows AI applications in a variety of security scenarios.
Min also thanked Huawei partners for their ongoing commitment to the company's vision and stressed the importance of relationship building.
"Huawei will continue to strengthen relationships with our partners in South Africa and fiercely support and enable them to achieve the best results for their businesses by equipping them with the latest technological advancements in this market," said Min.