Global giants confident in China's services market despite COVID-19 bites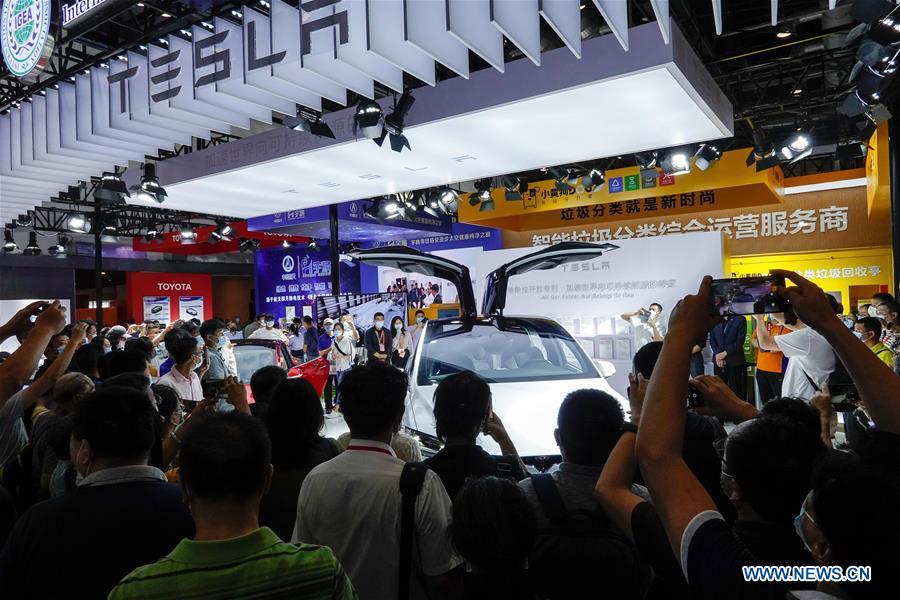 People visit the booth of Tesla at the comprehensive exhibition area during the 2020 China International Fair for Trade in Services (CIFTIS) in Beijing, capital of China, Sept. 7, 2020. (Photo: Xinhua)
As China walks the talk of wider opening up with a focus on high-quality growth engines, leading global companies are confident of the country's ever-growing market amid its recovery from COVID-19 strains.
At the ongoing 2020 China International Fair for Trade in Services (CIFTIS) in Beijing, the first major international economic and trade event held both online and offline by the country since the COVID-19 outbreak, the top Chinese leadership has vowed to ease market access in the service sector further and actively expand imports of quality services.
China has become a major contributor to the global growth of trade in services and has been the world's second-largest service importer and exporter since 2014.
"Although a relative latecomer in trade in services, China is striving to build a global brand for 'Services by China,'" said Merlin Swire, chairman of Swire Pacific Limited, noting that an already vast and growing middle-income population that prefers to buy goods or services of better quality and variety is a solid foundation for such upgrades.
Statistics showed that since 2012, the country's services trade has grown at an average annual rate of 7.8 percent, which is 3.7 percentage points higher than the global growth rate. In 2019, China's international services trade totaled 5.42 trillion yuan (about 775.6 billion U.S. dollars), ranking second in the world for six consecutive years.
China has pledged to stay committed to further opening up, with measures including the establishment of a sound negative list management system in cross-border service trade, and promoting open platforms for piloting innovative development of trade in services.
"We are pleased to see that the negative list compiled by the Chinese government is getting shorter, and the encouraged catalog is getting longer," said Swire.
Shipping and logistics giant Maersk also expects that an improved business climate and a shorter negative list will create more opportunities. It cited the public vessel agency being off the list in 2019 as one of the examples.
"We continue to see significant growth potential in China as the economy transforms and the composition of trade evolves towards higher value-added goods," said Jens Eskelund, managing director of Maersk China Ltd.
Eskelund, who is also vice president of the European Chamber of Commerce in China, told Xinhua that reciprocity in market access will ultimately benefit both Chinese and European companies and lead to more efficient services for users of shipping services.
"It is a very important signal and symbol in terms of opening up and that we are back in business," said Jochen Goller, president and CEO of BMW Group Region China, noting that CIFTIS 2020 is the need of the hour.
Despite COVID-19 posing serious challenges to the world, China has proved itself to be an important engine of global economic growth, manifesting strong resilience and growing signs of recovery.
"The short-term fluctuations will not change our plans for investment and development in the country," said Zhang Zhuoping, chairman of John Swire & Sons (China) Ltd.
"Our strategy is to continue increasing our investment in China and offer high-quality services, products and experiences to Chinese consumers in existing businesses and new areas," said Zhang, adding that the group announced a new joint investment in the field of healthcare services on the Chinese mainland.
Under the new economic development pattern of "dual circulation," China continues apace in sharing development opportunities with the rest of the world while reshaping its economy from an export- and investment-driven to domestic demand focused.
"In mid- and long-term we are very confident in the Chinese market, and I don't think the prospect of China is changing," said Goller, citing huge potential in domestic need and different business models.