Apple unlikely to dominate and shape 5G market with iPhone 12: analysts
Global Times
1602647192000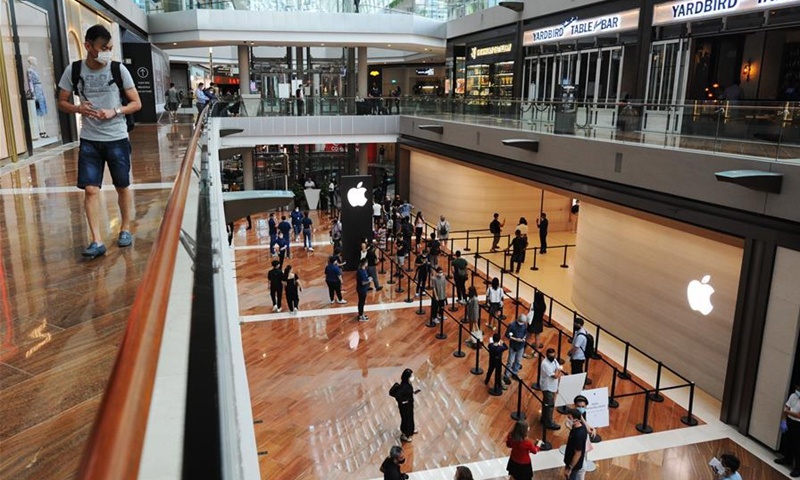 Apple Inc introduced its much-awaited 5G-enabled iPhone 12 lineup on Wednesday Beijing time which is expected to sell well on the Chinese market but unlikely to dominate and shape the 5G market as uncertainties in its 5G performance still pose a huge question mark over its position in the Chinese market, analysts said.
Apple unveiled in a video presentation its iPhone 12 lineup — 4 new 5G phones starting at $699. The core of the lineup, the iPhone 12 equipped with A14 Bionic chip and a 6.1-inch display starts from $799.
The handset maker also offered a smaller version iPhone 12 Mini with 5.4-inch screen which starts at $699 and a high-end Pro Max version which starts at $1,099. Preorders begin on Friday.
Liu Dingding, a Beijing-based independent analyst, told the Global Times that it is smart of Apple to launch a range of iPhone models with tiered pricing which could drive a huge uptick in iPhone demand among Chinese customers.
"The different pricing options enable it to compete against android devices for entry level customers while retaining its high-end customers with its pricey models," Liu said.
However, he believes the main reason for iPhone 12's tiered pricing strategy is the company's lack of innovation, as many customers believe the outlook of the new iPhone with slimmer bezels and a flatter frame reminds them of the iPhone 4 series launched a decade ago with no main breakthrough.
"Obviously, there isn't enough innovation in the iPhone 12. In the case of insufficient innovation, the company can only use a tiered pricing strategy to attract consumers," he said.
The disappointment was reflected in Apple's shares. The price fell over 3 percent during the event and closed down 2.7 percent.
Many Chinese customers said they have been waiting for the new iPhone to change their out-of-date models. However, the uncertainties in its 5G performance still pose a huge question mark over its position in the Chinese market.
Wang Jia, a Shanghai resident, told the Global Times that she's been waiting to change her 5-year-old iPhone 6 into the latest iPhone, and looks forward to assessment of its 5G functions.
"I have been waiting to buy the new iPhone as it would be more convenient to transfer data from my old phone. However, I will postpone the decision for a while to see the market reaction to Apple's 5G performance," she said.
Compared with android smartphones which have enabled 5G networks for a year, Apple's release of 5G devices is lagging behind and came even a month later than its normal iPhone launch timing in September.
It is unlikely that Apple can dominate and shape the 5G market amid competition with other 5G-enabled android handsets which have been on the market for a year, Xiang Ligang, director-general of the Beijing-based Information Consumption Alliance, told the Global Times on Wednesday.
"Apple has always been a follower in the 5G era. It is difficult for Apple to catch up with companies like Huawei which boast mature 5G technology," Xiang said.
He noted that it takes a long time for a 5G mobile phone to be tested, find and solve problems during its operation on a commercial network.
The fact that the research and development of iPhone is mainly done in the US and has not been tested by consumers on the existing commercial network in China is a disadvantage for the company.
"In addition, Apple does not have 5G base stations like Huawei does. It will be more difficult for it to coordinate mobile phones with base stations so as to improve its performance," Xiang said.
Liu also believes the launch of iPhone 12 will not necessarily have an impact on Huawei.
"The current 5G market is far from saturation. It can accommodate multiple companies such as Apple and Huawei to compete on the same stage," Liu said.