Emerson sweetens bid for Rockwell Automation to $29 billion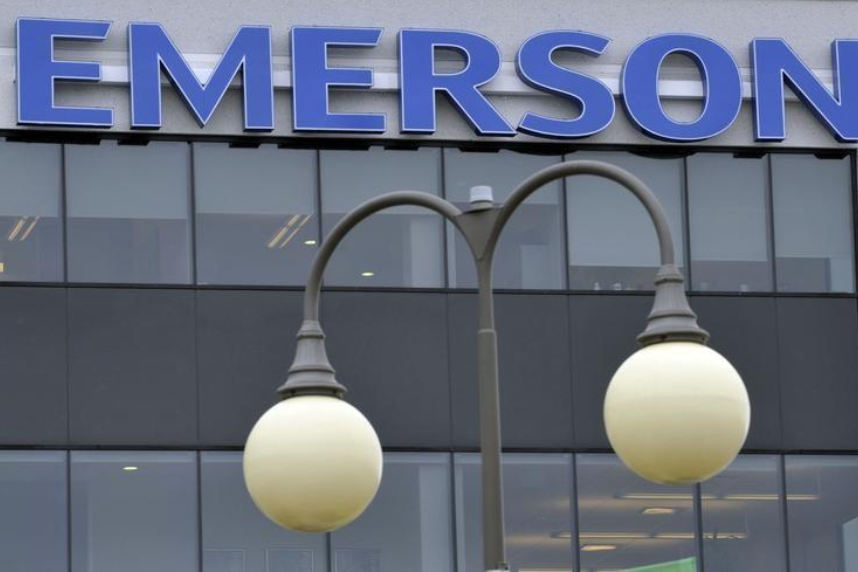 Emerson Electric Company Canadian headquarters is shown in Markham February 7, 2012. REUTERS/Mike Cassese
U.S. industrial automation equipment company Emerson Electric Co raised its cash-and-stock offer to acquire Rockwell Automation Inc to $29 billion on Thursday, ratcheting up pressure on its smaller peer to engage in deal talks.
The new offer follows Rockwell's rejections of Emerson's overtures for much of this year. Rockwell's CEO Blake Moret said last week he wanted to stick with delivering the company's factory automation equipment on one platform.
"As it did with Emerson's prior proposals... the board of directors of Rockwell Automation will carefully review Emerson's proposal to determine the course of action that it believes is in the best interest of the company and Rockwell Automation shareowners," Rockwell said in a statement on Thursday.
Rockwell shares were up 4.7 percent at $197.57. Emerson shares were up 0.2 percent at $59.25, giving the company a market capitalization of $38 billion.
Milwaukee, Wisconsin-based Rockwell said last month it had rejected a $215-per-share bid from Emerson, split in half between cash and shares.
On Thursday, Emerson said its new $225-per-share bid would be split between $135 per share in cash and $90 per share in Emerson shares.
"We do think it is a compelling offer for the company, given the increase in overall bid and increased cash component," Stifel analysts wrote in a note.
Emerson offered to name the combined company Emerson Rockwell and maintain a significant presence in Milwaukee as an "automation center of excellence" for the combined company. It also said it would expand its board from 10 to 13 directors, with three nominated from the current Rockwell board.
"We remain convinced there is compelling strategic, operational, and financial merit to bringing together our two companies," Emerson Chief Executive David Farr, who has been at the company's helm for 17 years, said in a statement.
St. Louis, Missouri-based Emerson also estimated the total capitalized value of the deal synergies to be in excess of $6 billion and said it did not anticipate any material antitrust issues.
"Even after 'capitalized' synergies of $6 billion, the returns would be sub-par and exposed to the cyclical downside risk inherent to Rockwell's end-markets," Cowen and Company analysts covering Emerson wrote in a note.
PROCESS VS. DISCRETE AUTOMATION
Emerson's strength is in process automation, helping power plants and factories in sectors such as mining and cement operate more efficiently.
Rockwell is a leader in so-called discrete automation, helping assemble component parts to manufacture items such as automobiles, household appliances and computer systems.
Rockwell caters to its discrete automation customers using a programmable logic controller platform it calls Logix. It has been seeking to expand this control platform to process automation and cater to so-called hybrid customers using a combination of process and discrete automation.
Emerson uses a distributed control system platform for its process and hybrid automation customers called DeltaV. Should it acquire Rockwell, it plans to offer its Logix platform to customers alongside DeltaV.
Rockwell has argued that this approach could disrupt the business of some of its customers who want a single platform, and even cost it revenue. This is despite it previously having tried to challenge Emerson's DeltaV by developing a similar distributed control system platform called PlantPAx, which never captured significant market share.
Rockwell has been gradually making progress in increasing its footprint in process automation, thanks partly to acquisitions, including of MAVERICK Technologies last year.
"In many plants where Rockwell is very strong, they may still be using Emerson platforms, and they co-exist very well together," said Craig Resnick, an analyst at ARC Advisory Group, a technology research and advisory firm.
"The clients that are happy to use the single-platform approach would continue with that approach regardless of whether Rockwell remained independent," he added.