China's luxury market set to become world's largest
Global Times
1610379572000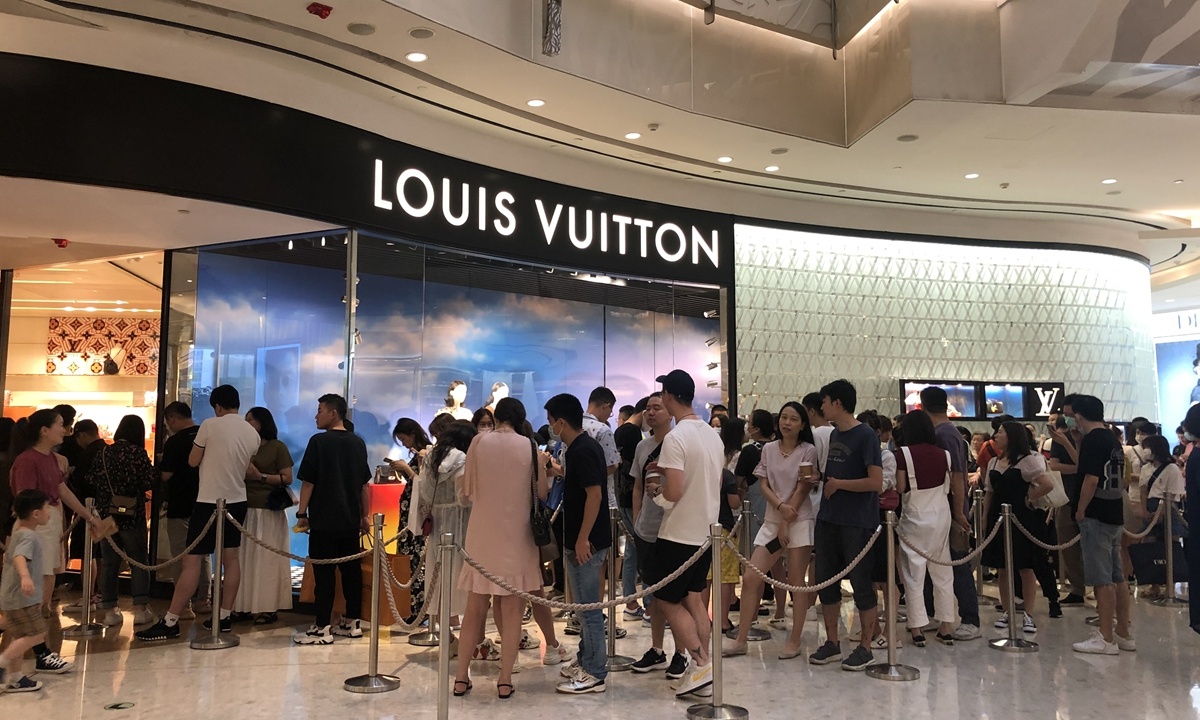 Bucking the global downward streak amid the fallout from the COVID-19 pandemic, China's luxury sales last year rose by a stunning 48 percent to about 350 billion yuan ($54 billion), buoyed by a consumption comeback as travelers were unable to shop overseas, a boost in online sales and duty-free policies in South China's Hainan Province, observers and industry reports said.

Riding on the trend, the country's luxury market is on course to become the world's largest in the next few years, analysts said.
A long list of luxury brands announced price hikes at the beginning of 2021, particularly handbags. Starting from January 8, Gucci has raised the price of handbags by up to 20 percent, according to media reports. Other top luxury firms such as Hermes, Louis Vuitton and Chanel also increased their prices in a range from 1 percent to 13 percent.
As global sales have been falling, a number of luxury brands have been employing the strategy of price hikes to mitigate the revenue contraction and loss of sales due to COVID-19. Louis Vuitton raised prices by 5 to 9 percent in May, while Chanel also increased prices of some handbags and small leather goods globally in May, followed by Prada in July.
While price hikes could be an effective measure to recoup losses, it is clear that more luxury brands are placing their bets on China, where demand is high and luxury consumption is recovering.
According to a report issued by Bain & Company, China's luxury goods market will likely achieve 48 percent growth in 2020 and will be worth nearly 346 billion yuan.
China's share of the world luxury goods market nearly doubled last year, growing from about 11 percent in 2019 to 20 percent in 2020, while the global luxury market declined at an expected rate of 23 percent in 2020, the report showed.
Shop at home
During the just-ended New Year's holiday, duty free stores across Hainan were crowded with wealthy Chinese buyers.
A sales manager at the Sanya duty free store surnamed Sun told the Global Times on Monday that some hot luxury items, such as Lancome eye cream, Burberry scarves, and Fendi boots have sold out due to rising demand, and it is not clear when new stock will come in.
"Traffic [at the duty free store] has bounced back since the second half of 2020," Sun said, noting that the overseas travel restrictions and attractive shopping policies have fueled the business boom.
In 2020, duty-free sales in Hainan exceeded 32 billion yuan and a further rise is expected this year, Wang Lei, a Hainan government official, said at a press briefing on Monday.
Starting from July 1, Hainan increased the duty-free quota per person to 100,000 yuan from 30,000 yuan. And more favorable policies will be launched this year, including a duty-free delivery service, according to Hainan officials.
"The pandemic shows no sign of abating in other countries, so it is impossible to travel to international markets in the short term where luxury products can be cheaper. Spending in the home market is the only way I can release my pent-up demand," a Beijing-based white-collar worker surnamed Li told the Global Times on Monday. Li had a vacation in Hainan in December and spent more than 30,000 yuan on luxury purchases.
Li said she is also worried about cross-border e-commerce shopping, as there is a risk of coronavirus in the outer packaging of goods sent to China.
Chinese consumers' demand for luxury goods was also seen during Beijing SKP shopping mall's annual shopping celebration, during which thousands of wealthy people swarmed in and patiently queued in stores for hours.
"We expect the 'comeback' trend to last until the end of this year," an SKP salesperson told the Global Times. As such, she has tried to develop more long-term customers, acquiring the contact numbers of some regular luxury consumers who used to buy goods in Milan or Paris.
"Once new items arrive, I will inform them," she noted.
Banking on the Chinese market
The robust demand in China - which is also the only major economy to achieve positive growth last year - is a source of hope for global luxury brands, whose sales have fallen amid the COVID-19 pandemic.
The main luxury brands are now doubling down in the Chinese market and are embracing e-commerce, an area they used to shun due to concerns that moving online could erode their high-end brand image.
According to the Bain & Company report, China's annual luxury online penetration increased from about 13 percent in 2019 to 23 percent in 2020.
So far, luxury brands including Prada, MiuMiu, Bvlgari, Louis Vuitton, Hermès and Gucci have opened stores on Tmall, Alibaba Group's B2C online marketplace. From January to November, the online luxury sales of Tmall International soared 72 percent year-on-year, according to data revealed by Tmall.
Some brands have also scaled up their presence in China's social media platforms such as short video website Douyin, the Chinese version of TikTok, as well as shopping platforms Xiaohongshu and Blibli. It's part of an effort to cater to young Chinese consumers who are becoming a major force in luxury consumption.
Wang Xinmiao, a Beijing-based industry observer, predicted that China's luxury market will grow by more than 40 percent in 2021. "More luxury brands will choose China as the first market to launch new products," Wang told the Global Times.