European stocks decline before Wall Street return
European stock markets slid on Tuesday awaiting the return of Wall Street, though London losses were capped by a weak pound, analysts said.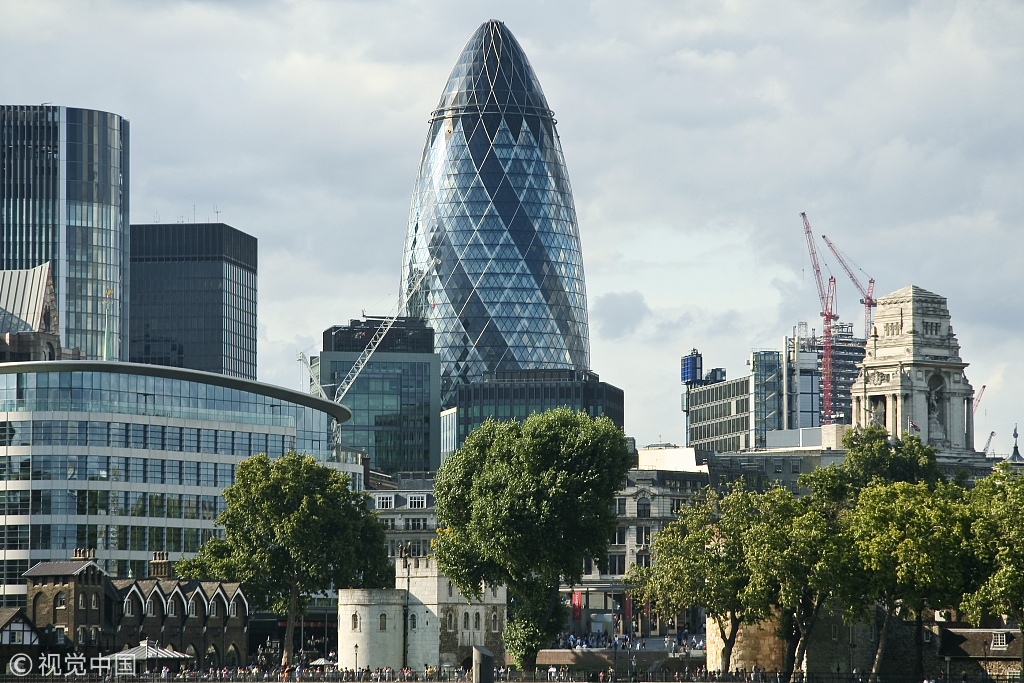 File photo: VCG
Asian equities mostly rose following recent falls but investors moved cautiously as they await the latest developments in US President Donald Trump's trade disputes with China and Canada.
Wall Street reopens Tuesday after shutting for the Labor Day holiday in the US.
"Investors are focusing very much on US trade talks," said AxiTrader chief market analyst James Hughes.
There remains a sense of nervousness after Trump said he wanted to impose fresh tariffs on a huge swathe of Chinese goods by the end of this week.
"Topping investors' agenda this week is the Sino-US trade dispute and Canada... talks, along with fallout as Argentina's austerity measures shake emerging markets," said analyst Dean Popplewell at Oanda trading group.
On currency markets, the pound continues to struggle as British Prime Minister Theresa May faces a rebellion in her own party over a Brexit blueprint.
The troubles in Argentina, which has seen its peso collapse in recent weeks, and Turkey are further rattling foreign exchange markets owing to fears their crises could spread.
"For now, most of emerging market woes can be attributed to country-specific issues," Rodrigo Catril, senior foreign exchange strategist at National Australia Bank, said in a note to clients.
"But... as the Fed is expected to continue with its gradual (rate) tightening strategy and with President Trump seemingly keen on pursuing its hard line on trade policy, EM contagion risk is still alive and kicking."
Elsewhere on Tuesday, oil prices jumped more than one dollar on tight production concerns.
"Oil prices have rallied aggressively... on news of the immediate evacuation of two Gulf of Mexico oil platforms in preparation for a hurricane (Gordon)," added analyst Popplewell.
On the corporate front, shares in advertising giant WPP shed 6.70 percent to £11.91 on mixed earnings news one day after the company appointed a new chief executive.
- Key figures around 1100 GMT -
London - FTSE 100: DOWN 0.3 percent at 7,481.59 points
Frankfurt - DAX 30: DOWN 1.0 percent at 12,225.61
Paris - CAC 40: DOWN 1.2 percent at 5,349.60
EURO STOXX 50: DOWN 1.0 percent at 3,361.31
Tokyo - Nikkei 225: DOWN 0.1 percent at 22,696.90 (close)
Hong Kong - Hang Seng: UP 0.9 percent at 27,973.34 (close)
Shanghai - Composite: UP 1.1 percent at 2,750.58 (close)
New York - CLOSED Monday
Euro/dollar: DOWN at $1.1553 from $1.1616 late Monday
Pound/dollar: DOWN at $1.2817 from $1.2888
Dollar/yen: UP at 111.42 yen from 111.08 yen
Oil - Brent Crude: DOWN UP $1.37 at $79.52 per barrel
Oil - West Texas Intermediate: UP $1.28 at $71.08