More foreign companies flock to Shanghai
Global Times
1559528446000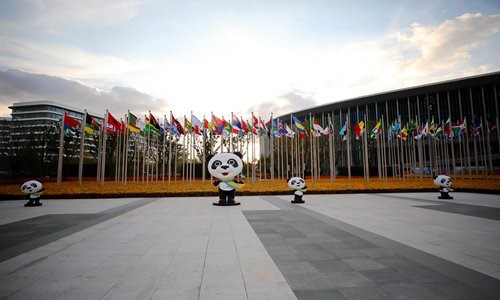 Flags of different countries and regions stand at a square of the CIIE venue National Exhibition and Convention Center (Shanghai). (Photo by Yang Hui from Global Times)
A total of 38 foreign-invested projects worth 49.2 billion yuan ($7.12 billion) landed in Shanghai on May 30, a development that analysts said indicates the success of China's efforts to attract foreign capital and the latter's confidence in the world's second-largest economy.
Covering such sectors as financial services, food, vehicles and biomedicine, the projects were collectively signed at a hotel in Shanghai, according to a report of thepaper.cn on May 30.
Despite the ongoing China-US trade war, eight US companies showed up on the project list, including California-based OmniVision Technologies, which announced it would increase investment by $20 million in its semiconductor program in its Shanghai facility, said the report.
Other US companies are engaged in the consumer goods, new material, auto components and medical care sectors.
With China's further opening-up in the financial sector progressing, more foreign companies can hold controlling stakes in their joint ventures in China. Both US-based JPMorgan Chase and German insurer Allianz have invested in Shanghai to gain a foothold.
JPMorgan Chase announced in March that it received approval from the China Securities Regulatory Commission to establish a new majority owned and controlled securities company in China - JPMorgan Securities (China) Co - the first securities company in the country controlled by foreign capital.
Separately, China granted Allianz permission last November to set up the first wholly foreign-owned insurance holding company.
"From a medium- and long-term view, the Chinese market's stability and huge potential are advantages based on its mature supply chain, manufacturing and marketing," Wang Jun, deputy director of the Department of Information at the China Center for International Economic Exchanges, told the Global Times on Thursday, May 30.
Wang noted that foreign companies are still voting with their feet to invest in China although the escalating China-US trade war might pose some concerns about their strategy.
Data from China's Ministry of Commerce showed earlier this month that newly foreign companies in China stood at 13,039 from January to April this year with investment of 305.24 billion yuan, up 6.4 percent year-on-year. The US remains a major source of investment in the Chinese market, up 24.3 percent on a yearly basis. Actual use of foreign capital in the country's high-technology industries climbed 43.1 percent year-on-year, said the ministry.
Foreign investments that cater more to the nation's industrial policies in pursuing high-quality economic development are very attractive for China, according to Wang.
Li Xiaogang, director of the Foreign Investment Research Center at the Shanghai Academy of Social Sciences, told the Global Times Thursday on May 30 moves by the US to block the supply chain for Chinese technology companies cannot dent the country's long-term direction in strengthening its fundamental technology research and realizing self-sufficiency.
"Since some Western countries have posed obstacles for Chinese companies in going global for technological partnerships or mergers, we can introduce more such high-tech related companies from around the globe," said Li.
China's door will be opened more widely because of US protectionism, he added.
Shanghai, the center of China's Yangtze River Delta region, "has the best business environment in the country to make foreign investors settle and stay," Li noted.
Data from the Shanghai Municipal Commission of Commerce showed that the city attracted 2,051 additional foreign-invested projects in the January-April period this year, up 52.3 percent year-on-year. The total contract value recorded $17.59 billion, an increase of 21.3 percent from the previous year.
"Foreign companies output accounts for about 27 percent in Shanghai and the figure is forecast to climb in the next few years," said Li, as he suggested establishment of an ecosystem for those companies to better pursue their interests in China.
Overall, China's business climate and protection of intellectual rights have improved in recent years, he said.
Tesla's Gigafactory in Shanghai is highly likely to bring in more electric vehicle suppliers from overseas, according to Li.
Tesla announced on May 29 that the long-awaited made-in-China Tesla Model 3 will be available for orders on May 31.