US Fed policymakers say rate increase likely warranted soon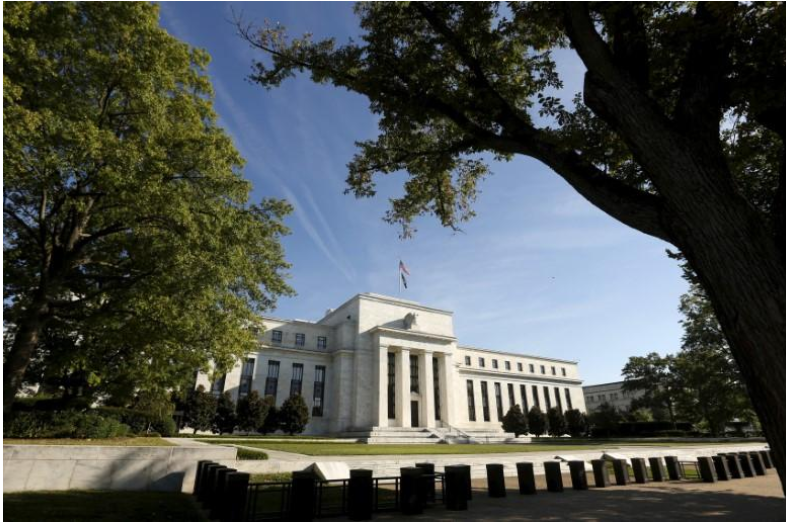 The Federal Reserve headquarters in Washington September 16, 2015. The Federal Reserve, facing this week its biggest policy decision yet under Chair Janet Yellen, puts its credibility on the line regardless of whether it waits or raises interest rates for the first time in nearly a decade. REUTERS/Kevin Lamarque/File Photo
Many Federal Reserve policymakers expect that interest rates will have to be raised in the "near term," according to the minutes of the U.S. central bank's last policy meeting released on Wednesday.
The readout from the Oct. 31-Nov. 1 meeting, at which the Fed kept rates unchanged, also showed policymakers generally agreed the economy was poised for strong growth. Several Fed officials also saw improved chances that the U.S. Congress would pass significant tax cuts that would boost business investment.
While some policymakers said they still needed to see more data before deciding the timing of a rate hike, many of the officials said the jobless rate appeared to be too low for inflation to remain at its current weak level.
"Participants expected solid growth in consumer spending in the near term, supported by ongoing strength in the labor market," the Fed said in the minutes. "Many participants thought that another increase in the target range for the federal funds rate was likely to be warranted in the near term."
The central bank has increased rates four times in a tightening cycle that began in late 2015. The Fed currently predicts one more rate rise this year and three more hikes in 2018.
The meeting marked one of the last policy reviews to be attended by Fed Chair Janet Yellen, who announced on Monday she would resign from her seat on the Fed's Board of Governors once Jerome Powell is confirmed and sworn in to replace her as head of the central bank.
President Donald Trump nominated Powell, who is expected to be in place when Yellen's four-year term as Fed chief ends in February.