Livestreaming takes 'retailtainment' to next level
E-commerce via livestreaming has witnessed robust growth in China amid the COVID-19 pandemic and became a driving force during this year's Singles Day shopping carnival.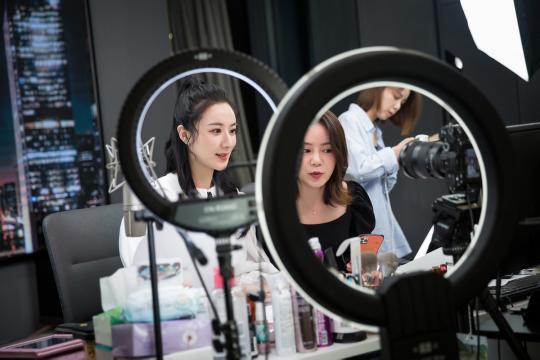 I logged in to the livestreamed sales show of Viya, a top Chinese livestreamer or key opinion leader on Alibaba's e-commerce platform Taobao, at about 10 pm on Oct 20. I tried to stay rational, but some presale commodities with steep discounts recommended by Viva stimulated my desire to shop.

Soon, my online shopping cart was stuffed with a woolen sweater, a pair of shoes, cosmetics, and skincare and baby products. I placed a small deposit for these presale products first and paid off the remainder at midnight of Nov 1, when the official sale started.
On Oct 20, Viya peddled as many as 341 products, including apparel, cosmetics, foods, beverages, maternal and infant products, consumer electronics and home appliances, within a space of four hours (4 pm to 8 pm)-that is, just 42 seconds on average separated each item's introduction during the live online sale.
E-commerce that incorporates livestreaming has been gaining traction in China since the outbreak of COVID-19, as hundreds of millions of Chinese consumers were confined indoors. This phenomenon, coupled with restrictions on large gatherings and travel, moved some of the offline shopping online.
Apart from Taobao, a string of e-commerce and short video platforms, such as JD, Pinduoduo, Douyin, Kuaishou and Xiaohongshu, have jumped on the livestreaming bandwagon to capitalize on its rapid growth.
Sales revenue of the country's livestreaming e-commerce sector reached 961 billion yuan ($150.3 billion) last year, surging by 121.5 percent from the previous year, and is expected to rise to 1.2 trillion yuan this year, according to market consultancy iiMedia Research.
Global consultancy PwC said in a report that with only a few years of development, direct sales via livestreaming have emerged as a new and promising channel, leveraging the strength of both key opinion leaders and key opinion consumers.
Livestreaming has brought "retailtainment", where retail and entertainment come together, to the next level, with added benefits of enhancing supply chain efficiency and cash turnover for retailers, the report said.
Data from the China Internet Network Information Center showed the number of people watching livestreamed e-commerce events increased by 123 million from March 2020 to 388 million in December 2020, or nearly 40 percent of the total internet population in China.
Cao Lei, director of consultancy Internet Economy Institute, said most of the e-commerce platforms have encountered some bottlenecks like in seeking new customers, and livestreaming plays a vital role in helping online retailers gain new data flow in fourth- and fifth-tier cities and even rural areas.
In addition, livestreaming could allow hosts to interact with customers in real time and answer their queries, which will significantly improve shopping experiences and lure more shoppers to purchase online.
Livestreaming offers a new model of operations for online marketplaces and could settle the problem of information asymmetry, said Chen Tao, an analyst with internet consultancy Analysys in Beijing, adding such services have gained popularity among the younger generation of consumers.