China takes immediate measures to cap soaring vegetable prices
Global Times
1635553330000
In responding to the increasing vegetable prices, Chinese Ministry of Agriculture and Rural Affairs (MOA) issued a notice on Friday asking local authorities to ensure stable supply and steady prices of vegetables and take that as the major task ahead, especially for the upcoming New Year, the Spring Festival and the Winter Olympics.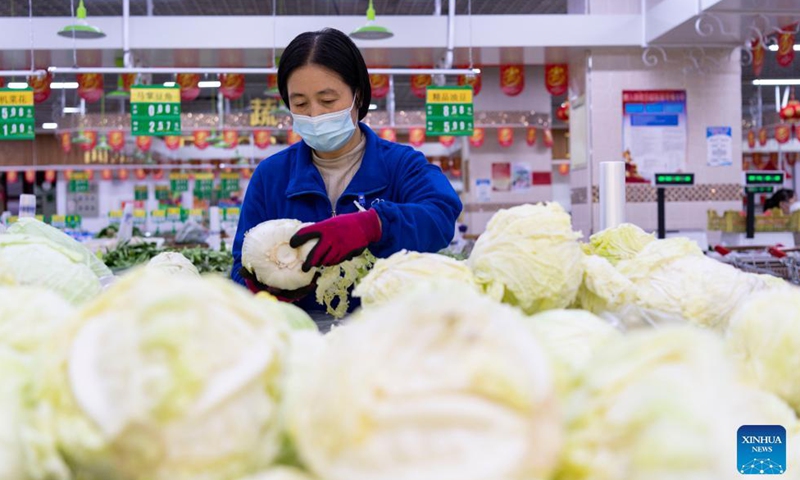 Since late September, the combined events such as the severe weather, high production and transportation costs, epidemic prevention and control, and power cuts, have significantly pushed up the prices of some vegetable varieties in some areas.
To ensure stable supply and steady price, the MOA asked on Friday the local governments across the country to coordinate and adjust production, circulation and consumption to ensure the perennial vegetable plots in big cities.
The ministry also asked to formulate emergency plans for disaster prevention and reduction in vegetable production at the earliest opportunity, in corresponding to the potential disruption posed by changing weather conditions and the upcoming La Nina phenomenon, which could bring a lower temperature than normal winters.
Along with the prevention and control of the epidemic, the notice said that the "green channel" policy for the transportation of fresh agricultural products will be further implemented and coordinated to improve transportation efficiency of fruits and vegetables.
The recent tight supply has an impact on some terminal markets. An employee with the publicity department of Beijing Xinfadi market, the largest agricultural wholesale market in Asia, told media that the current daily supply of vegetables in Xinfadi is about 15,000 tons, while the daily supply before pandemic was about 18,000 tons, China Economic Weekly reported on Friday.
The wholesale price of green onions in some market in Beijing continued to run at 7.4 yuan per kilogram, more than doubled from the 3.0 yuan in the previous two months, media reports.

In addition to the floods in some areas caused by the rain in the northern China, another major factor such as the recent increase in gasoline and diesel prices has also ignited the rising food costs, experts said.
Autumn is the season when vegetables are relatively in short supply. The shortage is further aggravated by the consumption recovery, Hong Tao, director of the Institute of Business Economics at the Beijing Technology and Business University, told the Global Times, on Friday.
But the price rising situation will not last for long, "given the policy support and the expansion of supplies, especially with more greenhouse vegetables to enter the market soon at this period of the year," said Hong.