Interest in Algerian oil market
Xinhua-Global Times
1522593480000
Chinese oil and gas enterprises showed great interest in investing in Algeria at the just-concluded North Africa Petroleum Exhibition & Conference (NAPEC).

About 40 Chinese companies took part in this year's event, said Zoe Zuo, general manager of Beijing CEW International Fair and director of the China pavilion at NAPEC, which ended on March 28.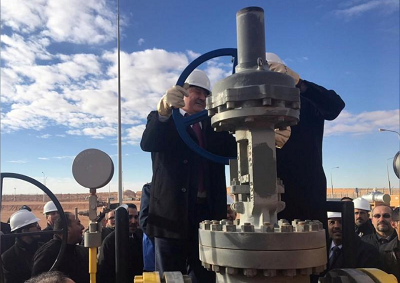 Abdelmoumen Ould Kaddour, Chief Executive of Algerian state energy firm Sonatrach, checks equipment during the launch of new gas pipeline from southwestern fields, Algeria, February 8, 2018. (File photo: Reuters)
"Our Chinese partner CEW brought 37 Chinese companies. The Chinese presence was the largest after France, and more Chinese companies showed great interest in investing in Algeria," the organizer of the event, Yacini Jaafar, told the Xinhua News Agency.
"Algeria is an attractive country, and Chinese companies have started to know how things work here," Yacini added.