China maintains stable trade growth against external headwinds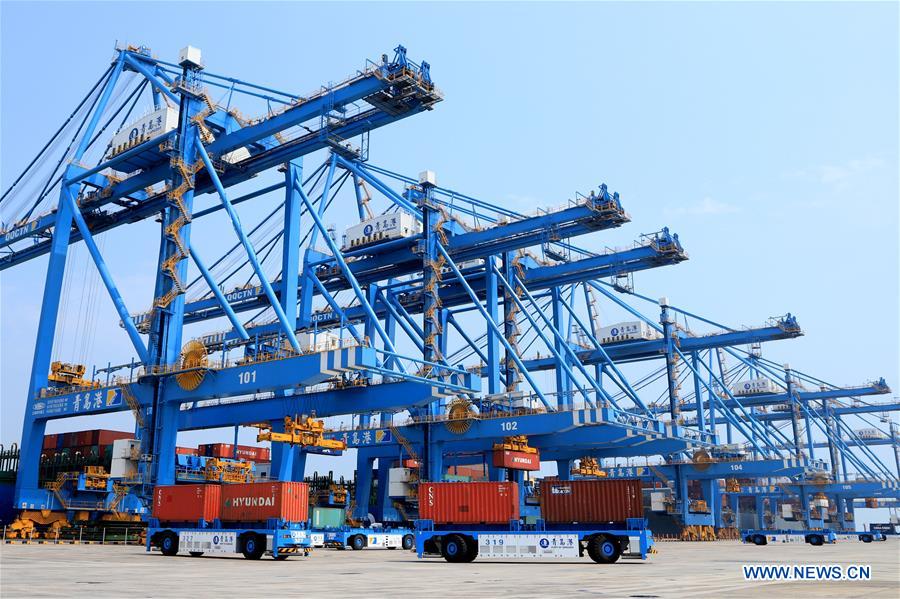 (Photo: Xinhua)
BEIJING, June 10 (Xinhua) -- China's foreign trade registered steady growth in the first five months this year despite growing external uncertainties.
The country's foreign trade of goods rose 4.1 percent year on year in the first five months of this year to 12.1 trillion yuan (about 1.76 trillion U.S. dollars), data from the General Administration of Customs (GAC) showed Monday.
Exports increased 6.1 percent year on year to 6.5 trillion yuan during this period, while imports grew 1.8 percent to 5.6 trillion yuan, resulting in a trade surplus of 893.36 billion yuan.
In May alone, the country's exports and imports totaled 2.59 trillion yuan, up 2.9 percent from one year earlier.
Li Kuiwen, director of the GAC's statistics and analysis department, said although faced with the slowdown of global economic growth and international trade, the Chinese economy has continued an overall stable upward trend.
The fundamentals of China's economy, in that it is resilient and full of potentials, have not changed either, he added.
Government policies aimed at stabilizing foreign trade and investment as well as the improving business environment have also laid a solid foundation for the steady growth of China's foreign trade, he said.
Zhuang Rui, deputy head of Institute of International Economy with the University of International Business and Economics, called the trade reading a "hard-won" result amid sluggish trade growth around the globe.
Last week, the World Bank revised down its forecast for global trade growth in 2019 by a full percentage point to 2.6 percent, the weakest since the global financial crisis, citing growing trade tensions, among other factors.
Monday's GAC data also showed China's trade with the European Union surged 11.7 percent year on year in the first five months, while trade with the ASEAN was up 9.4 percent.
As cooperation between countries participating in the Belt and Road Initiative keeps strengthening, China's trade with Belt and Road countries increased 9 percent year on year during the period, with the pace of growth 4.9 percentage points higher than the overall pace.
Benefiting from the prosperous cooperation under the initiative, bilateral trade volume between China and Belt and Road countries accounted for 28.8 percent of China's total trade volume, up 1.3 percentage points from the same period last year, the GAC data showed.
China's private businesses reported faster trade growth in the first five months. Their trade volume increased 11.1 percent to 5.02 trillion yuan, accounting for 41.4 percent of the total trade volume in the period, up 2.6 percentage points year on year.