Trump's Mexico tariffs may not go into effect depending on talks: trade advisor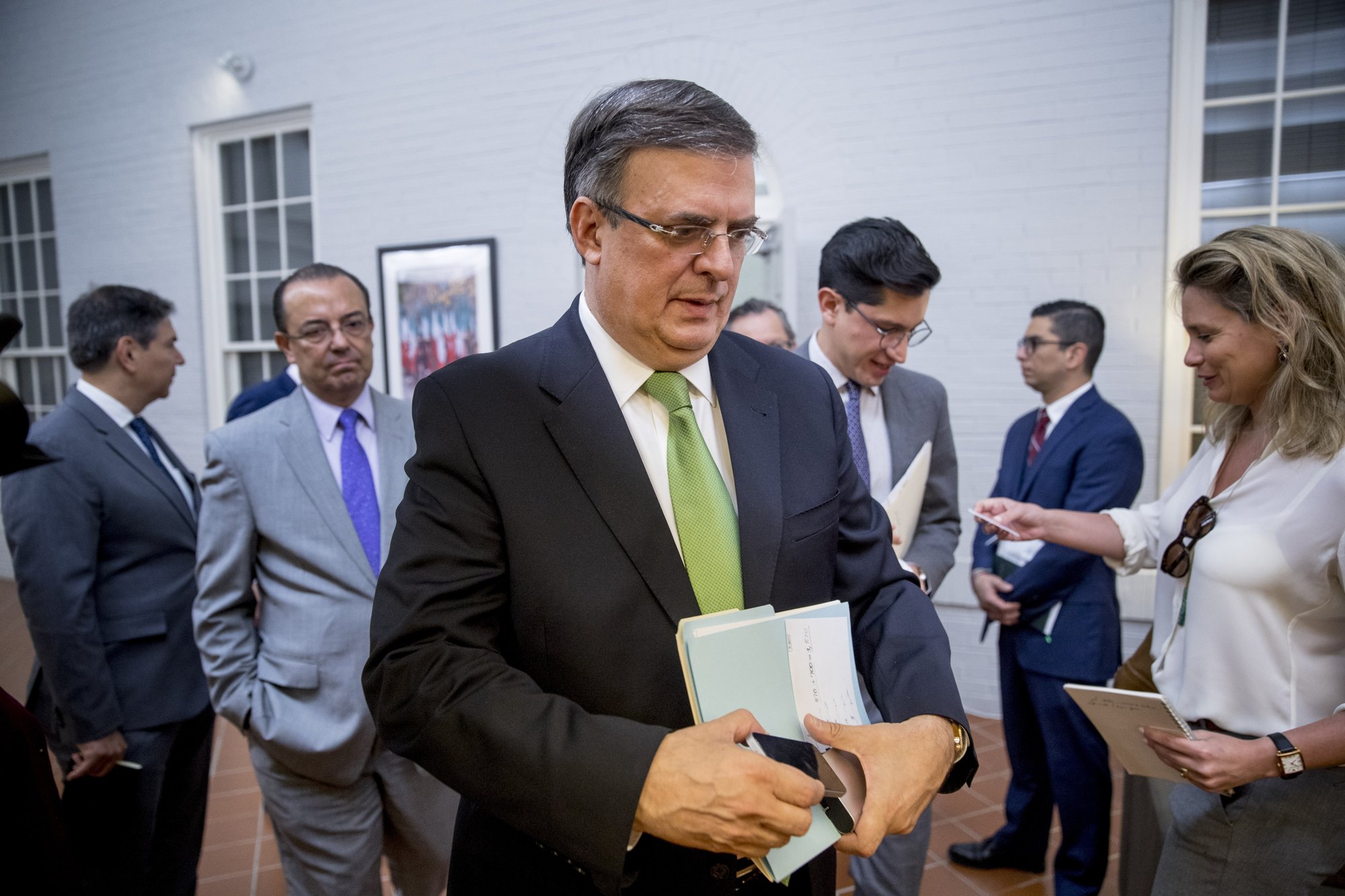 Mexican Foreign Affairs Secretary Marcelo Ebrard, center, departs a news conference at the Mexican Embassy in Washington, Tuesday, June 4, 2019, as part of a Mexican delegation in Washington for talks following trade tariff threats from the Trump Administration. (Photo: AP)

WASHINGTON, June 5 (Xinhua) -- White House trade adviser Peter Navarro said on Wednesday that the threatened tariffs against Mexican goods "may not have to go into effect" if the country can take necessary measures to halt undocumented migrants crossing the southern US border.
In an interview with CNN, Navarro said there is still a chance that the proposed tariffs won't be implemented next week, as officials from the two countries are set to meet later Wednesday to discuss the tariffs and immigration.
Navarro laid out several specific US demands for Mexico, which include committing to taking all the asylum seekers, strengthening the guarding of Mexico's southern border with Guatemala, as well as fighting against corruption at immigration checkpoints.
Mexican President Andres Manuel Lopez Obrador told a press conference Monday in Mexico City that he is hopeful that his country could reach an agreement with Washington that prevents the tariffs from being implemented.
President Donald Trump said last week that he would impose a 5-percent tariff on all imported Mexican goods beginning June 10 so as to pressure the country to stop the flow of undocumented migrants crossing the border, and will gradually increase tariffs until the problem is remedied.
The unprecedented move, citing the president's authority under the International Emergency Economic Powers Act (IEEPA) of 1977, immediately drew wide-ranging criticism from politicians, scholars and business leaders across the country.
Edward Alden, a senior fellow at the Council on Foreign Relations, said the purpose of IEEPA was to give the president tools to impose economic sanctions on America's enemies and adversaries in the face of "unusual and extraordinary threats."
"If the Congress lets Trump get away with this, he will be free to slap tariffs on any country or any product at any time for whatever reason he dreams up," Alden said in a blog post, adding that the president's decision to link trade to immigration and refugee concerns is an "especially dangerous escalation."
Some also argued that the announced tariffs on Mexico could jeopardize the ratification of the US-Mexico-Canada Agreement (USMCA), a proposed replacement for the North American Free Trade Agreement that is already facing a bumpy road in the Democrat-controlled House.
Republican lawmakers have been considering blocking the imposition of tariffs on all Mexican imports, and are expected to override the president's executive power by passing a resolution of disapproval, the Washington Post reported Monday, citing anonymous sources.