New home prices post steady growth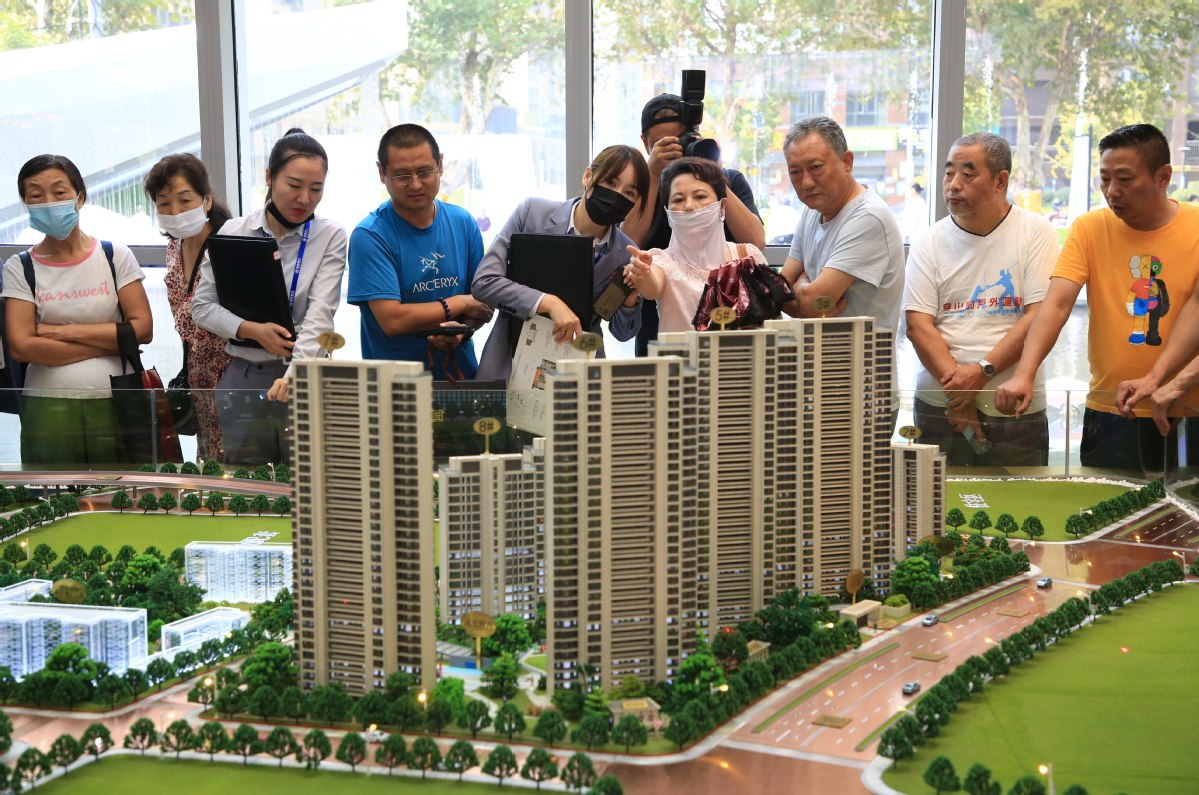 Potential homebuyers look at a property model in Xiangyang, Hubei province. [Photo by Li Fuhua/For China Daily]
New home prices rose at a slightly faster monthly pace in August in China as the sector continued to recover on the back of resurgent consumer demand, according to official data released on Monday.
Industry experts said, though the peak season for real estate sales has arrived in China, prices may not see too much of upward fluctuations as the tightening measures will help keep prices under control, experts said.
Led by Huizhou in Guangdong province, 59 of the 70 cities tracked by the National Bureau of Statistics reported a growth in new home prices in August, same as that of July. Overall, the 70 Chinese cities reported a 0.6 percent growth in new home prices on a monthly basis and by 4.7 percent on a yearly basis.
"Home prices have remained largely stable with marginal growth. Most of the local governments have been strictly following the central government's directive that housing is for living in and not for speculation and taking timely steps to ensure that the long-term mechanisms are effective," said Kong Peng, chief statistician of the NBS.
Tight curbs on home prices in Shenzhen, Guangdong province, had an overflow effect and partly drove up home prices in the nearby Huizhou city, said Yan Yuejin, director of Shanghai-based E-house China Research and Development Institution. Yinchuan, capital of Ningxia Hui autonomous region, saw the biggest growth in new home prices on a yearly basis among the 70 major cities tracked by the NBS.
New home prices of the four benchmark first-tier cities rose by 0.6 percent on a monthly basis, with Guangzhou posting a growth of 0.9 percent, followed by Beijing and Shanghai at 0.6 percent, and Shenzhen with 0.5 percent, compared with the levels seen in July. On a yearly basis, the four top-tier cities saw a 3.9 percent growth in new home prices, according to NBS data.
In the pre-owned home market, Guangzhou saw the highest growth in transaction prices of 1.7 percent among the four top-tier cities. It was followed by Shenzhen with 1.1 percent, Shanghai at 0.8 percent and Beijing with 0.7 percent.
Forty-seven of the 70 cities reported growth in pre-owned home transaction prices, two more than the previous month.
A majority of the cities saw price hikes as the existing policies are focused on stabilizing the home market and the arrival of the golden season for the home market in September and October will keep the residential market on a slight uptrend, said Zhang Dawei, chief analyst at Centaline Property Agency Ltd.
Zhang said the comparatively loose regulations on the home market during the first half of the year due to the COVID-19 epidemic effect has come to an end and it is clear that the central government intends to maintain stability in the real estate market through tighter regulations.
Xu Xiaole, chief market analyst with Beike Real Estate Research Institute, said he does not anticipate a home price hike and said the marginal spike seen in major cities are part of market fluctuations due to the resilient demand and improved financing.
"About 10 cities have already issued macroeconomic policies since July and home prices are expected to remain steady in the subsequent months of the year," said Xu.
Zhang from Centaline expects 30 cities to announce new restrictions on home purchases soon.
According to NBS data, new home and pre-owned home prices remained stable in 31 second-tier cities or saw slower growth rates for 16 months in a row, while 35 thirdtier cities saw 17 consecutive months of unchanged prices or marginal declines in home prices.