Chinese company CREC donates surgical masks to Hungary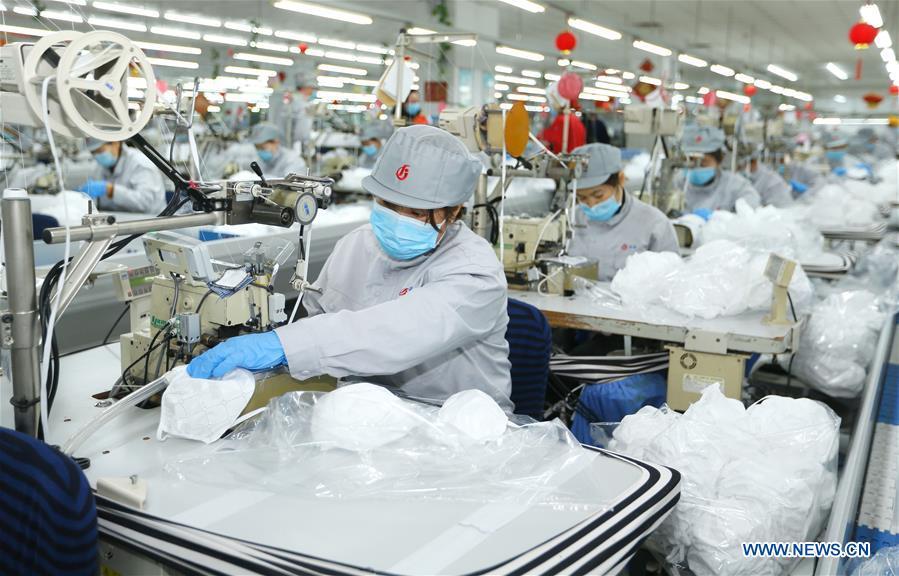 Workers make face masks in the workshop of a textile company in Jimo district of Qingdao, East China's Shandong province, Feb 12, 2020. (Photo: Xinhua)
BUDAPEST - China Railway Group Limited (CREC), a listed Chinese construction company, has donated 300,000 surgical masks to Hungary to show its solidarity, the company's Hungarian branch said in a statement on Wednesday.
The donation will support the government and people of Hungary in their fight against the novel coronavirus, said the statement, adding that the CREC has full confidence in Hungary in the fight against the COVID-19 pandemic.
The Hungarian Railways (MAV), Hungarian Ministry for Innovation and Technology, Hungarian National Asset Management Inc. and other relevant departments received the delivery, according to the statement.
Robert Homolya, president of MAV, thanked CREC for bringing these urgently-needed supplies at this crucial moment.
"A friend in need is a friend indeed. The CREC is a trustworthy friend for us, and we believe, as the two nations stand closely together, we sure will tide over the difficulties," Homolya said.
Shang Zhizhong, chief representative of the CREC Hungarian branch, said "The CREC believes in a community with a shared future for mankind and is convinced that through solidarity and mutual assistance, we will prevail over this pandemic."
According to official figures, the number of confirmed coronavirus cases in Hungary stood at 1,579 by Wednesday, with 192 recoveries and 134 fatalities.