China online sellers see robust sales in mid-year shopping spree
BEIJING, June 19 (Xinhua) -- Major Chinese online shopping platforms have posted strong sales growth in a mid-year shopping festival that underlines robust consumer spending in the world's second-largest economy.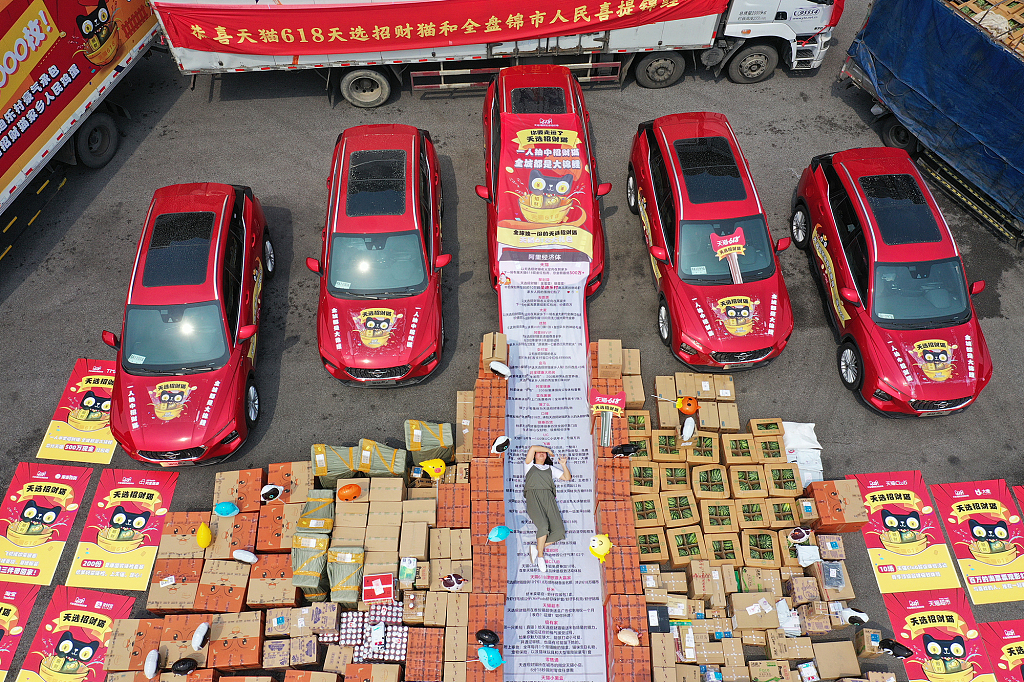 (Photo: VCG)
JD.com, the e-commerce giant which created the "618" online shopping event years ago to mark its anniversary, recorded a sales of 201.5 billion yuan (29.1 billion U.S. dollars) from June 1 to June 18, up 26.6 percent year-on-year.
Its rivals also took advantage of the shopping festival to spur sales as more and more consumers in the world's most populous country move to buy online.
The number of China's online buyers reached 610 million by the end of 2018, official data showed.
Bigger rival Alibaba's online marketplace Tmall did not disclose its transaction figure but said around 100 brands reported sales larger than in the Singles' Day shopping event last November. Meanwhile, over 100 brands saw sales greater than 100 million yuan each.
GROWTH FROM SMALL CITIES
Juhuasuan.com, an online group buying marketplace run by Alibaba, saw sales up 86 percent year on year, with the number of buyers in the third-tier and smaller cities as well as their spending more than doubling.
Social e-commerce giant Pinduoduo received over 1.1 billion orders during the 18 days, with an annual growth of over 300 percent in gross merchandise volume (GMV).
Founded in 2015, Pinduoduo is known for offering group buying deals with big discounts and enjoys a huge consumer base in rural areas and small cities.
The stronger growth in the smaller cities and rural areas came after the e-commerce firms penetrated further to tap the buying potential of young customers there.
Over the past few years, many online marketplaces have used social media platforms, particularly the popular messaging service WeChat, to win new customers.
Customers from third-tier and smaller cities bought 350 percent more books on Tmall on Sunday. Electric toothbrushes, body fat scales and car fridges were also popular among young consumers there.
Pinduoduo said its 3C products saw greater orders number growth in smaller cities than in first- and second-tier cities with consumers in big cities buying more farm produce directly from the countryside.
"In the past, agriculture and the rural population supported industrial and cities' development and now the residents in the first- and second-tier cities repay with the purchase of agricultural products on the online platforms," said Wang Tao, chief analyst with Pinduoduo's AI Data Research Institute.
SMART PRODUCTS, SERVICES
There was a sales surge for big brands, environmentally-friendly and smart products as many consumers upgraded their consumption.
During the 18 days on JD.com, sales of robot vacuum cleaners and window cleaners tripled and sales of large-capacity household dishwashers surged 500 percent.
On Juhuasuan.com, smart locks saw annual sales growth of 454 percent and water filters record sales growth of 243 percent.
The platforms are also selling more booking services for hotels, online hospitals, electronic products repairs and other community services. They also offer discounts for offline stores.
"The booming sales is a direct result of the innovation of the online platforms and their integration with offline stores," said Zhao Ping, a researcher with the Academy of China Council for the Promotion of International Trade. "Further innovation by offering more services can help boost the huge consumption potential in the services market."
INDUSTRIAL UPGRADING
As consumers pay more attention to brand and quality, manufacturers have started to move up the value chain to offer more products with higher quality and more stylish designs.
Zhu Gaofeng, CFO of Bosideng International Holdings Ltd., a leading down clothing brand in China, said the company is working with more renowned designers from home and abroad to provide a completely new experience for consumers.
Many new e-commerce platforms have also emerged to connect consumers directly with factories by offering more customized choices.
"Consumption upgrading is pushing more manufacturers to offer more quality products," said Chen Lifen, an official with the Ministry of Commerce. "By utilizing consumer data, traditional industries can optimize their production processes to churn out better customized products," said Chen.