Rapid vaccine development creates immense challenges for logistics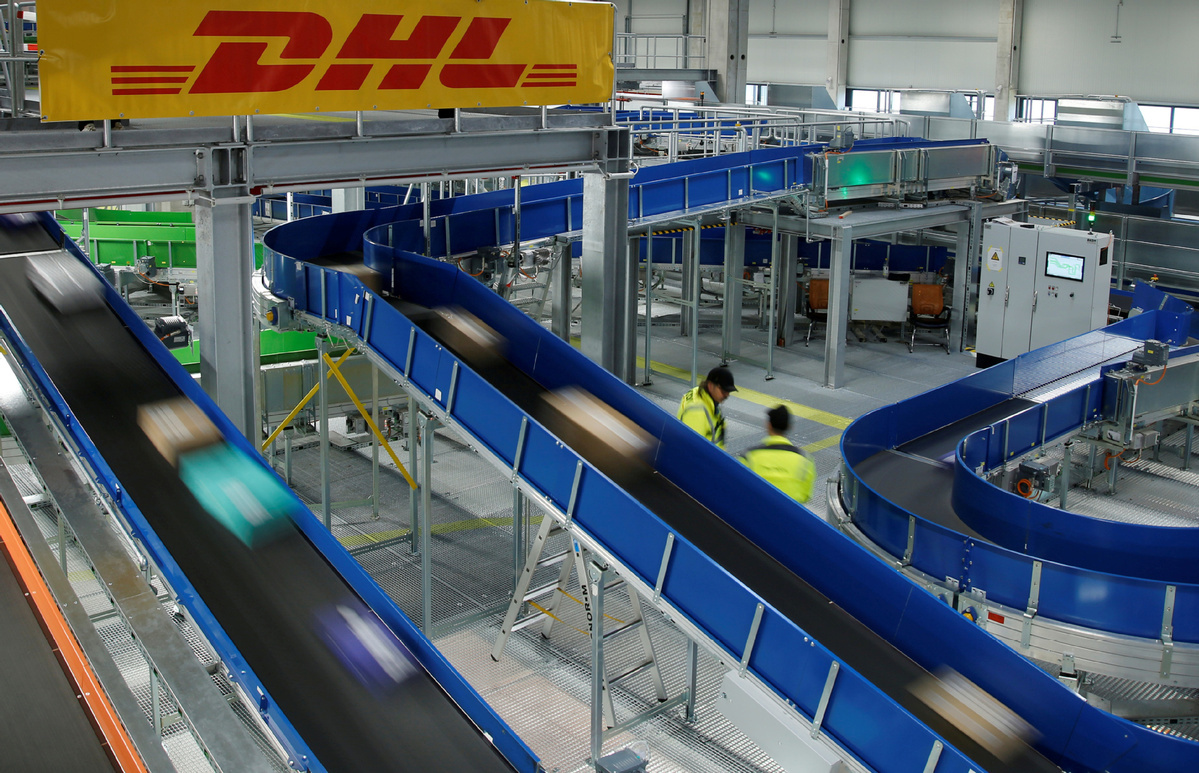 Parcels are seen on a conveyor belt at a new DHL/Deutsche Post parcel center in Bochum, Germany, Nov 18, 2019. (Photo: Agencies)
With first emergency use authorizations for COVID-19 vaccines expected to be effective by the end of 2020, logistics providers are facing a challenge in building medical supply chains. In particular, inbound logistics are a major hurdle due to geographically concentrated production, limited airfreight capacity and lack of inbound quality checks, according to a recent white paper published by DHL and McKinsey & Company.
Logistics providers are challenged to establish medical supply chains rapidly to deliver more than 10 billion doses of vaccine worldwide, also in regions with less developed logistics infrastructures, where as many as three billion people live.
As COVID-19 vaccines have leapfrogged development phases, stringent temperature requirements (up to -80 C) are likely to be imposed for certain vaccines to ensure the effectiveness of the vaccines during transportation and warehousing. This poses logistics challenges to the existing medical supply chain, which conventionally distributes vaccines at 2-8 C.
"The COVID-19 crisis emerged with unprecedented breadth and impact," said Thomas Ellmann, head of clinical trials logistics at DHL Customer Solutions & Innovation.
"Normally a vaccine is developed and improved over a timeline of 5-20 years. Now, with the efforts of a lot of parties, the accelerated process of COVID-19 vaccination is done in a very rapid timeframe of only a couple of months. It required governments, businesses and the logistics industry alike to adapt quickly to new challenges in medical supply chains."
Since the outbreak, demand for medical supplies has surged. UNICEF sourced 100 times more face masks and 2,000 times more medical gloves than in 2019. Bringing medical supplies from distant sources to the frontline has been one of the most crucial activities in pandemic response management in the first phase of the health emergency.
To ensure stable medical supply in a future health crisis, a comprehensive setup of public health crisis strategies and structures needs to be established by governments with partnerships from both public and private sectors, Ellmann said.
"From the onset, Asia was in the cockpit of the supply race with millions of personal protective equipment and test kits shipped out of China and South Korea," said Leonora Lim, head of life science and healthcare for DHL Customer Solutions and Innovation, Asia Pacific. "The delivery of vaccines would be a completely different ball game however given the scale of distribution and strict temperature requirements. A close partnership between the public and private sectors would address the urgent need for a viable medical supply chain that will preserve the integrity of these vaccines and have them delivered to over 200 countries and territories in a timely fashion."