Nestle ramps up presence with $102m investment
People's Daily
1590798199000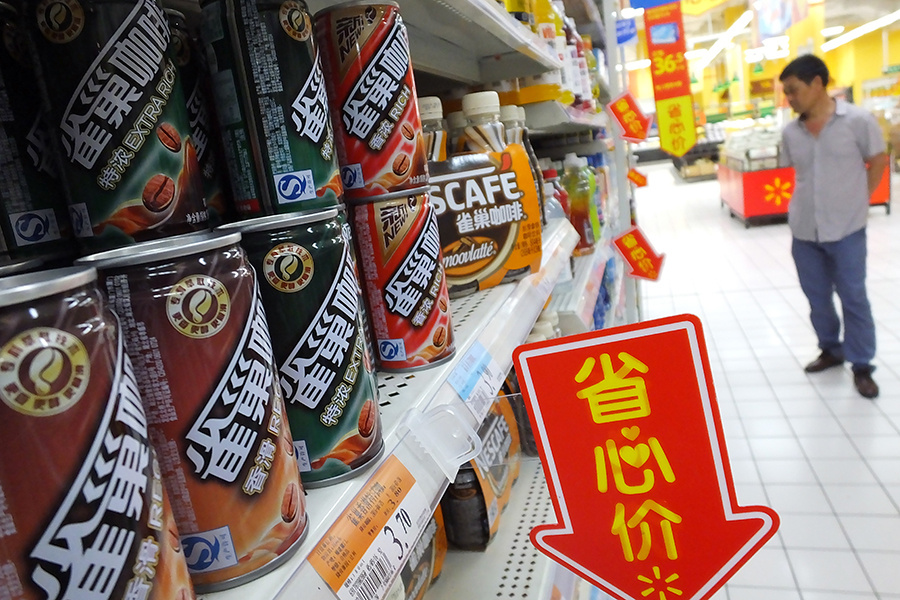 A shopper buys Nestle products at a store in Yichang, Hubei province. (Photo: China Daily)
Switzerland-based food giant Nestle SA is investing 730 million yuan ($102.2 million) in China to expand and strengthen its operations in the country, its second-largest market.
The company said it would also scale up its production capacity for high-end, innovative products in Tianjin, to meet rising consumer demand for plant-based products, snacks and pet food.
The investment is testimony to Nestle's strong commitment in introducing more healthy and nutritional products in China, said Rashid Qureshi, chairman and CEO of Nestle in China. According to Qureshi, China's food industry has been seeing an upgrade in preferences, with focus shifting from eating well and having enough to eat to eating healthily and with full joy that can come from the experience, a trend which will lead to further industrial upgrade.
"Chinese consumers are increasingly pursuing nutritious and healthy diets and are focused on getting even greater joy out of their eating experiences.
Additionally, as the pet economy booms in China, the public is pursuing more scientific ways of raising pets as well as attaching equal emphasis to pets' health," Qureshi said.
The three categories that Nestle has invested more are responding to the rising consumer needs in China-health, well-being, new lifestyles and pleasure, said Jason Yu, general manager of Kantar Worldpanel China.
"Plant-based products are becoming increasingly popular and meaningful in terms of sustainability. Pet food was one of the fastest growing food sectors last year. High quality and value-added confectionary still has room for growth," said Yu.
Facing fierce competition from local food brands and fast-evolving dynamics in the market, Nestle has decided to invest and innovate more quickly to get ahead, Yu said, adding that localizing innovation in China will help companies to attain innovation on a global scale.
Nestle's pet food business, Nestle Purina PetCare, has developed nine brands since it entered the Chinese market in 2001. Purina plans to further invest in production lines for new high value-added products, such as veterinary diet and wet cat food categories, to provide pets with richer and high-end food options.
Among Purina's over 50 factories covering pet food, only three factories are qualified to produce the PRO PLAN veterinary diets. The production lines in Tianjin are expected to be operational next year.
Part of the newly added production capacities will be used to build the company's first production facility in Asia for plant-based products. The plant-based products will be launched by the end of this year.
Nestle has also rolled out a new milk powder and nutritional products for children aged between 3 and 12 to tap a consumer group that is expected to grow more quickly.
Henry He, marketing director of Nestle's dairy operations in China, said the company's milk powder products for children in the 3-15 age-group have increased their market share from 20 percent to 25 percent. "In terms of market share, milk powder products for children aged between 3 and 15 years old are still small, but growing quickly," said He.