Chinese appliance makers bet on chipsets to break reliance on foreign technology
Global Times
1535551385000
Sector strives to break reliance on imported technology
As China moves along the path of intelligent manufacturing, some domestic home appliance makers have announced plans to invest in the chip sector, a new strategic arm for their growth amid the country's quest for independence in advanced technology.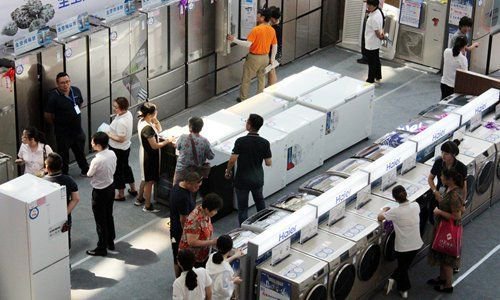 Customers choose intelligent refrigerators in Changzhou, East China's Jiangsu Province. (Photo: VCG)
Gree Electric Appliances Inc, based in Zhuhai, South China's Guangdong Province, said that a wholly owned subsidiary it recently established for the chip industry has become an important part of the company's development plans.
The subsidiary, Zhuhai Zero-Boundary Integrated Circuit, was registered on August 14 with 1 billion yuan ($146 million) in capital and its legal representative is Dong Mingzhu, Gree's chairwoman, according to domestic enterprise information provider TianYanCha.com
The new arm will focus on chip design, with the production to be handed over to original equipment manufacturers. However, the possibility of Gree making the chips in the future is not being excluded, according to a post on Gree's official WeChat account on Tuesday.
Gree is conducting research into advanced frequency conversion drive chips and host chips, and it has already achieved its own designs for master chips for air conditioners, said the post.
Ding Shaojiang, an industry observer and founder of technology website dingkeji.com, told the Global Times Tuesday that compared with central processing unit chips, which are used in personal computers and mobile phones, chips for home appliances such as air conditioners have a much lower threshold.
Focusing on one "node" of the chip industry, for example design, is feasible for Gree as this segment is relatively simple. It also requires less investment in comparison with chip manufacturing, which demands sophisticated technology and facilities that only a few big enterprises can afford, said Ding.
However, it's unclear if the technology used in chips for appliances will surpass that of smartphones, said Ni Guangnan, a professor at the Chinese Academy of Engineering.
"Starting from chip design is a wise move for Gree since it can take advantage of China's high-level design standard representing years of development and then drive other segments along the chain," Ni told the Global Times Tuesday. The move will enable Gree to achieve results within an expected period.
Gree's chips will be first used in its own air conditioners next year, Dong told Gree's general meeting of shareholders in June, according to the post.
In Ding's view, Gree's move into the semiconductor industry is mainly intended to give it more voice on the upper part of the supply and value chains. The move will also help it cut costs.
Gree spends billions of yuan annually to buy chips, it said in the WeChat post.
Amid China's rapid move toward smart manufacturing, several home appliance producers are bolstering their presence in the chipset sector, a key component to the shift.
In May, Shenzhen-based electronics manufacturer Konka Group Co announced plans to expand into the semiconductor sector and increase its research and development investment.
"China still lags behind developed countries in some core components in the international home appliance industry, yet enterprises should not neglect opportunities that the huge market can provide," Ding noted.
"Synergy between the application of technology and research can be ideally achieved in the market," he stressed.
Ni said that "in the process of technology application, which is one of China's advantages, our weakness in basic research such as algorithms can be made up."