Latest policy push lifts real estate stocks, expands funding options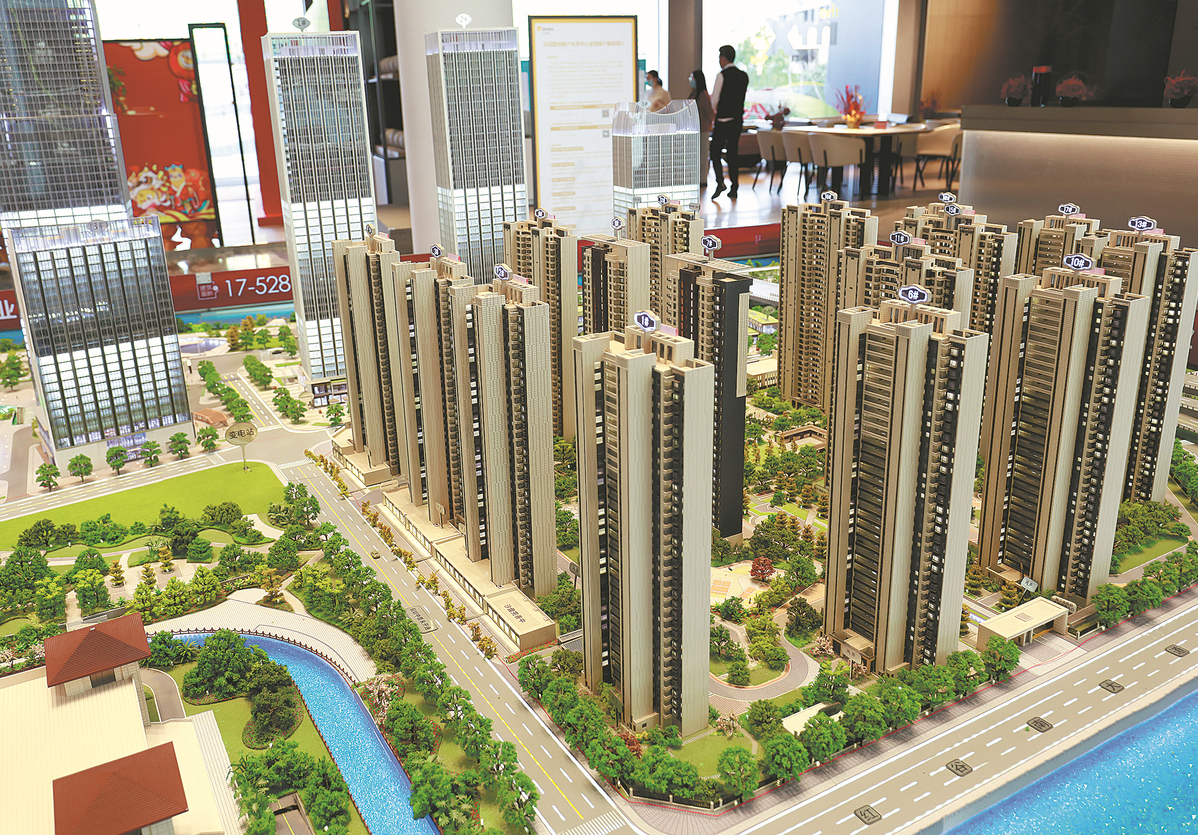 Equities of real estate developers listed on the A-share market gained almost 2 percent on average on Thursday, following Wednesday's announcement of multiple supportive policies to stabilize the lackluster property market.
Property shares thus ducked the market-wide downtrend that lowered the Shanghai Composite Index by 0.25 percent on Thursday.
People's Bank of China, the country's central bank, and the China Banking and Insurance Regulatory Commission, jointly released 16 financial policies Wednesday night to facilitate the stable and healthy development of the Chinese property market.
Provision of loans to property developers in a stable manner, support for individuals' reasonable mortgage demand, stable credit release to construction companies, reasonable extensions for existing loans, stable bond issuances from real estate companies, support for policy banks to provide special funds to unfinished projects figure among the policy proposals.
Zhang Dawei, chief analyst at Centaline Property Agency Ltd, said the 16 policies will influence some properties' financing to a large extent, benefiting and stabilizing the overall property market.
The actual effect will largely depend on how banks and financial institutions implement the policies. Similarly, the rebound of the Chinese property market will depend on the recovery of homebuyer confidence.
Positive messages were released during a State Council executive meeting on Tuesday. The meeting stressed that policies supporting homebuyers' rigid demand or improving housing demand should be implemented based on the situation of different cities.
Special funds earmarked for unfinished projects should be granted to specific projects as soon as possible. Commercial banks should issue new loans to unfinished projects so that the projects can be built and delivered more rapidly, the meeting said.
Major State-owned commercial banks are moving in that direction. Bank of China signed strategic cooperation agreements with China Vanke on Wednesday to provide the Shenzhen-based property developer a maximum 100 billion yuan ($14 billion) credit quota.
Bank of Communications has entered into comprehensive cooperation agreements with China Vanke and Midea Real Estate Holding to provide 100 billion and 20 billion yuan of comprehensive credit to the two property developers respectively.
Agricultural Bank of China inked strategic cooperation agreements with five real estate companies including CR Land and Longfor Group to build long-term partnerships with the latter two in terms of property development loans, housing mortgage, loans for mergers, bond underwriting and investment.
Liu Shui, a researcher from the China Index Academy, said more similar agreements will be reached between banks and property developers to provide more loans. Given the fact that real estate investment dropped 8.8 percent year-on-year in the first 10 months, more loans provided to property developers will help consolidate the foundation for macroeconomic recovery.
The latest data from the National Association of Financial Market Institutional Investors showed that China Bond Insurance Co Ltd will support Longfor Group, Midea Real Estate Holding and Radiance Group in their issuance of midterm notes valued at 2 billion yuan, 1.5 billion yuan and 1.2 billion yuan, respectively.
Bond issuances will be more commonly used by property developers to seek financing and inject more market liquidity. A firewall will be built between the property developers facing default problems and the healthy ones. Market expectations will thus improve, said Liu.