A Nio test car reportedly plunges from fifth floor in Shanghai, killing two
Global Times
1655980858000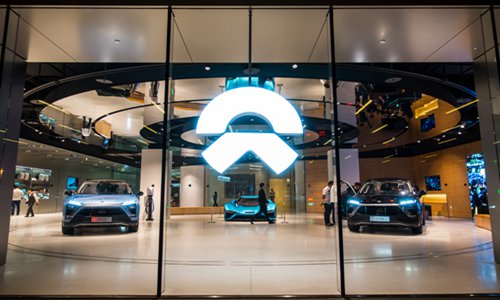 A test car from Chinese electric-vehicle maker Nio has reportedly plunged from the fifth floor of its headquarter building in Shanghai and crashed topside down, resulting two people in the car dead, according to thepaper.cn on Thursday.

The report said the accident happened Wednesday afternoon. The two people were rushed to hospital for emergency treatment, with one confirmed dead on Tuesday and the second died Wednesday morning.
Judging from leaked on-site photos, the vehicle involved is suspected to be a test vehicle, with the top of the vehicle landing first, the roof sunken, and the body is surrounded by smashed white cement walls, according to nbd.com.cn.
Shanghai Securities News reported that the crashed car is a model ET5, which has not yet been delivered.
As one of new energy vehicle pioneer makers, Nio has delivered a total of four models, ES8, ES6, EC6, and ET7. Data showed the company had delivered a total of 204,900 vehicles as of the end of May, including 25,768 units delivered in the first quarter of 2022, a year-on-year increase of 37.6 percent.
The company said its net loss narrowed to 1.8 billion yuan ($268 million) in the first quarter this year from 4.9 billion yuan a year ago. Nio forecasted deliveries of between 23,000 to 25,000 vehicles in the quarter ending June 30, down from 25,768 in the first quarter, according to Reuters.