Two-thirds of marketing executives say TikTok deal will disrupt advertising plans
Global Times
1602757811000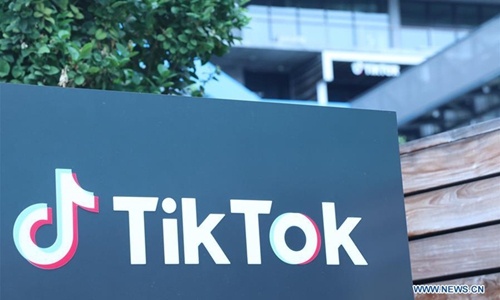 Almost three quarters of companies' marketing executives said the reported deal between Chinese video-sharing app TikTok with US firms Oracle and Walmart, would affect their advertising plans for 2021, a US survey showed.
And, up to two-thirds of the executives said they are paying close attention to the TikTok deal which is now shrouded in uncertainties, marketing publication Mobile Marketer reported on Wednesday, citing a survey by online consulting exchange Vancery.
Among the respondents who said the TikTok deal will disrupt their advertising plans, the most common complaints include changes of ad products, new consumer behavior from increased TikTok usage and new products, the survey found.
As for TikTok deal's impact on the two US bidders, 86 percent of respondents said they are concerned the deal, if implemented, will make Oracle a leader in advertising data, while 41 percent said the deal will give Walmart a chance to overtake Amazon in e-commerce, according to the survey.
Talks are reportedly ongoing to finalize the deal for Oracle and Walmart for their stake in TikTok Global, the new firm for TikTok's US operation as it is called in the deal. The contract needs the approval of both the Chinese and US governments.
If the deal is approved, Vancery's findings suggest that TikTok's influence will only grow, Mobile Marketer said, since it would give TikTok the chance to expand its US audience further and give mobile marketers another way to reach consumers of Generation Z (loosely people born from 1995 to 2010) whose spending power is growing.
Latest data from Sensor Tower showed that TikTok remained the most popular non-gaming app in September, leading the global download rankings, followed by video conferencing app Zoom and social media Facebook.
Apart from the reported deal, TikTok is also ramping up efforts to avert a comprehensive ban in the US market, after the US presidential election in November.
On Wednesday, TikTok sought a preliminary injunction to block the restriction, disclosing that US TikTok users on average send 80 million direct messages and share 46 million videos a day on the app, Reuters reported.
The company said the US government has produced "no evidence that the TikTok source code had ever been compromised, shared or used for nefarious purposes; no evidence that the Chinese government has ever obtained access to any TikTok user data, let alone that of US users; and no evidence that TikTok's recommendation engine systematically biases Chinese [or any other] political interest."
The US federal government and TikTok have entered a tug of war in court surrounding the ban as the former repeatedly cited national security to attack the Chinese app.
The US government last week appealed a federal court injunction blocking it from imposing a download ban on TikTok, following US District Judge Carl Nichols temporarily blocked the Trump administration's ban on downloads of TikTok in the wake of an emergency hearing on September 27.