'Built by China' brand taking shape
China.org.cn
1602817770000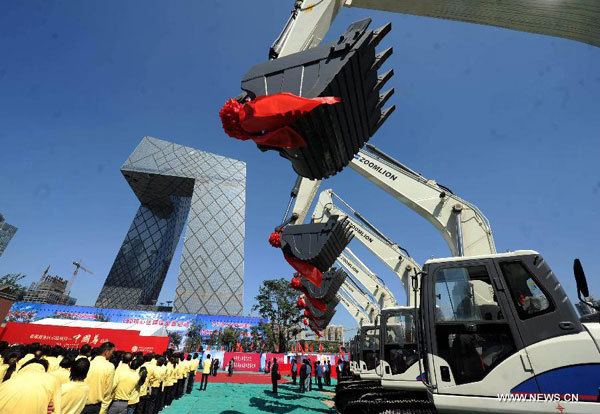 Photo taken on Sept. 19, 2011 shows the ceremony for the beginning of the construction of the city's tallest skycraper in Beijing, capital of China. (Photo: Xinhua)
China State Construction Engineering Corporation (CSCEC) released three enterprise technical standards on Sept. 25, including the epidemic prevention emergency hospital engineering construction standards. These are key achievements based on its integrated technology of epidemic prevention engineering construction of Huoshenshan and Leishenshan hospitals and industrialization research.
In February 2020, just after the COVID-19 outbreak, the speed of construction of two high-quality shelter hospitals became world-famous. Within 10 days, the Huoshenshan Hospital with an area of 70,000 square meters and 1,000 beds was built; within 12 days, the Leishenshan Hospital with an area of 220,000 square meters and 1,600 beds was completed.
Behind the record-breaking speed is the CSCEC's innovative construction technology.
During the 13th Five-Year Plan period, the development of the country's construction industry has repeatedly achieved miracles, and its design and construction skills continue to strengthen. It has been continuously upgraded in the areas of industrialization, digitalization and intelligence. It has successfully constructed many iconic projects such as Beijing Daxing International Airport. The "Built by China" brand has gradually been formed.
The construction site of the second phase of the JD.com new headquarters at Yizhuang Economic and Technical Development Area in Daxing District is equipped with a variety of advanced technologies such as artificial intelligence (AI), building information modeling (BIM), blockchain, and the Internet of Things (IoT). It is China's first 5G smart construction site. It adopts CSCEC's self-developed civil engineering safety measurement and control platform and realizes automatic data collection, intelligent analysis, and over-limit alarms.
In September 2016, the Ministry of Housing and Urban-Rural Development demanded that breakthroughs be made in the digitalization, networking, and intelligence of the construction industry during the 13th Five-Year Plan period. Subsequently, CSCEC issued guiding opinions promoting the application of BIM technology and compiled the national BIM standards.
During the 13th Five-Year Plan period, CSCEC completed many buildings using big data and BIM technology, creating architectural miracles such as the main venue of the Silk Road (Dunhuang) International Cultural Expo, which was completed in 8 months. The company has developed a series of innovative technologies, such as implementation technology for complex and special-shaped fair-faced concrete, underground engineering mud treatment technology, and intelligent spray technology to reduce dust on construction sites. Its aims are to reduce waste, conserve resources and energy, protect the environment, and achieve a green transformation of construction technology.
Since the 13th Five-Year Plan, prefabricated buildings have become the engine of China's construction industry. During the construction of Huoshenshan and Leishenshan hospitals, CSCEC innovatively adopted combined technologies such as phased reverse design, modern logistics optimization, modular construction, and rapid acceptance evaluation to form an integrated construction technology with a high degree of fusion of design, construction, logistics, and process optimization. The technology has led to rapid construction and delivery of emergency hospitals.
In 2019, an automated production line was put into operation at CSCEC's precast concrete production facility in the Shenshan Special Cooperation Zone. This introduced digital construction of the whole process, from the manufacture of precast components to project delivery. Prior to this, its steel structure production base in Huizhou built the country's first intelligent production line for building steel structures.
Li Qi, general manager of CSCEC's technology and design management department, said that in terms of precast concrete and steel structures, the company has realized the coordinated development of modern manufacturing plus construction.
Meanwhile, the Shenzhen Changzhen public housing project and its ancillary projects form the largest prefabricated community project currently under construction in the country. The project makes use of more than 40 of the latest technological achievements. It is the only comprehensive demonstration project in the Ministry of Science and Technology's key research and development plan during the 13th Five-Year's Plan period. It is set to become a model of technological innovation in prefabricated buildings and leads the development of the industry.
Industrialization and intelligence are becoming the typical characteristics of China's construction industry. This new construction method helps the "Built by China" brand to move forward steadily in a greener and more efficient direction.
On Aug. 21, 2017, Beijing's tallest building China Zun with a height of 528 meters was topped off. The construction of the project adopts an original high-rise building construction equipment integration platform. Relying on the core technology of "micro convex fulcrum," it integrates equipment, facilities, materials, and processes to form a powerful construction pivot with a bearing capacity of up to 4800 tons and can withstand a hurricane.
China Construction Corporation has also innovated and developed a variety of construction equipment such as a rotary multi-crane integrated operation platform and multiple cars in a single elevator shaft of circular operation.
To solve the swing problem of super high-rise buildings and ensure high-precision positioning during the construction process, CSCEC has built a comprehensive intelligent construction platform that is perfectly connected by the BeiDou Navigation Satellite System's high-precision positioning technology, building robots, and three-dimensional scanning technology. One perfect example is the Ping An International Finance Center in Shenzhen, Guangdong. During its construction, the company achieved another Chinese miracle by building the supertall skyscraper at a speed of one story every two-and-a-half days.
Content created in partnership with Science and Technology Daily.