Chinese mobile payment technology helps Japan build cashless society
People's Daily online
1563872703000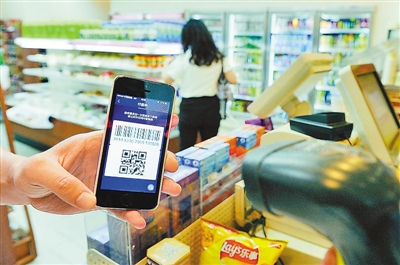 (Photo: Xinhua)
The number of transactions made through China's digital payment platform WeChat Pay in Japan grew 108 percent this June from a year ago, according to the latest statistics released by the Chinese service provider.
The number of merchants that accept WeChat Pay also soared by 665 percent.
Japan, as one of the major destinations for Chinese tourists, is seeing rapid expansion of mobile payment, Japanese media reported.
According to statistics, Japan received 30 million foreign tourists last year, and 26.9 percent came from China. Moreover, in the first quarter of 2019, Chinese tourists spent a total of over 402 billion Japanese yen ($3.7 billion) in Japan, accounting for 36 percent of the total consumption made by foreign visitors.
Japanese enterprises have to make strategies to cope with the situation to better seize opportunities, local media said.
Japan is a cash-based society. Even credit cards are not frequently used in the country, let alone mobile payment. According to a census made by the Bank of Japan, only 6 percent of the Japanese population used mobile payments in 2016, while the figure stood at 98.3 percent in China in 2015.
This year, the Japanese government and enterprises are making all efforts to promote a cashless society. However, this process encounters multiple impeding factors, such as the deeply-rooted cash payment mentality, extreme attention attached on privacy, as well as the increasingly severe aging population problem.
Japanese enterprises seem to have a slow reaction to the trend of mobile payment, but their Chinese counterparts are taking this opportunity and landing their business in Japan.
In Tokyo, WeChat Pay and its rival Alipay can be seen anywhere that Chinese tourists go. Naoya Nakajima, regional director of WeChat Pay Japan, noted that China's digital innovation and smart lifestyle represented by the WeChat ecology are receiving high attention from the Japanese market, and they hope to bring such innovation to Japan and make the convenient WeChat Pay available on every street.