Argentina's peso plunges despite central bank rate hike to 60%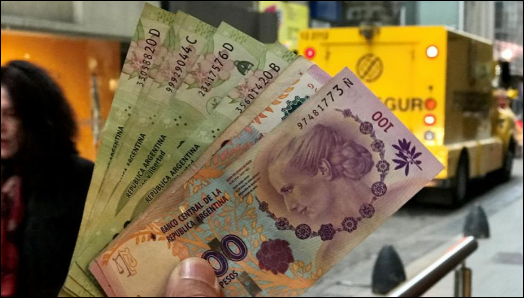 (Photo: CGTN)
Argentina's economic crisis is weighing down heavily on its currency and fortunes of the government.
The peso lost nearly one-fifth of its value on Thursday despite the central bank's hiking its benchmark interest rate to a dizzying 60 percent as investors panicked.
Onerous borrowing costs combined with government spending cuts and a drought that crippled Argentina's agricultural sector this year have slammed Latin America's third-largest economy. It is expected to enter a recession in the third quarter.
"Rapid adjustment will be painful, recession could be deep, and political risk will spike amid dwindling confidence at home," Fiona Mackie, regional director for Latin America and the Caribbean at the Economist Intelligence Unit, said on Twitter.
In an effort to stem a slide in the peso, and to curb inflation running at 31 percent, the central bank's monetary policy committee at an emergency meeting on Thursday voted unanimously to raise its benchmark rate to 60 percent from 45 percent.
The surprise move, however, failed to stabilize the peso. It finished down 13.12 percent at a record closing low of 39.25 pesos per US dollar, after touching 42 pesos earlier in the day.
The market turmoil erupted early on Wednesday after President Mauricio Macri said he had reached a deal with the International Monetary Fund (IMF) to accelerate disbursement of a 50 billion US dollars loan program agreed in June.
Instead, Macri's admission that there was a "lack of confidence in the markets" about Argentina's ability to finance its deficit next year sowed panic among some investors. The country has 24.9 billion dollars in peso- and foreign currency-denominated debt payments next year.
The International Monetary Fund (IMF) said hours later that it was considering speeding up payments because of the financial meltdown, but that Argentina needed to adopt stronger fiscal and monetary policies.
In an effort to restore calm, senior government officials pledged to accelerate budget cuts in light of market concern about Argentina's ability to finance the fiscal deficit, but did not provide specifics about new targets.
The central bank auctioned 330 million dollars on Thursday, bringing this week's interventions to more than 1 billion US dollars. In efforts to prop up the currency, the bank has sold more than 13.5 billion dollars this year, leaving it with 54.3 billion dollars in foreign currency reserves.
The MerVal stock market MERV closed up 5.2 percent, led by export-focused companies that benefit from a weaker currency.
Despite the deal with the IMF, which had calmed financial markets briefly after it was announced in June, Macri has struggled to convince investors he can restore economic growth while cutting Argentina's budget deficit, reducing inflation and making the 640 billion US dollars economy more competitive.
Elected in 2015 on a pledge to end Argentina's repeated cycles of crises, Macri said his orthodox policies would set the stage for sustainable growth. But the private investment he counted on never materialized while cuts to public utility subsidies jacked up water and gas bills, fueling inflation.