Stay-at-home economy spawns new growth drivers for consumption
BEIJING, March 18 (Xinhua) -- New consumption and retail models emerged from China's "contactless" economy amid its battle against the novel coronavirus outbreak are fueling consumption momentum as new growth drivers.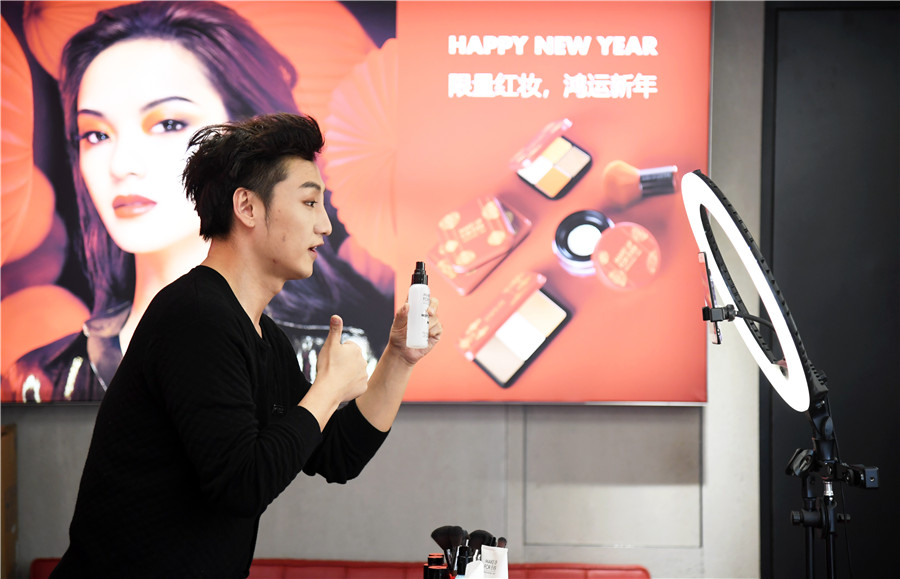 An online influencer introduces cosmetic products to customers through Taobao's livestreaming platform at a shopping mall in Xi'an, capital of Shaanxi province, on Wednesday. (Photo: Xinhua)
Despite the short-term economic repercussions of the outbreak, China's consumption has showed strong resilience, the Ministry of Commerce (MOC) said Wednesday.
Food sales picked up 9.7 percent year on year in the first two months of this year, as people shifted from dine-in to take-out, MOC official Wang Bin told a press conference.
Meanwhile, protective gear and health and sanitation products registered notable sales increases, Wang said.
The hard-won growth came amid a broader downturn in the country's retail sector. Affected by the outbreak, retail sales of China's consumer goods, a major indicator of consumption growth, declined 20.5 percent in the first two months of this year.
Hotels, restaurants, barber shops, department stores and shopping centers were among the hardest-hit sectors, with far fewer customers since the outbreak.
Facing the challenges, China's consumer industries have been revamping themselves, resorting to tech tools to adapt to the new consumption trend.
Delivery and courier firms including Meituan Dianping encouraged "non-contact delivery" to reduce contagion risks, with the deliverymen putting orders in a self-collection container or a pre-determined place. Fast-food companies have also rolled out similar services.
Real estate agents have set up online sales offices and used live-streaming to attract consumers. Evergrande has developed an app that lists all its properties for sale, providing one-stop services from showcasing houses through virtual reality (VR) technology to signing contracts.
While people are confined to their homes, digital tourism, online entertainment as well as short videos are burgeoning against the broader consumption downturn.
Museums across the country, for instance, have moved more than 2,000 exhibitions online, attracting over 5 billion visits during the Spring Festival, said Gao Zheng, head of the industrial development department of the Ministry of Culture and Tourism.
A number of scenic spots have tapped into VR technology to bring tourists stranded at home to natural landscapes without exposure to the virus, according to Gao.
Noting that the new drivers have spurred consumption growth, China is taking further steps to support the development of emerging consumption and retail models.
The country's top economic planner said Wednesday that it will expedite the construction of "new infrastructure" projects such as 5G networks and data centers, shoring up information services for the new consumption.
Efforts will be made to invigorate the integration of online and offline consumption and upgrade traditional retails and services, said Ha Zengyou, an official with the National Development and Reform Commission.
It will further remove institutional barriers for consumption growth and revive pent-up demands amid the epidemic control, according to Ha.
As the policies to boost consumption start to take effect, China's consumption growth will recover, Wang said. "The epidemic will not change the trend of long-term stability and continuous upgrade of China's consumption."