Huawei smartphones with Kirin microchips sell at soaring prices
Global Times
1600251707000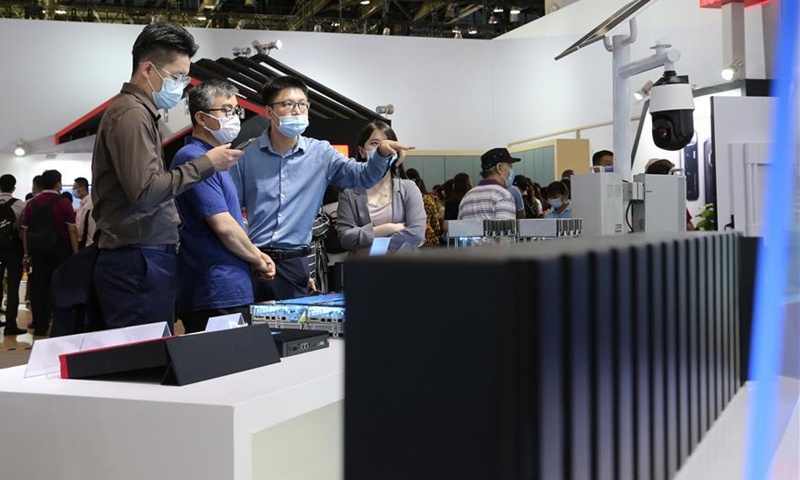 People visit the booth of Huawei at the comprehensive exhibition area of the 2020 China International Fair for Trade in Services (CIFTIS) in Beijing, capital of China, Sept. 8, 2020. Chinese enterprises demonstrated latest innovations and technologies such as 5G and AI at the fair. (Photo: Xinhua)
While it is increasingly difficult to get Huawei's 5G smartphones equipped with Kirin chips due to the US microchips ban, the prices have also surged recently, according to market dealers.
In Zhongguancun market, Beijing's largest wholesale market of 3C products - computer, telecommunication and consumer electronics, prices of Huawei's 5G phones equipped with Kirin chips have risen, among which high-end Huawei Mate 30 Porsche version rose by a staggering 3,000 yuan ($443.7) a set, which used to be sold at about $2,200.
The price hike started more than a month ago, said an employee in a mobile phone store in Zhongguancun market.
"Some distributors are stocking up, with prices rising from 100 to 400 yuan on average for all types of Huawei models. In addition, models with different configurations and colors are running out of stock. It is not easy for us to get the phone sets now. It is estimated that the channel price of the phones carrying the Kirin 9000 chip will increase, but the official price will not be raised," sina.com reported on Wednesday, citing a dealer.
Huawei's consumer business group shipped 240 million mobile phones last year, and 105 million in the first half of this year, according to data from the just-concluded Huawei Developer Conference. In the second quarter, Huawei shipped 55.8 million smartphones, accounting for 20 percent of global total shipments.
Due to a chip shortage and absence of Google's GMS service under the US crackdown, some analysts believe that the sales of Huawei's mobile phones are facing a great downward pressure.
"I don't know if the sales will decline or not next year, at least not yet. Huawei is still growing very fast," said Wang Chenglu, President of Huawei's consumer software business, at Huawei Developer Conference on Friday.
Spot prices of dynamic random-access memory, a type of semiconductor memory that stores data in a cell, have risen rapidly, with benchmark products rising about 7 percent from their recent lows in early September.
A Japanese semiconductor company said this was created because of the US sanctions against Huawei, and that "Huawei is in the process of making emergency purchases", local media reported.