US transit agencies cautious on electric buses despite bold forecasts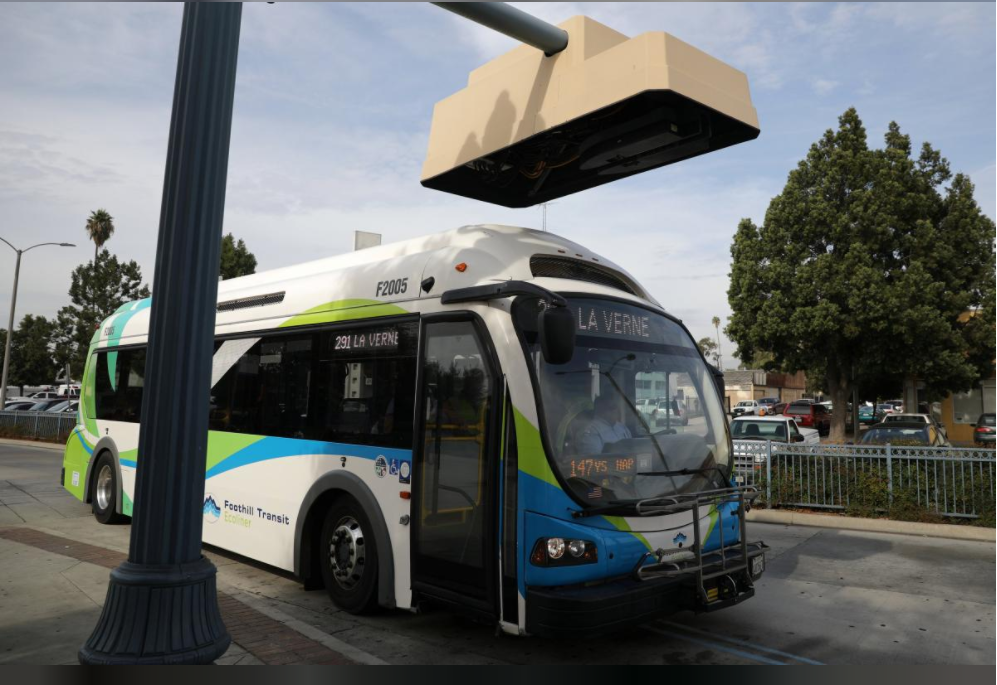 An electric bus sits under a charging station in Pomona, California US, November 16, 2017. Photo: REUTERS
Communities across the United States are looking to replace their dirty diesel buses, ushering in what some analysts predict will be a boom in electric fleets.
But transit agencies doing the buying are moving cautiously, an analysis by Reuters shows. Out of more than 65,000 public buses plying US roads today, just 300 are electric. Among the challenges: EVs are expensive, have limited range and are unproven on a mass scale.
A typical 40-foot electric bus costs around $750,000, compared with about $435,000 for a diesel bus. Cheaper fuel and maintenance expenses can lower the overall costs over the 12-year life of the vehicles. But those costs can widely depending on utility rates, terrain and weather.
The technology is still a gamble for many cities at a time when bus ridership is falling nationwide and officials are trying to keep a lid on fares, says Chris Stoddart, an executive at Canadian bus maker New Flyer Industries Inc. A top supplier of conventional buses to the US market, the company has just a handful of pure battery electrics in service.
"People worry about being an early adopter. Remember 20 years ago someone paid $20,000 for a plasma TV and then 10 years later it was $900 at Best Buy," said Stoddart, senior vice president of engineering and customer service for New Flyer. "People just don't want a science project."
Rival electric bus manufacturers expect dramatic growth; the most ambitious forecasts call for all bus purchases to be electric by 2030.
But even green-energy advocates are skeptical of such rosy predictions. CALSTART, a California-based nonprofit that promotes clean transportation, figures 50 percent to 60 percent of new buses will be zero emissions by 2030. Market research firm Navigant Research expects electric buses to make up 27 percent of new US bus sales by 2027.
NOT QUITE THERE YET
Transit agencies have found EV performance lags in extreme conditions. In environmentally friendly San Francisco, officials have resisted electrics over concerns about the city's famously steep hills. "The technology isn't quite there yet," Erica Kato, a spokeswoman for the San Francisco Municipal Transportation Agency, said in a statement.
Weather is also a major challenge.
An electric bus tested last year near Phoenix wilted in the summer heat due to the strains of running the air conditioning. The vehicle never achieved more than 89.9 miles on a charge, less than two-thirds of its advertised range, according to a report by the Valley Metro Regional Public Transportation Authority.
In Massachusetts, two agencies running small numbers of electric buses - the Pioneer Valley Transit Authority in Springfield and Worcester's Regional Transit Authority - say the vehicles weaken in extreme cold and snow. They have no plans to acquire additional EVs, officials at those agencies said.
Even places with successful pilots have downplayed expectations. Seattle's King County Metro transit agency soon will be operating more than a dozen vehicles by three manufacturers, according to Pete Melin, director of zero emission fleet technologies. The agency likes what it has seen so far.
Still, Melin said, high electricity rates from the local utility at peak demand periods are a concern. And the lack of a uniform charging system among bus makers has complicated Seattle's goal of running an all-electric fleet by 2034.
"We have caveats to becoming zero emissions," Melin said in an interview.
Another worry is government funding. Federal money for bus purchases is about 25 percent lower than it was five years ago, according to Rob Healy, vice president of government affairs for the American Public Transportation Association.
An Obama-era program that sets aside $55 million a year in grants to help transit agencies purchase clean buses will expire in 2020 if not renewed by Congress.
THE EV BUS HEAVYWEIGHTS
In addition to New Flyer, the fledgling US electric bus industry has two other major players: Chinese automaker BYD, which is backed by Warren Buffett's Berkshire Hathaway Inc; and Silicon Valley startup Proterra Inc.
BYD and Proterra began selling electric buses into the US market several years ago, and have 165 and 126 vehicles on the road today, respectively.
Both are ramping up US manufacturing on expectations that EVs will account for nearly all new bus sales in a little over a decade. BYD has a plant in Lancaster, California, while Proterra has manufacturing facilities in City of Industry, California and Greenville, South Carolina.
Buffett paid $230 million for a 10 percent stake in BYD in 2008. Today the company has a market capitalization of $25 billion, thanks mainly to China's aggressive move to electrify transportation. More than 15 percent of the 608,600 buses in China are pure electric, according to government data. Proterra investors include venture capital firm Kleiner Perkins Caufield & Byers and the venture capital arm of General Motors Co. Proterra, based in Burlingame, California, is planning an initial public offering, but would not give a timeline for the debut.
Chief Executive Ryan Popple said range is improving quickly. The company is currently shipping models with up to 350 miles of range, but new battery technology is expected to boost that by nearly 30 percent.
"We're starting to outstrip the market requirement in terms of what city buses actually do," Popple said. "It opens up new markets for us."
Notably, Proterra's growth should also lift the fortunes of US wind blade maker TPI Composites Inc, which struck a deal to build up to 3,350 lightweight bus bodies for the EV bus maker over the next five years. Raymond James analyst Pavel Molchanov estimated the deal could account for 12 percent of Scottsdale, Arizona-based TPI's revenue in 2019.
Winnipeg-based New Flyer, meanwhile, has won some big orders, including a deal to supply up to 100 electric buses to Los Angeles County Metropolitan Transportation Authority. Still, company executives view electrification as a gradual transformation.
"It's going to be a slow, methodical rather than an absolute disruption type environment," CEO Paul Soubry said on a conference call with analysts last month.