Airbus cuts A330 output, first-quarter profit capped by engine delays
Airbus bowed to weak demand for its A330 passenger jet on Friday, announcing a cut in production for 2019 after a series of bruising defeats to Boeing in contests for wide-body jets.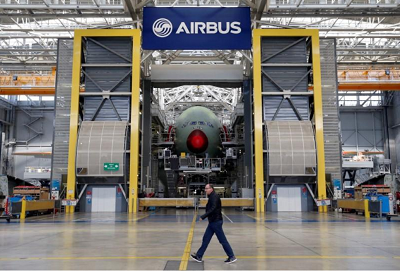 An employee walks in front of an Airbus A380 at the final assembly line at Airbus headquarters in Blagnac near Toulouse, France, March 21, 2018. (Photos: Reuters)
Europe's largest aerospace group said it was reducing deliveries of the 250-300-seater to around 50 aircraft in 2019, without giving a figure for its previous plans.
Airbus (AIR.PA) delivered 67 of the jets in 2017, implying a cut of as much as 25 percent in output based on steady volumes this year - though some analysts see production starting to dip as early as this year as orders dry up.
The production came as Airbus posted a slender - though better than expected - core profit in the first quarter after delays in engine deliveries for its smaller A320neo.
Together the A320 and A330 families, which feature updated versions of its most successful airframes, generate most of the cash and income needed to support future developments and other activities within the maker of airplanes, rockets and fighters.
While the narrowbody A320neo remains a best-seller, with Airbus recently unable to produce the jets fast enough due to engine supply problems, the upgraded A330neo has been losing ground to the newer Boeing 787 at carriers like American Airlines and Hawaiian Airlines.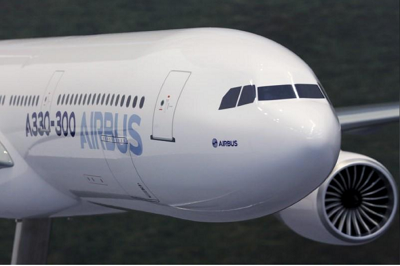 A miniature model of the Airbus A330 is displayed at a ground-breaking ceremony for the Airbus A330 completion and delivery center in Tianjin, China, March 2, 2016.
"We knew (the first quarter) was going to be grisly – and it is," said Jefferies analyst Sandy Morris in a note.
"The A330 going down to 50 (a year) is overtly bad news, but we have suspected for some time the A330's slow sales could mean A350 production moves up at some point," he added.
Airbus reported an adjusted quarterly operating profit of 14 million euros ($17 million), compared with a restated year-earlier loss of 19 million. Revenues fell 12 percent to 10.119 billion euros. Airbus reaffirmed financial forecasts, however.
Analysts were on average expecting a 23.9 million euro operating loss on revenues of 10.209 billion, according to a Reuters poll.
Airbus has said it expects deliveries to be once again heavily weighted towards the latter part of the year, as industrial problems felt by engine makers Pratt & Whitney (UTX.N) and to a lesser extent CFM International start to ease.
The earnings statement did not refer to plans to increase A320neo output further than planned in 2019, to 63 aircraft a month from a previous target of 60, as disclosed earlier this week.
The head of French engine maker Safran (SAF.PA), a partner in CFM alongside General Electric (GE.N), expressed caution over the plans on Wednesday, saying it was too early to commit to higher output as suppliers work through what is already a record production ramp-up to meet air travel demand.