Weekend camping booms in China as COVID-19 flare-ups restrict long-distance travel
Global Times
1649250848000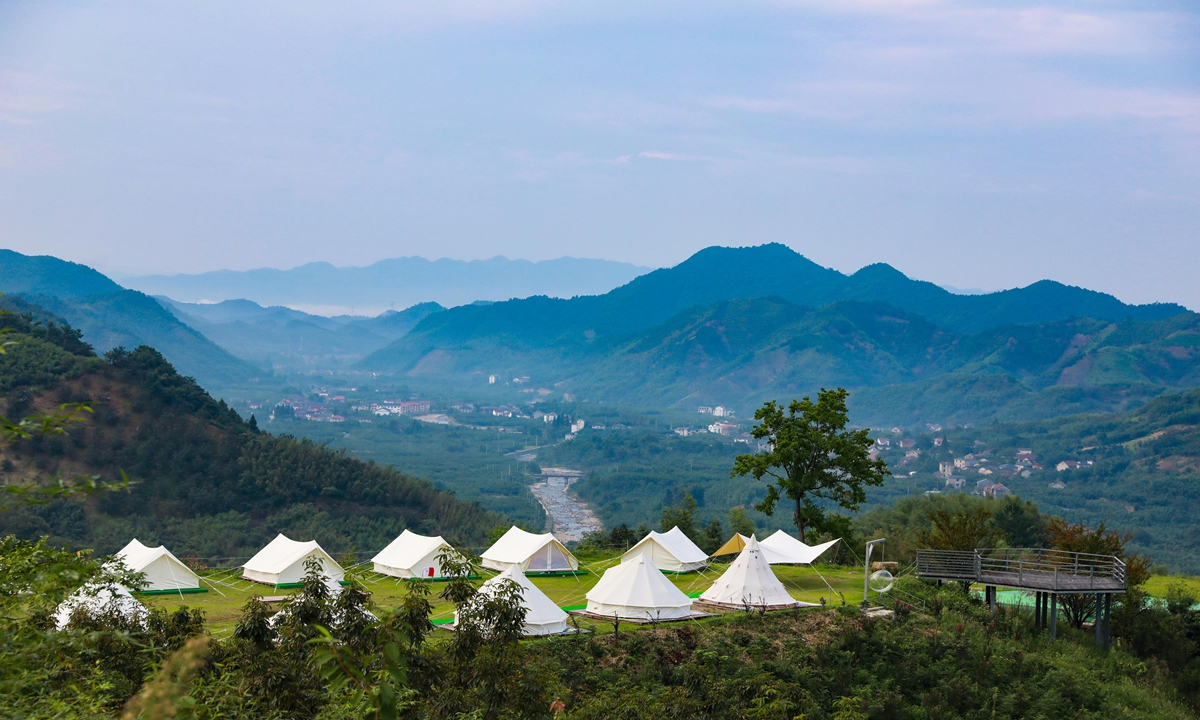 For camping enthusiast Qiushen, the pastime of venturing into nature has become a regular outing event after he came to Shanghai to work in an architecture firm in 2021. Since taking up the hobby, he has become equipped with nearly every item of camping kit available on the market.
"When I first came to Shanghai, the pandemic has already emerged, and it would be inconvenient for me to have weekend trips to other cities. So I joined a group where young people like me who live alone in the city go camping almost every weekend," Qiushen told the Global Times on Wednesday.
Yet he is not the only person eager to embrace nature to escape the crush of city life.
Camping boom
The three-day Qingming festival took place from Sunday to Tuesday, and reports by tourism agencies point to an emerging preference for camping trips and outdoor sports in locations near large cities, a trend that has gathered momentum as people avoid long-haul trips due to travel restrictions and quarantine requirements implemented in connection to recent COVID-19 flare-ups.
Camping-related travel products, which allow people to explore mountains, nature and green space, have surged during this year's Qingming festival, data from China's online tourism platform Ctrip showed.
According to a report sent by Mafengwo to the Global Times, 64 percent of travelers chose to spend 1-2 days camping, biking or hiking around in locations adjacent to major cities during their holidays.
Search enquires have increased by 70 percent year-on-year and are particularly favored by young people who wish to combine nature with fun activities.
Residents in Beijing and South China's Guangdong Province love camping the most, according to travel data.
Camping trips booked in Guangdong doubled the number seen during the Spring Festival, according to Ctrip, while searches for "Beijing camping" increased by 60 percent year-on-year, data from online travel platform Mafengwo showed.
Big cities including Beijing where the pandemic remains under control, have experienced a "spillover" effect from the camping boom following guidance from provincial governments encouraging residents to not travel outside their home province during the holiday period.
A representative from a camping site named Unicorn in Shunyi District, on the outskirts of the capital, told the Global Times that his site with 40 tents has been "fully booked" over the Qingming Festival holiday.
In addition to the Beijing site, another site in Shanghai also confirmed with the Global Times that the trend of "countryside camping" has grown significantly over the past two years.
"Ever since the pandemic, people have embraced spending their weekends and festivals near home, and camping is a good way to step into nature," a staff member from Shanghai-based camping site Chenglan told the Global Times.
Spillover effect
Analysts predict that the continued popularity of camping has also created new opportunities for related products and would drive downstream manufacturing industries.
The market size for camping sites has accelerated from 2020 and 2021 as many people prefer short-distance travel and spend more time with their families due to the pandemic, an important reason for the explosion seen in the camping economy, Zhang Yi, CEO of iiMedia Research Institute, told the Global times on Wednesday.
From 2014 to 2021, the market size for camping sites in China has increased from 7.71 billion yuan ($1.21 billion) to 29.9 billion yuan. It is expected that the market for camping sites will grow by 18.6 percent to 35.46 billion yuan in 2022, according to data from iiMedia Research Institute.
"The camping economy will create a flywheel effect driving the downstream manufacturing industry including equipment and product sales," Zhang said.
Data from data provider Qichacha showed that there are currently more than 50,000 camping related enterprises in China with nearly half registered within last year.
"It is expected to directly benefit diversified products along the value chain, including from sleeping bags, backpacks, lighting and other products," Zhang said.
According to data from iiMedia Research, more than half of Chinese campers surveyed have bought tents, damp proof mats, sleeping bags and tent lights.
On the China-based online marketplace Taobao, key word "camping goods" covering tents, picnic mats and folding chairs has been extremely popular among shoppers.
Among them the picnic mats are selling the fastest, with many merchants selling over 10,000 in a month, "a huge step up compared to a year ago," a customer service representative from an outdoor specialty store told the Global Times.
Foreign firms including sports goods brand Decathlon are also ready to embrace the opportunity brought by China's booming camping market.
Sales of Decathlon camping products have increased 100 percent year-on-year in 2021, following four years of steady growth since 2018, according to data provided by Decathlon to the Global Times.
Emerging market
Yet a problem has also risen where demand for outdoor camping space is outstripping supply.
"We are facing a huge city with millions of people. However, apart from the camping sites like ours where dozens of tents are provided, many parks are very restricted when it comes to camping activities," the staff from Unicorn said.
"Everywhere is full and there is a tent every several meters," said a Beijing-based tourist surnamed Yun, who has spent a "rather impressive" amount of camping time with her family in a park 22 kilometers away from the capital center where 30,000-square-meter camping area has been set up.
"Restrooms are far away and are insufficient. Trash cans are full and are not cleared in time. When there are too many people, it also affects my smartphone signal," Yun said.
The Chinese camping economy is still in its nascent stage, said Zhang.
"With the development of camping economy, it is expected that regulators in cities will adjust standards for camping sites, and provide more resources, including green space and scenery for visitors," Zhang said.