China exceeds North America, leading in film box office
Global Times
1602738618000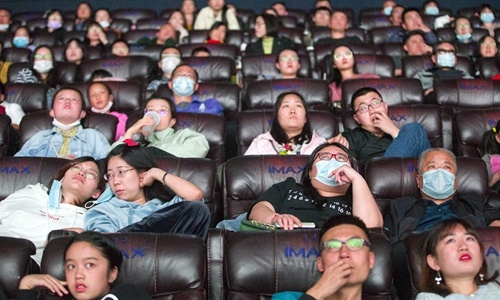 China has become the largest box office market in the world for the first time, surpassing North America, boosted by a fast economic recovery in the world's second largest economy, setting a beacon of light to the global film industry that has suffered great losses from the coronavirus outbreak.
China's box office in 2020 totaled 12.95 billion yuan ($1.93 billion) at midnight Wednesday, putting China officially ahead of North America as the world's largest box office market, according to lighthouse real-time data.
It is worth noting that domestic movies have gained huge popularity, with The Eight Hundred, Me and My Hometown, and Jiang Ziya ranking the top three in box office. Among them, war epic The Eight Hundred ranked first with 3 billion yuan, accounting for 23.9 percent of the total.
Ticket prices also rose 4.1 percent year-on-year in September as entertainment consumption gradually recovered and the movie-goers have returned to theaters, according to the National Bureau of Statistics.
Meanwhile, the North American film market has struggled due to their governments' failure in the prevention and control of the pandemic and Christopher Nolan's Tenet, which had given high hopes of reviving the movie industry this year, ended up with a poor box office, delaying the onset of Hollywood blockbusters.
Experts believe that the high box office earnings in China is broadly expected, thanks to the rapid development of China's film industry in content and the effective containment of the epidemic that enabled China to lift the lockdown much earlier.
Zheng Zhihao, CEO of China's largest movie ticketing platform Maoyan, said in an interview that based on the current box office, China might become the first country to recover from the negative effects of the coronavirus. He also noted that the virus crisis will not prevent China from producing more films.
"China's film industry has developed rapidly in recent years, thanks to the reform and opening to the outside world," said Hong Tao, director of the Institute of Business Economics at Beijing Technology and Business University, adding that as home consumption escalates, people's demand for films will rise.
Hong believes that digital revolution has also played a part in the growth of the industry revenue by greatly upgrading the facilities of the cinemas, including the introduction of interactive seats, which has improved cinema experience.
"With the Chinese market rapidly recovering, Hollywood is likely to pay more attention to China in the future compared to its home market," said Hong.